Kick-off of wet lease with Air Berlin: more than 60 new routes to and from Munich, Cologne, Düsseldorf, Vienna, Stuttgart, Hamburg and Palma de Mallorca

33 aircraft will provide 23,000 additional Eurowings flights and carry more than three million passengers a year

New Eurowings locations in Munich and Palma de Mallorca
Kick-off of wet lease with Air Berlin: this Friday morning (10 February), three new Eurowings aircraft took off almost simultaneously from Hamburg heading for Manchester, Stuttgart and Nuremberg. They were the first flights of a comprehensive, six-year wet lease agreement through which Eurowings has leased 33 aircraft from Air Berlin, complete with cockpit crew, cabin crew and maintenance contracts.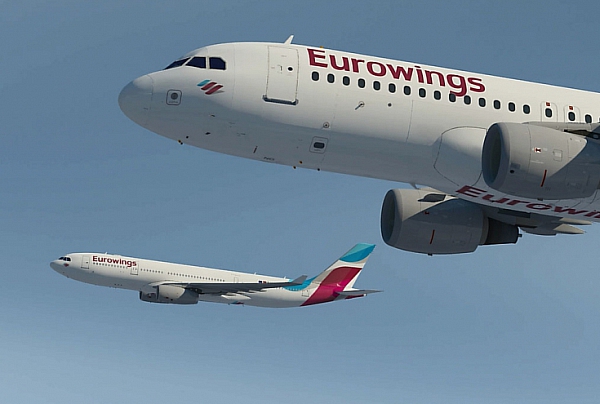 These first flights mark the beginning of a new era in German air travel for Karl Ulrich Garnadt, Executive Board member Lufthansa and CEO Eurowings,
"As a result of the agreement with Air Berlin, we are currently growing like no other airline in Europe."
Eurowings can operate an additional 23,000 flights a year and offer more than 60 new routes which all adds up to more than three million additional Eurowings passengers a year. But, for Garnadt, this is not the only reason that Air Berlin is the right partner,
"Its flight operations and its crews represent uncompromising safety, reliability and a high level of service orientation, all of which fits very well with the flight operations of the new Eurowings."
From now on the 33 Airbus A320 will fly only with the Eurowings livery and logotype. They will also take over the airline's innovative service and rate concept (BASIC, SMART, BEST) and the Eurowings cabin design. These aircraft will allow the quality low-cost airline from the Lufthansa Group to grow rapidly while at the same time considerably rejuvenating its fleet. Up to 20 of the advanced, fuel-saving Airbus jets will replace the oldest aircraft in Eurowings' flight operations.
The additional aircraft mean that, starting with the summer flight schedule 2017, Eurowings now also has the capacity to offer flights to and from Munich, Germany's second largest airport. Four of the 33 Airbus aircraft will be stationed here right from the start.
"The sales launch for Munich came at the end of December and initial booking figures are very promising," says Garnadt. "The demand for more tourist-oriented destinations and quality flights at affordable prices is clearly present at a major hub such as Munich." More than half of the over 60 new Eurowings routes will be offered out of Munich.
Another Eurowings base will shortly be opened in the sunny south of Europe: also starting with the summer flight schedule 2017, four aircraft will take off for Eurowings from Palma de Mallorca. According to Garnadt, the Mediterranean island in the Balearics is a "top location", "Palma is currently the beach destination in Europe and has long been a very popular resort not just for German holidaymakers. Once again it's on course for record visitor numbers in 2017. With the new Eurowings, we will have a stronger presence than ever before."
The agreement with Air Berlin is also intended to strengthen existing Eurowings locations in Cologne, Stuttgart, Düsseldorf, Hamburg and Vienna.
However, operation of the 33 wet lease jets is only one step on Eurowings' growth path in Europe. The plan is to integrate Belgium's Brussels Airlines, which currently has 51 aircraft, into the Eurowings Group as of 2018. As a result, the Eurowings fleet will expand within a short space of time to more than 160 aircraft.