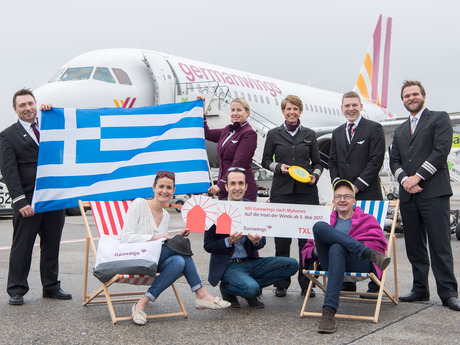 Eurowings now flies from Berlin-Tegel Airport to the Greek island of Mykonos in the Aegean. Flights depart every Friday. The route is served by an Airbus A319. The flight duration is around four hours. Mykonos is the second new destination in Eurowings' summer 2017 flight plan. Since 9 April, flights depart for the Portuguese city of Faro every Sunday.
The picturesque Island of the Wind
Mykonos, one of Greece's favourite travel destinations, belongs to the Cyclades archipelago. Generous wind and sun still characterise the climate of the island as they always have done. The islands best known landmark is the five whitewashed and imposing windmills at Kato Mili originating from the 16th century near Mykonos Town. They were used to grind cereals, which were then exported around the world. Today the island, and its wind, is particularly popular with fans of water sports – windsurfing and kitesurfing are two of the most popular sports activities on Mykonos.
Since the 1960s, the island has enjoyed a position as one of Europe's most popular travel destinations. The beauty of the island, which often looks just like those pretty tourist postcards, as well as its diversity draw several million tourists from all over the world every year. Relaxation and exuberant life, quiet and bustling nightlife exist side by side on Mykonos – even in the high season of the summer months, when Mykonos turns into a second Ibiza, and becomes a party hotspot.
Picture: From left to the right: Christina Meakin (Regional Management Eastern Germany and Munich Region, Eurowings Aviation GmbH), Patrick Zeuner (Senior Manager Aviation Marketing, Flughafen Berlin Brandenburg GmbH) und Stefan Nitert (Area Manager, Eurowings Aviation GmbH), im Hintergrund Eurowings-Crew Sven von Postel, Anke Schenk, Daniela Kälin (Captain), Felix Hoffmann und Toni Specht (First Officer).