Blockbusters on board the Airbus: Eurowings introduces in-flight entertainment using passengers' own mobile devices on all short and medium-haul flights / The airline is the first to have the innovative entertainment system by Lufthansa Systems on board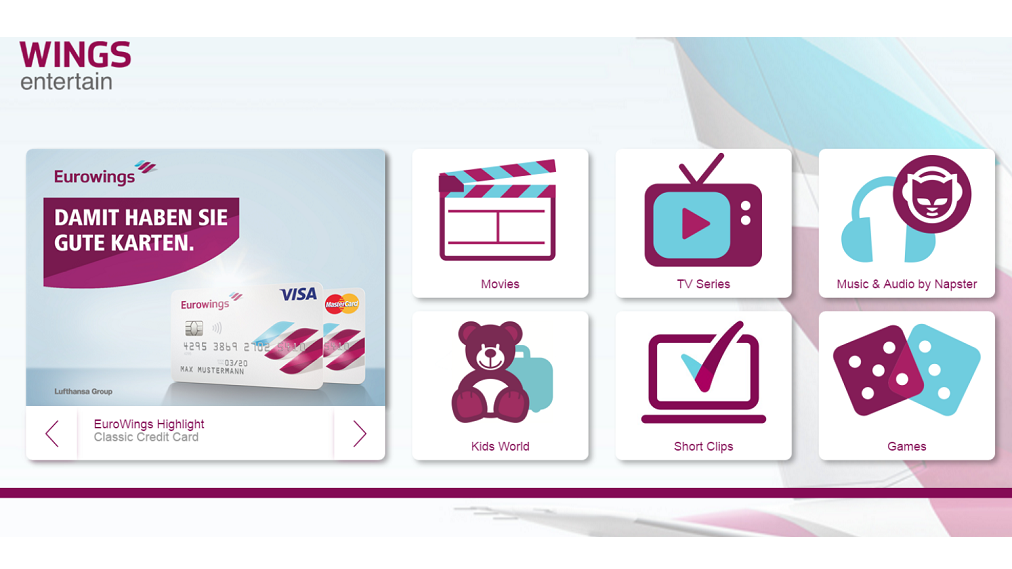 In August Eurowings will be one of the first airlines in Europe to introduce in-flight entertainment throughout the fleet using passengers' own mobile devices. With "Wings Entertain" even passengers on short and medium-haul flights can now watch a wide range of blockbuster videos and TV series for EUR 3.90 per flight. Passengers also have access to a large selection of music, audiobooks and flight information, including the popular "Moving Map". The entire Airbus fleet will be equipped with "Wings Entertain" by 15 August. This means that many passengers will be able to enjoy the leading technical solution for in-flight entertainment en route to their summer holidays. "Wings Entertain" was developed by Eurowings jointly with Lufthansa Systems.
Visually, the solution follows the format of the in-flight entertainment system already operated on Eurowings long-haul routes. Technically, the system is fast and simple: Passengers connect their smartphones, tablets or laptops to the WLAN network on board the aircraft and can then choose from the full selection of 20 Hollywood films, 18 TV series, each with several episodes, and five plays. The listening programme for Eurowings passengers includes 400 song titles which are streamed via the Napster music service plus a large number of audiobooks. It's also possible to access information about on-board sales from the Wings Shop, what's on the menu in the Wings Bistro and the aircraft's current flight position on a map – all on your own mobile device.
Customised in-flight entertainment has long been a matter of course on long-haul flights but in Germany this aspect of a fully rounded travel experience on short and medium-haul flights and with such wide coverage is currently only available from Eurowings. Technically, "Wings Entertain" is based on BoardConnect Portable, the wireless entertainment system by Lufthansa Systems. The system is updated with new content on the ground every month so that travellers always have access to the latest version of the entertainment on offer. The system has received the Crystal Cabin Award for excellence.
Eurowings is advertising the new service in a variety of ways: At the airport, for example, passengers are alerted to the new media diversity on board either when checking in or at the departure gate. "Wings Entertain" is also advertised via Eurowings' high-coverage social media channels – as well as in the Eurowings newsletters. Eurowings passengers can also find out about the service prior to travelling from an explanatory video and detailed information featured on the website.
Cologne/Bonn, 04.08.2016