23 destinations, 6,000 flights a year, one million passengers: Europe's number 1 holiday island becomes first Eurowings location in a non-German-speaking country
Boom in demand: Eurowings quickly expands presence in Palma to six Airbus A320/number one growth driver
With Palma, Eurowings is consistently putting its pan-European low-cost concept into action
Cool sunglasses, hot advertising: Eurowings jet sports probably the largest sunglasses in the world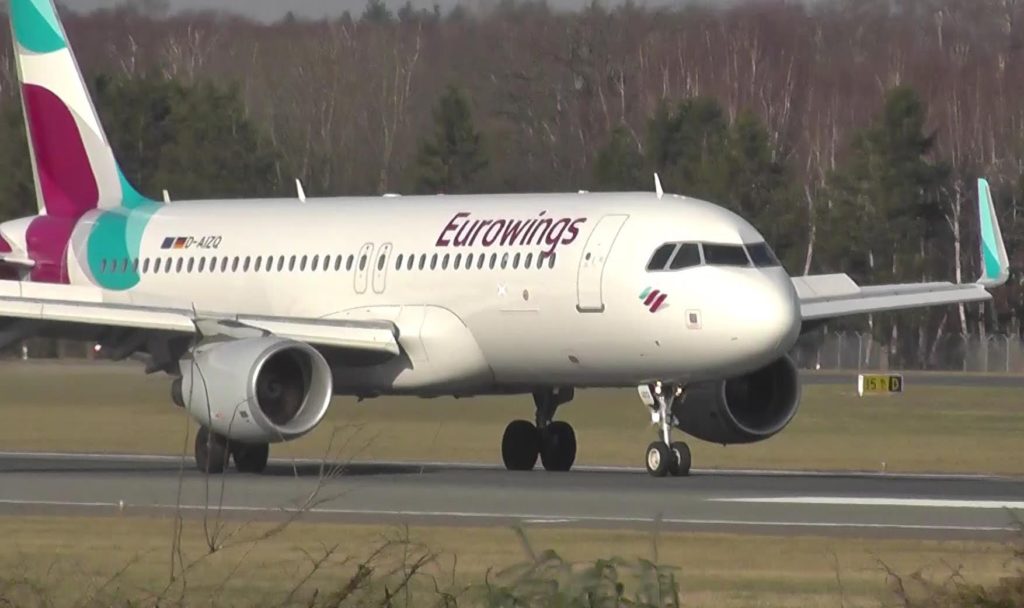 23 destinations, 6,000 flights a year, one million passengers: Eurowings is really making an impact on Europe's most popular holiday island of Mallorca. By stationing aircraft in Spain, the low-cost carrier, which is part of the Lufthansa Group, is taking its first step into a non-German-speaking country. There will be four Airbus A320 to begin with. They will fly out of Mallorca to connect the sunshine isle with more than 20 cities in Germany, Austria and Switzerland: Cologne/Bonn, Düsseldorf, Berlin-Tegel, Stuttgart, Hanover, Dortmund, Hamburg, Munich, Vienna, Salzburg, Linz, Graz, Friedrichshafen on Lake Constance, Leipzig/Halle, Paderborn/Lippstadt, Dresden, Saarbrücken, Karlsruhe/Baden-Baden, Nuremberg, Münster/Osnabrück and Basel.
Eurowings CEO Oliver Wagner says,
For holidaymakers, ex-pats and naturally also Mallorcans fond of travelling, this ensures a comprehensive flight offering with one of Europe's leading airlines.
Customers can get to a large number of airports for prices starting from EUR 29.99 and can book their flights quickly and comfortably via the Eurowings app or the website: www.eurowings.com. High-quality package holidays to Mallorca can also be booked at excellent prices via the new tour operator brand Eurowings Holidays.
The demand for flights to the sunshine isle of Mallorca is booming. Having already scored top marks for visitor numbers from Germany and Austria last year, the sunshine isle is on course to break records again in 2017. According to CEO Wagner,
At Eurowings, flights to Palma from almost all airport locations are among the most heavily booked." He also said that at peak times during the summer holidays, Eurowings has almost 300 flights a week scheduled between airports in Germany and Austria and Mallorca. He added, "At times, we will even be operating this route with an Airbus A330 which seats more than 300 passengers and is otherwise used for long-haul flights.
But there's more Wagner revealed,
We will increase our fleet on Mallorca from four to six aircraft as quickly as possible so that we remain the top growth driver on Mallorca.
If Eurowings grows, it will create further jobs on the island. The airline has already received more than 2,500 applications for recruitment of the first 100 crew members for the new location in Spain.
Mallorca is the most recent proof of how quickly Eurowings is currently transitioning from German to European airline. With this extensive presence on Mallorca, Eurowings is strengthening its current position as Europe's fastest growing airline. As it does so, the airline is focusing consistently on tourism markets with attractive cities and large airports. Following the opening of its most recent new locations in Munich and Vienna, Mallorca, Europe's top holiday island, will also become an important pillar in the Eurowings flight schedule.
The official opening of the station on 24 May will be celebrated with a huge gate event at Palma airport – including, among other things, a pair of XXL sunglasses on the radar nose of a brand-new Airbus A320. The advertising campaign, featuring probably the largest sunglasses in the world, was implemented in collaboration with gloryfy, Austria's start-up company for unbreakable sunglasses. "XXL" not only fits the A320 sunglasses but also Eurowings, as the number one growth driver on Mallorca.
Cologne/Bonn, Palma, 24 May 2017