Eurowings Austrian subsidiary also comes to Salzburg / A fourth jet will be stationed at Salzburg airport next January / Brussels, Geneva, Hamburg, Cologne/Bonn, Paris and Zurich offered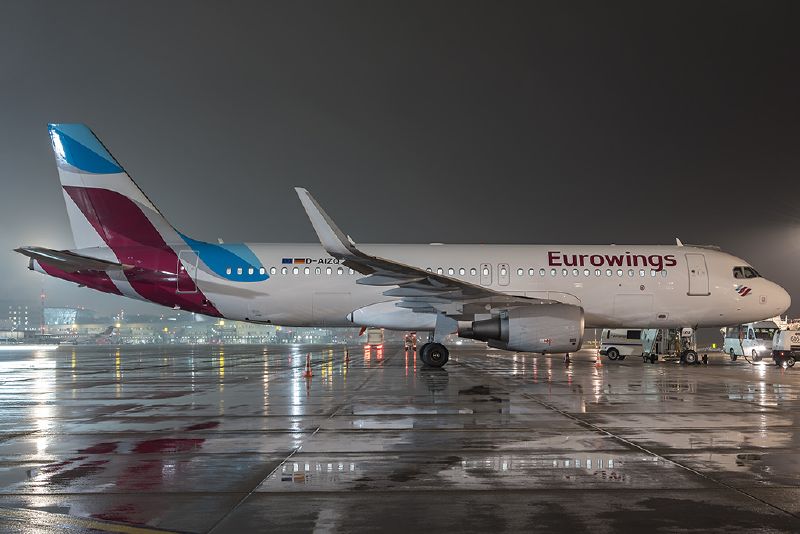 Eurowings is expanding its range in Austria and having stationed three aircraft in Vienna, in January next year it will also add a jet in Salzburg. Flying from the Salzach, Eurowings Europe, with Austrian licensing as an airline company, will then also offer low-cost flights of the highest standard to Brussels, Geneva, Hamburg, Cologne/Bonn, Paris and Zurich. The cities will be served by an Airbus A320. Brussels, Geneva, Hamburg, Paris and Zurich are new Eurowings destinations, Cologne/Bonn is already included in the Salzburg Airport flight schedule.
Under the umbrella of the Eurowings family, the Austrian airline launched from Vienna with the first of its own aircraft on 23 June. Recruitment for cockpit and cabin crew is now in progress for Salzburg. So from day one Eurowings Europe is creating new jobs in Austria's fourth largest city.
As of January 2017, Eurowings will fly from Salzburg to Zurich six times a week, to Geneva three times a week, to Brussels four times a week, to Paris five times a week and to Hamburg three times a week. The number of flights offered to Cologne/Bonn will be increased to seven flights a week. The new flights can be booked on the internet at www.eurowings.com and also from the Call Center via the Austrian number 0800 802682 or the German number +49 (0)180 6 320 320 from early September.
At the end of July 2016, a second Airbus A320 was stationed in Vienna ready to start operation, with another aircraft due to join the fleet at the end of October. From late October, Eurowings Europe will then be offering 15 destinations from its Vienna location. Then from January next year, six routes from Salzburg, which will be operated with a fourth aircraft, will add to the Eurowings range of flights offered from Austria.
Oliver Wagner, CCO of Eurowings:
Eurowings is demonstrating strong growth in Austria and is creating a large number of new jobs in the country. This brings us another step closer to our claim of becoming the number one in our home markets.
It is planned that Eurowings' Austrian subsidiary will carry around a million passengers in its first full year of operation.
Roland Hermann, Managing Director of Salzburg Airport, says:
We see Eurowings as an important partner. It scores highly by combining the quality of the Lufthansa Group with low-cost direct flights. These interesting routes will not only expand and upgrade the range of flights on offer from Salzburg, they will also meet the longstanding demand of many of our customers.
Heinz Schaden, Mayor of Salzburg:
I'm very pleased indeed that Eurowings will shortly be establishing a second base in Salzburg alongside Vienna. The additional flights to major European cities will be an asset to passengers flying from Salzburg. They will strengthen Salzburg as an airport location and also create 30 skilled jobs.
Robert Salzl, President of Tourismus Oberbayern–München e.V. and Chairman of the Tourism Committee in the Bavarian Economic Advisory Council, welcomes the expansion of flights to and from Salzburg with Eurowings and is hoping for additional guests from all over the world. He said that Upper Bavaria was expecting an injection of fresh momentum which should benefit business travellers as well.
Eurowings Europe
The new Eurowings Europe is an airline in the Eurowings Group that concentrates on low-cost direct flights within Europe. Today's customers are looking mainly for cheap air fares and preferably direct flight connections without changes. A representative survey conducted by the Wahlen Research Group illustrated that these two criteria are currently considered the most important when choosing a flight. As a result, the airline, which is part of the Lufthansa Group, is also expanding its offer of low-cost direct flights in European travel from Vienna.