First flight for BVB Team on its "Team Airbus" / The players of eight-time German champions BVB set off for their training camp on Thursday on their "own" Eurowings Airbus A320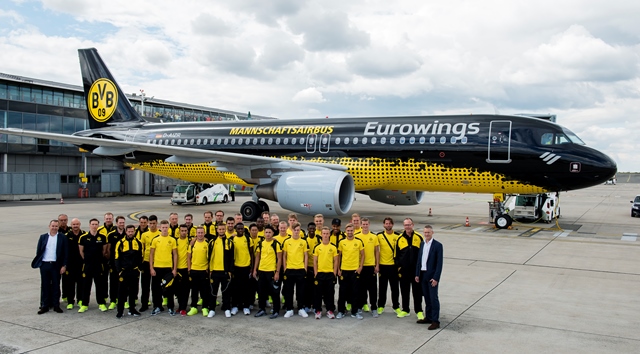 The COLOGNE/BONN, DORTMUND – Borussia Dortmund took off for the first time on Thursday in the new "Team Airbus". The players of the eight-time German champions travelled – from Dortmund via Salzburg – to their first pre-season training camp on the Eurowings Airbus A320 painted in the club colours of black and yellow. Having their "own" aircraft went down well with the players who were waved off at Dortmund airport in the direction of the Kitzbühl Alps by Eurowings CEOs Oliver Wagner and Michael Knitter. "Wow! That's just brilliant. I bet there's no other club in Europe that has an aircraft painted like this in the club's design," said BVB striker Pierre-Emerick Aubameyang.
Wagner said, "As North Rhine-Westphalia's largest airline, we're really pleased to be working with BVB. We're bound together not only by our shared home but also by passion and enthusiasm. BVB captivates and unites people just as Eurowings does." Hans-Joachim Watzke, CEO of Borussia Dortmund, was delighted with the Airbus in the BVB colours. He said, "We're very impressed with the design of the BVB aircraft. This Team Airbus will be a first-class business card for Borussia Dortmund not just nationally but also, hopefully, as part of our many Champions League trips.
The aircraft in its spectacular black and yellow design is the most visible sign of the new "Champion partnership" between Eurowings and Borussia Dortmund. As BVB's official airline, from now on the company, which is part of the Lufthansa Group, will also fly the team to its away games. The partnership covers a large number of components that go far beyond a conventional sponsorship. In addition to the usual advertising presence in the stadium (for example on advertising boards, big screens, dugouts), it includes extensive partnership in the digital domain, such as in BVB's popular social media.
From the airline's point of view, the partnership is a milestone in the branding of the new Eurowings. It will ensure that the Eurowings brand becomes more well-known throughout Europe and will anchor it in a sympathetic and innovative way. Eurowings is the largest carrier in North Rhine Westphalia, market leader at Stuttgart Airport and has a strong presence in other German airports such as Berlin, Hamburg and Hanover. In the coming years, the airline also intends to expand beyond national borders and develop into a leading European supplier in the rapidly growing low-cost transport sector.
Sponsorship of a top European football club emphasises the airline's claim of unconditional quality even for cost-conscious customers. Eurowings provides the highest quality airline product in Europe in the low-cost transport sector. This means that air passengers can put together their individual package from a no frills, low-cost trip ("Basic") to a passenger experience with all the comforts and extras ("Best").
The Eurowings Airbus A320 will be flying into the Champions League thanks not only to its top speed of over 900 kilometres per hour. What is particularly spectacular is its exterior design: a tribute in black and yellow more than 37 metres long and almost 12 metres high. Eurowings' aim even when designing the aircraft was to go far beyond the usual logo placement on the tail unit. So the airline developed a creative solution that sets new standards in cooperative design and means that Borussia Dortmund will make an impressive entrance all over Europe.
Cologne/Bonn, Dortmund, 14 July 2016