Europe's fastest growing airline flies from Munich for the first time today
More than 30 new flights at prices starting from EUR 29.99
Sales launch well above expectations
Further expansion of Munich fleet agreed for 2018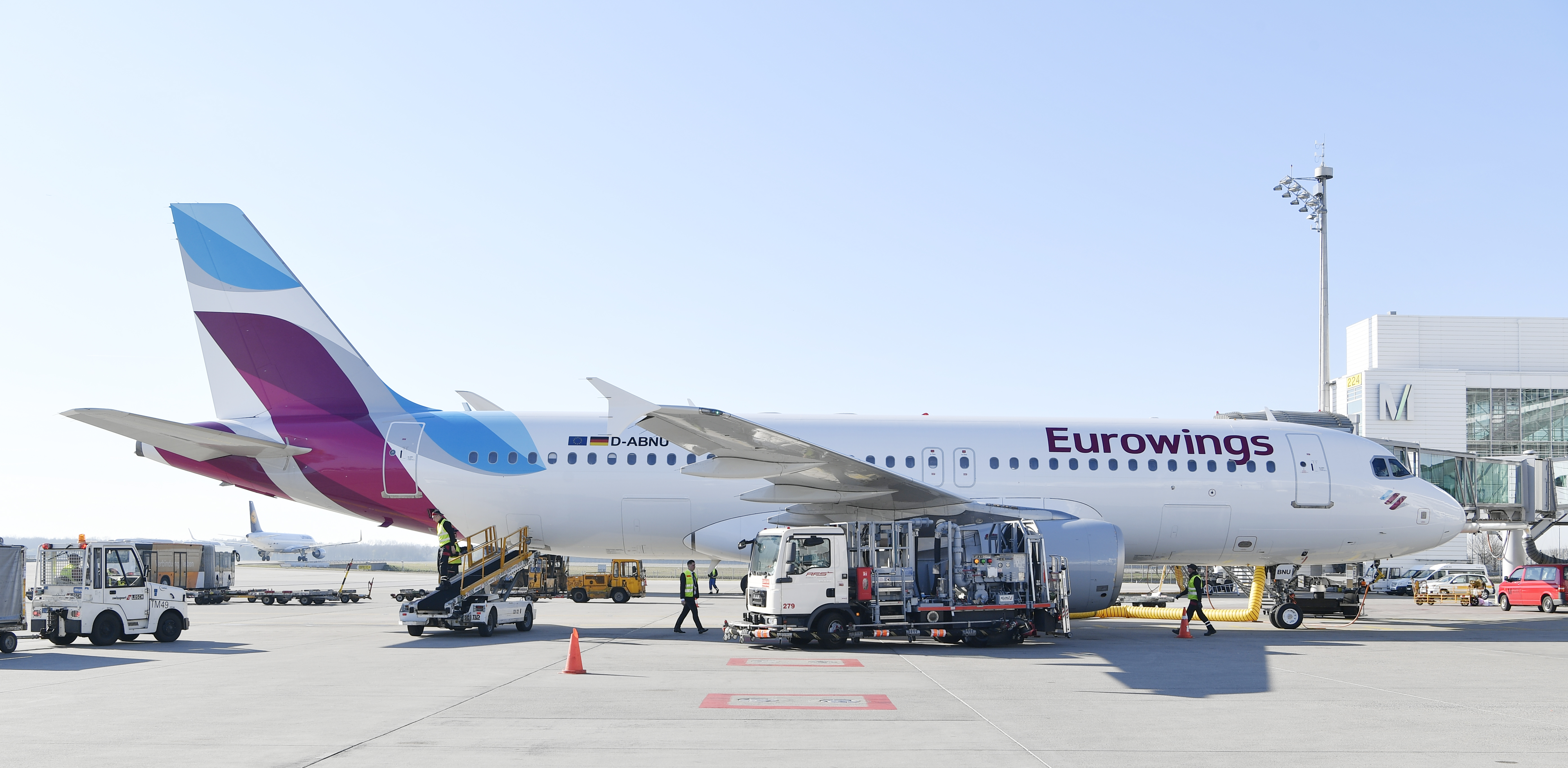 Eurowings goes Bavarian: flight EW1712, the first flight operated with a Eurowings Airbus stationed at Munich airport, took off for Edinburgh at 6.30 this Friday morning (March 31). The aircraft is one of initially four machines that the low-cost airline, part of the Lufthansa Group, will use to fly to "hot spots" all over Europe from now on. The launch in Munich is the largest step in the Eurowings expansion plan so far. Never before has the airline launched from a newly opened base with four aircraft at the same time.
Karl Ulrich Garnadt, Executive Board member Lufthansa and CEO Eurowings, said the location in the Bavarian capital was "a perfect next step" and continued, "Munich has the multi-award winning, best airport in Europe. That fits in nicely with Eurowings, at present the fastest growing airline in Europe." Eurowings currently leases 33 Airbus aircraft, including crews, from Air Berlin. Garnadt stressed, "This extensive wet lease agreement will bring Eurowings 23,000 additional flights and more than three million extra passengers a year." Some 500,000 passengers a year are due to benefit in future from the new Eurowings offerings out of Munich.
The opening of the second new Eurowings location, in addition to Salzburg, is also a special step from a different perspective. Munich has previously been home to mainly traditional network airlines, similarly to Germany's largest airport hub in Frankfurt. With the entry of Eurowings, Munich airport will significantly increase the share of fast-growing low-cost traffic.
The new offering has proven to be extremely popular in Bavaria – this has become abundantly clear to Eurowings since sales started in December 2016. Advance bookings of the Munich routes to date considerably exceed the airline's expectations. In Garnadt's words, "We're already as good as sold out over Easter and anyone wanting to grab a bargain for the summer will have to hurry." This highlights the fact that the route network offered is very attractive for an economically strong region and its Bavarian passengers. While for years Lufthansa has aimed its flight offering primarily at business destinations, Eurowings is launching from Munich airport, located in the Erdinger Moos area, with an offering which, in addition to a few city breaks, covers attractive holiday destinations in Southern Europe.
The outstanding demand since the launch has encouraged Eurowings to plan to station two further Airbus jets at the airport next year. Then, with six aircraft and corresponding expansion of the route network out of Munich, Eurowings aims to quickly become the first choice among the more tourism-oriented airlines for those living in and around Munich.
Just like Lufthansa, Eurowings also flies out of Munich's Terminal 2. This building was recently named the best terminal in the world by the London-based Skytrax Institute. Dedicated check-ins and service areas for all passengers of the quality low-cost airline have recently been set up there.
All activities on the launch day of Eurowings in Munich focused on its passengers who, on selected flights, all received gingerbread hearts with the inscription "First Flight – Eurowings – 31.03.2017" to mark this special occasion. Munich airport received Eurowings with open arms. The new flight offering out of Munich combines an excellent price/performance ratio (flights from as little as EUR 29.99 including all taxes and fees) with high service and safety standards as well as an innovative in-flight product. Eurowings already has the leading in-flight entertainment system in the guise of WINGS Entertain. In a few weeks' time, with WINGS Connect the airline will even offer high-speed Internet in-flight. Both systems are based on the convenient use of passengers' own smartphones, tablets and laptops within a WLAN network on board the aircraft.
The new routes that Eurowings is offering from Munich include sunny holiday and short break destinations in addition to city destinations that are equally attractive to both private and business travellers. In detail they are: Amsterdam (6 flights a week), Paris/Charles de Gaulle (6 connecting flights a week), Geneva (6/week), London-Stansted (6/week), Basel (5/week), Edinburgh (5/week), Nice (5/week), Rome (5/week), Thessaloniki (4/week), Naples (3/week), Pula/Croatia (3/week), Zadar (3/week), Catania (2/week), Dubrovnik (2/week), Faro (2/week), Glasgow (2/week), Heraklion (2/week), Kavala/Greece(2/week), Crete (2/week), Lamezia Terme/Italy (2/week), Mykonos (2/week), Olbia/Sardinia (2/week), Palermo (2/week), Rhodes (2/week), Bastia (1/week), Cagliari/Sardinia (1/week), Ibiza (1/week), Corfu (1/week), Porto (1/week), Brindisi/Italy (1/week), Kos (1/week). Flights will leave Munich for Palma de Mallorca every Saturday – as a supplement to the service using the Eurowings jets stationed in Palma. The flights can be booked on the Internet at www.eurowings.com or via the Eurowings app.
Cologne/Bonn, Munich, 31 March 2017