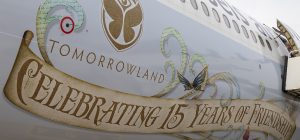 For the eighth consecutive year, Brussels Airlines organized party flights from all over the world to bring more than thirteen thousand festival goers to Tomorrowland in Boom, Belgium.
The Belgian airline operated 293 flights to fly festival goers from every corner of the world to Belgium, including 11 party flights with a live DJ on board and 56 party flights with music on board.
On 18 July 2019, Aviation24.be was kindly invited by Brussels Airlines to join one of these party flights and fly on board flight SN1808 from Frankfurt to Brussels, operated with Airbus A330-343 OO-SFX.
Brussels Airlines flight SN1807 BRU – FRA
Before operating the flight from Frankfurt to Brussels, the aircraft first had to be positioned from Brussels to Frankfurt. About 30 passengers, mostly members of the press, joined the crew onboard Brussels Airlines flight SN1807 from Brussels to Frankfurt.
We were kindly asked to meet at the Brussels Airlines ticketing desk at 07:00 AM and were greeted by Ms Wencke Lemmes-Pireaux (VP Corporate Communications) and Mr Tanguy Cartuyvels (VP Marketing & Customer Experience) of Brussels Airlines. After we received our press ID card, our boarding pass and a press map with detailed information, we moved to the fast lane and went through security without a hassle.
After passing security, we went to gate A37, our remote gate for today. Around 08:00 AM we boarded one of Brussels Airport's new electric buses. Since we were not yet cleared to board our Airbus A330 (most probably due to the cabin interior still being cleaned after its arrival from Entebbe), our bus driver offered us a short sightseeing tour around the airport. Eventually however, we arrived at our designated aircraft parking position at Pier B, where Airbus A330-343 OO-SFX was already awaiting us.
After a quick boarding – most guests were seated in the business class section of the aircraft, but after final weight and balance calculations some passengers were re-allocated to seats in the economy section – we pushed back from our parking position at 08:33 AM and taxied to the active runway. Few moments later we took off from RWY 25R and headed in an easterly direction, bound for Frankfurt.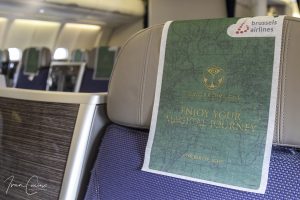 During the very short flight to Frankfurt the passengers were treated to a healthy breakfast – a nice gesture and very much appreciated – and the DJ's were doing some final checks of their gear and the aircraft systems in cooperation with some engineers and maintenance technicians of the airline.
Few moments later we started our descent into Frankfurt Airport and after enjoying a scenic approach we landed on RWY 07L at 09:19 AM.
Airport gate party with live DJ at FRA
As soon as our aircraft came to a complete stop at gate B19, we left the aircraft and made our way to the departure gate. There was already a DJ playing a live set, bringing the atmosphere of Tomorrowland to the gate. This was just one of the 16 airport gate parties that will take place for this year's edition of Tomorrowland.
Gradually, more and more festival goers from all over the world (including Australia and New Zealand) began to arrive at the departure gate and people started to get into the festival mood. Some of them had already been travelling for quite some hours (if not days), so they unpacked their country's flag and posed for a photo shoot in front of the DJ. Even the Brussels Airlines flight crew and cabin crew decided to join the party for a few moments which was really nice to see.
Brussels Airlines flight SN1808 FRA – BRU
Around 10:45 AM the members of the press received their boarding pass for the return flight and at 11:05 AM boarding began. I was kindly welcomed again onboard our Airbus A330 by the Brussels Airlines cabin crew members and made my way to my seat 02K.  Few moments later the festival goers were allowed to board as well. Around twenty-five minutes later, boarding was completed.
During final cabin preparations, we were asked by the cabin crew members to close the window shades. Not something you normally see before takeoff. In fact, this was the very first time that I was asked to close the window shade before takeoff instead of having to open it (which I usually do of course since I prefer to look outside during takeoff).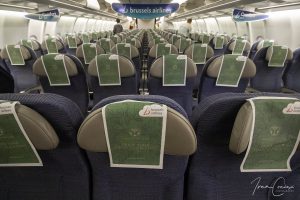 After boarding was completed, our doors were closed and we pushed back from gate B19 at 12:09 AM. Our engines were started and we started a long taxi towards runway 18, our active runway for departure.
At 12:20 both thrust levers of our Airbus A330 were advanced and we commenced our takeoff roll on RWY 18. This was welcomed by a big round of applause by the festival goers in the economy class section of the aircraft. Few moments later we rotated and were on our way to Brussels Airport (or should we say 'Tomorrowland Airport'). Another round of applause could be heard in the aircraft cabin.
As soon as we reached a safe cruising altitude, cabin crew members made a short announcement and all passengers were kindly instructed to remain seated at all times during the live DJ set. Few moments later the first beats could be heard in the aircraft cabin and the aircraft was transformed into its own flying dance festival while cruising at FL180.
Less than twenty minutes later we had already started our descent into Brussels and the DJ's had to stop their live set. The window shades were reopened for safety reasons and members of the press were asked to go back to their seat and make sure everything is OK for the approach and landing. After a final check by the cabin crew members our flaps were  extended and we aligned with the runway. Finally, the landing gear was extended and at 13:06 we made a soft landing on RWY 25R.
As our Airbus A330 exited the active landing runway, everybody was welcomed to 'Tomorrowland Airport' by the cabin crew members. After a short taxi to a remote parking position, the aircraft came to a final stop, the parking brakes were set and both engines were shut down. The end of a unique Tomorrowland party flight.
Welcome to Tomorrowland Airport
As the cabin doors were set to manual and opened by the cabin crew members, we exited the aircraft and descended the stairs. After a short photo shoot in front of the aircraft all festival goers took the bus to the arrivals zone of Brussels Airport, where they were welcomed by one of the many Tomorrowland hosts and guided to their designated shuttle bus. As they say at Tomorrowland: "Let the madness begin!"
Many thanks to Brussels Airlines and Tomorrowland for kindly inviting us on board this Tomorrowland party flight.
18 July 2019
Photos: copyright (c) Ivan Coninx