Three weekly connections to Fort Myers complete Eurowings' extensive long-haul offering
Eurowings customers flying from Düsseldorf to Fort Myers can also use the new BIZclass to travel in comfort
Consistent further development of the fast-growing low-cost airline at its largest location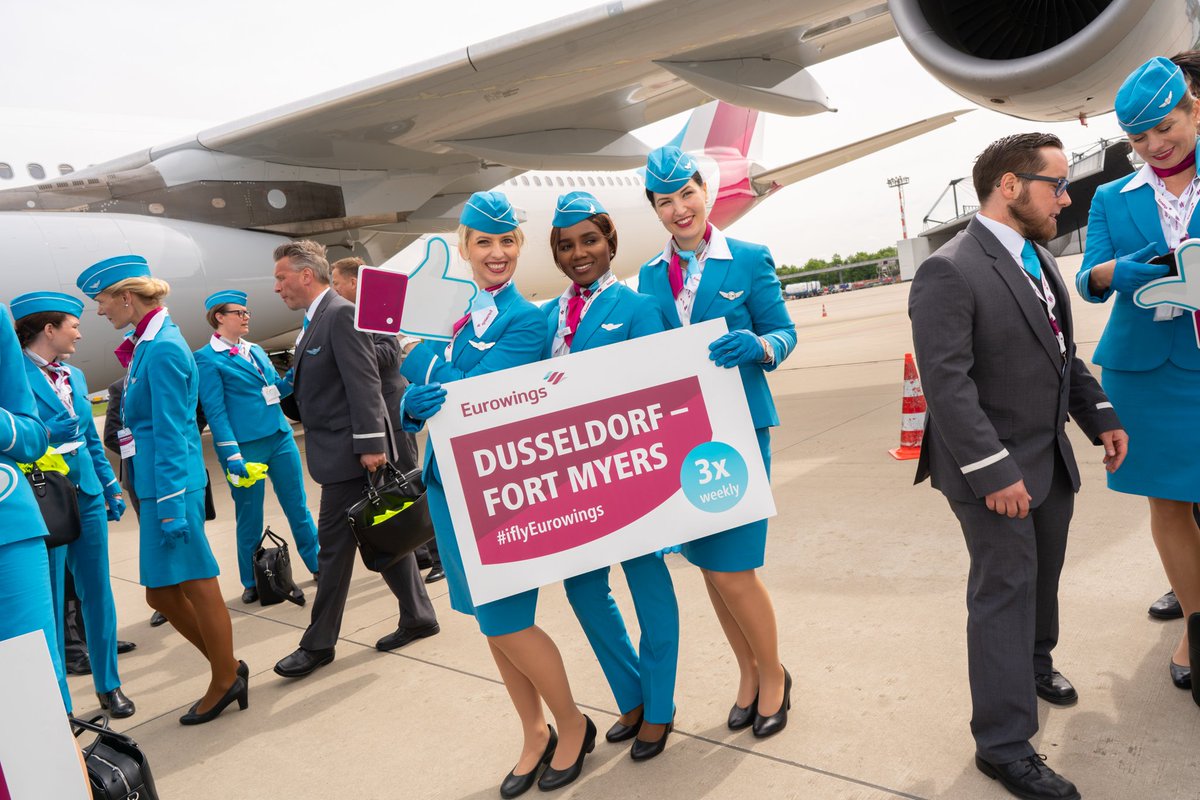 Travel to the Sunshine State with Eurowings: today (Thursday, 3 May 2018), Eurowings launched another direct flight from Düsseldorf to Fort Myers in the USA. Passengers will fly to the southeast of the United States three times a week (Tuesday, Thursday and Saturday) and can also combine their flights to or from Düsseldorf with a connection via Munich to optimise their travel plans. The airline is thus supplementing its long-haul range from the capital of North Rhine-Westphalia's airport and expanding its market leadership there: Europe's fastest growing airline now has 40 aircraft based in Düsseldorf, offering the most extensive route network among all its locations.
The route to Florida will be operated with a Brussels Airlines Airbus A330-330. Among other things, it offers a BIZclass for the most demanding passengers – a fully-fledged business class with full flat seats that convert into beds with a flat reclining surface. Eurowings is the only low-cost airline with such a high-quality offering.
Eurowings flies the route between North Rhine-Westphalia and the Sunshine State, with its perfect average temperature of 25 degrees even in winter, in just over ten hours. The Airbus A330 manages the return flight in just under nine hours. To introduce the Eurowings BIZclass, which can be booked at unrivalled special rates starting from EUR 799.99, customers of the Eurowings Boomerang Club or Lufthansa's Miles & More will receive double reward miles. The special offer is already live. It applies to bookings up to 31 May and to journeys between 1 May and 31 July 2018.
"As the most important airline at Düsseldorf airport, we are steadily expanding our market strength here. The long-haul flights to Florida, which we are launching today, are an important milestone in our rapid and consistent development at this location," said Oliver Wagner, Eurowings CCO. "It also includes an exceptional product that we are continuing to develop with great innovative strength. The most recent example of this is our BIZclass which we introduced in record time specifically for the Düsseldorf location and from which our customers will benefit enormously. With Eurowings, they fly à la carte to suit their personal requirements."
In addition to the rapidly growing offering of short and medium-haul routes, the market leader at Düsseldorf airport will be able to offer 1,700 more long-haul flights per year from here and thus carry around 450,000 additional passengers. The Eurowings Group's long-haul fleet in Düsseldorf is expected to expand to seven jets by the winter flight schedule 2017/18. Eurowings currently operates 40 aircraft at Düsseldorf airport, which fly more than 1,750 times a week to 95 destinations in Germany, Europe and around the world.
The main BIZclass feature is a comfort seat which, at the touch of a button, can be converted automatically into a bed two metres long with a horizontal reclining surface (full flat). Complementary to this, Eurowings has integrated innovative, young partners in its catering. When booking, Eurowings BIZclass passengers can already look forward to a cold craft beer from the Munich brewery "Crew Republic" or a dry Sauvignon Blanc from the Mainz start-up "Geile Weine" [Wicked Wines]. The high-quality three-course menu chosen by the LSG Sky Chefs extends from poke bowls with salmon or tuna to soba noodles with shitake mushrooms or a traditional beef goulash. Healthy, tasty snacks from the Hamburg start-up Foodist and liquorice specialities from Denmark by Lakrids round off the new food and drinks concept of the Eurowings BIZclass
Cologne/Bonn, Düsseldorf, 3 May 2018