Het is met veel kopbrekens, korte nachten en gepeperde telefoonrekeningen, maar Brussels Airlines is amper twee dagen aan de grond gebleven. Nu Zaventem in puin ligt, wijkt onze nationale trots uit naar Antwerpen, Luik, Zürich en Frankfurt. Gisteren (vrijdag) gingen 90 van de 220 geplande vluchten door. "Een heksentoer".
Zaventem, dinsdagmorgen, 8.30 uur. Het is bijna Pasen en Brussels Airlines staat voor één van de drukste weken in het jaar. Dag na dag meer dan 20.000 passagiers, verspreid over 220 vluchten. Maar 2 bommen hebben zonet de incheckbalies en de ticketdesk van onze nationale luchtvaartmaatschappij verwoest. Gedaan met vliegen. Dinsdag worden 180 vluchten geschrapt. Woensdag zal geen enkel vliegtuig van de geplande 230 opstijgen.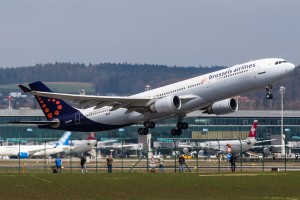 Intussen kruipt er een twintigkoppige crisiscel in de kelder van het hoofdgebouw van Brussels Airlines om een noodplan in elkaar te boksen. Onder leiding van verkoopsdirecteur Philippe Saeys-Desmedt wordt de uiterst complexe puzzel genaamd 'vluchtschema' – die doorgaans al zo'n halfjaar op voorhand in elkaar past – opnieuw gelegd. Met één gigantische handicap: in Zaventem zal deze week geen enkel toestel meer opstijgen.
Brussels Airlines kiest ervoor zijn vliegtuigen en personeel over vier andere luchthavens te verspreiden. In Antwerpen en Luik zullen zoveel mogelijk Europese vluchten vertrekken en landen. Voor de lange afstand – waarbij veel reizigers Brussel slechts als transitzone passeren – kiest de maatschappij voor Zürich en Frankfurt. Alleen zitten ze daar in de controletorens ook niet met hun vingers te draaien. En dus is het onderhandelen om zoveel mogelijk 'slots' – de tijdspanne waarbinnen een vliegtuig mag opstijgen of landen – te bemachtigen. "Een heksentoer om dat voor vier luchthavens te doen", zegt Saeys-Desmedt. "Overal zijn er andere regels. Antwerpen en Luik zijn maar beperkt open en in Zürich mag je niet landen tussen 22 uur en 6.10 uur. Creatief zijn, dus. Zo proberen wij nu onze vliegtuigen uit Afrika om 6.11 uur aan Zwitserse grond te krijgen, om zoveel mogelijk kansen te benutten.
Levensader
"Maar landingsslots alleen volstaan niet. Je moet ook toestemming krijgen om een toestel te parkeren en de bagage te lossen. Het is telkens opnieuw onderhandelen en vaak weer van nul beginnen en alles herschikken." Van Afrikaanse overheden is er dan weer toestemming nodig om opeens op andere dagen te vliegen, de autoriteiten in Duitsland en Zwitserland moeten groen licht geven om passagiers met doorreisvisa voor Brussel van boord te laten… Elke twee uur komt de crisiscel samen om alle parameters voor de zoveelste keer te overlopen. En dan zijn er nog de piloten en het cabinepersoneel, die nu per vliegtuig van hier naar Zürich en Frankfurt gebracht worden. Zo komen ze echter veel sneller aan hun verplichte rusttijd, waardoor ze zich in pakweg de Ivoriaanse hoofdstad Abidjan bij een tussenstop moeten laten vervangen. Catering, kuisploeg, baliepersoneel, onderhoudstechnici: alles en iedereen wordt nu over vier luchthavens verspreid. Passagiers vliegen naar Zürich voor hun 'echte vlucht'. Naar Antwerpen, Luik en Frankfurt gebeuren de transfers met tientallen autobussen. Zo'n 150 call-centermedewerkers bekommeren zich om het lot van elke reiziger. Als Brussel niet hun eindbestemming is, dan worden er ook vluchten bij andere maatschappijen geboekt. En op die manier lukt het. Donderdag deed Brussels Airlines weer 70 vluchten, gisteren waren dat er al 90. "We slagen erin om de lange afstand – onze levensader – grotendeels te doen. Binnen Europa zitten we aan zo'n 40%. We proberen zoveel mogelijk van onze bestemmingen te behouden. Maar door de omstandigheden vliegen we nu bijvoorbeeld dagelijks maar twee in plaats van vier keer naar Rome. Op zulke bestemmingen zijn toch veel boekingen van zakenmensen geannuleerd."
'Geen teambuilding nodig'
Nog minstens tot volgende week zal het alle hens aan dek blijven, daar in de kelders van het hoofdgebouw. "Maar het is een noodzaak", beseft Saeys-Desmedt. "De aswolk, stakingen, een brand of staatsgrepen in Afrika: we waren al wel wat gewend. Maar plots overschakelen van één op vier luchthavens, is toch andere koek; Dat doen er ons in Europa niet veel na, hoor." De drive bij het personeel is dan ook ongelooflijk. Zelf blijft de topman elke dag 20 uur op post in het crisiscentrum, veel van zijn collega's volgen zijn voorbeeld. "De kosten voor teambuilding kunnen we toch al sparen dit jaar."
Dit artikel is geschreven door Steven Swinnen, journalist bij Het Laatste Nieuws, www.luchtzak.be heeft toestemming gekregen om dit artikel te delen.