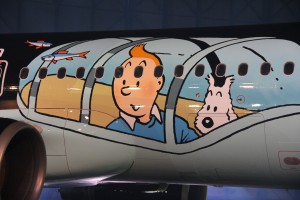 Today Brussels Airlines and Moulinsart unveiled something never seen before: an Airbus A320 with a livery inspired by the Belgian cartoon character Tintin. Both Belgian companies have worked several months on this unique project, based on the original drawings by the hand of Hergé.

The result is a 37m long black shark, based on Professor Calculus' shark submarine from the Tintin adventure, Red Rackham's treasure. The aircraft was baptized "Rackham". On the fuselage we read:"We fly you to the home of Tintin".
Brussels Airlines wants to be a proud ambassador for Belgium. The airline wants to promote the many Belgian talents in the world, just as it does for the Belgian gastronomy with its Belgian Star Chefs program, its large offer of Belgian products on board its flights, its partnership with the Belgian national football team The Red Devils and the world's largest music festival Tomorrowland.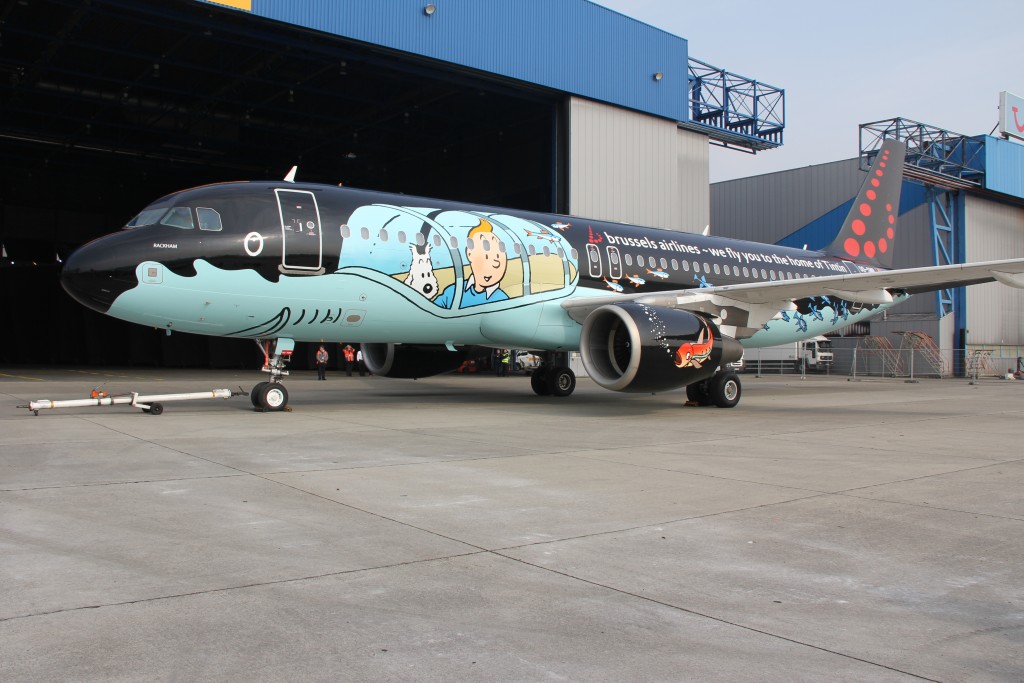 Tintin, the historical Belgian character created by Hergé, who travels the world on adventurous quests, is the perfect travel partner for Brussels Airlines. Never before has the legacy of Belgian cartoonist Hergé been translated onto the fuselage of an aircraft. Hergé himself was fascinated by planes, they are the most used means of transportation in the Tintin oeuvre and they were always drawn with great technical precision.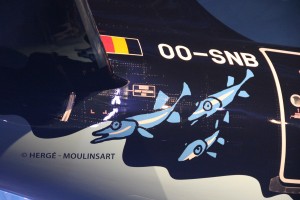 For the painting of the aircraft, Brussels Airlines worked with the aircraft paint artist Andre Eisele, who had the challenging task to adapt the perspective of the drawings prepared by Moulinsart's graphic designers to the unusual curves of an aircraft fuselage, to get as close to the original shark submarine design as possible. The entire paint job took 1500 man hours in total.
"This aircraft is a dream come true. The partnership with Brussels Airlines is a perfect marriage for us. Tintin is all about Belgium, all about Brussels, where he was born, as was Hergé. Tintin is also all about adventure and travelling, and with this plane we bring our two world together perfectly. We had many ideas about the design of the aircraft, it could have been the rocket from the album "Destination Moon" for example, but we unanimously chose the submarine, and we 're very happy with the result."

— Nick Rodwell, Director Moulinsart

"I was personally brought up with the comic albums of Tintin, I learned to read with them. This partnership means a lot to Brussels Airlines. Tintin is a frequent traveller, discovered countries around the world and met people of different nationalities and cultures during his adventures. Abroad, we feel like an ambassador of Belgium. In all we do, we build on our Belgitude while emphasizing on 'the best of Belgium', Tintin fits perfectly into this positioning and represents the characteristics that we also want to put forward: being open minded and welcoming."

— Bernard Gustin, CEO Brussels Airlines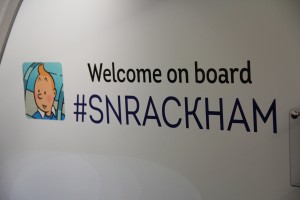 Stats & figures:
– Tintin fans can follow the whereabouts on www.brusselsairlines.com
– Rackham's maiden flight will be 1h45 to Toulouse
– Hashtag #SNRackham
– Rackham's livery will stay till 2019
– 360 liters of paint (65 liters etch primer/45 liters intermediate primer/125 liters base colors/125 liters clear coat)
– 10 days of painting, 22 painters per day, 1500 working hours
– 5 km of tape was used during the painting