Vandaag stelt Brussels Airlines haar langverwachte Magritte vliegtuig voor, een surrealistische Airbus A320 opgedragen aan Belgisch kunstenaar René Magritte. Het vliegtuig volgt in de voetsporen van Rackham, het Kuifje vliegtuig dat de maatschappij vorig jaar lanceerde, en is dus het tweede in een reeks van vliegtuigen die Brussels Airlines opdraagt aan iconische Belgen.
Brussels Airlines' Magritte vliegtuig werd vandaag onthuld in het bijzijn van Minister van Mobiliteit Jacqueline Galant, Brussels Airlines voorzitter Burggraaf Etienne Davignon en Brussels Airlines CEO Bernard Gustin, Voorzitter van de Stichting Magritte Charly Herscovici en genodigden en werknemers van de maatschappij.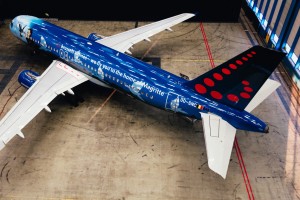 Het vliegtuig, dat de naam Magritte kreeg, is een 37m lang vliegend kunstwerk dat tot stand kwam dankzij een nauwe samenwerking tussen Brussels Airlines en de Stichting Magritte, de organisatie die het oeuvre van Magritte beschermd.
Aan de buitenkant bestaat het design uit twee van Magritte"s werken, nl. La Clairvoyance (1936) en Le Retour (1940). Het interieur van de cabine onderging ook een surrealistische makeover en toont een zwerm vogels uit Le Retour (1940) en ook het werk La Belle-Société (1965-66) met de bekende man met de bolhoed.
Het design van het vliegtuig werd gecreëerd door drie jonge Belgische designers die in het marketing team van Brussels Airlines werken. Het schilderwerk werd uitgevoerd door airbrush artiest André Eisele, die eerder ook al Rackham beschilderde. Hij had de moeilijke opdracht om het Magritte design te vertalen naar een vliegtuigromp. De werken vonden plaats bij Eirtech in Ostrava, Tsjechië.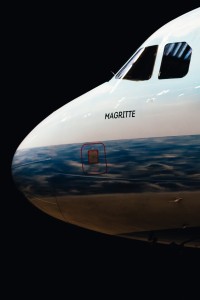 "Ik ben ontzettend trots om dit vliegtuig eindelijk in het echt te zien vandaag. Magritte had een heel nauwe band met de wereld van de luchtvaart en hij zou blij zijn om zijn werk in de lucht te zien gaan. Ik denk dat we geslaagd zijn in onze missie: het werk van Magritte vertalen naar een prestigieus en emblematisch medium als een vliegtuig.", meldt  Charly Herscovici, President Stichting Magritte.
Bernard Gustin, CEO Brussels Airlines, zegt: "Als een Belgisch bedrijf willen we onze passagiers van over de hele wereld laten zien wat ons land uniek maakt. We hebben grote artiesten die ons land op de kaart zetten, zoals Magritte. De hele wereld kent de surrealistische artiest, maar sommigen weten vast niet dat hij Belg was. Magritte liet zijn stempel achter op de hele culturele wereld en hij had een sterke band met de luchtvaart en met de lucht, wat ook een terugkerend thema is in zijn werk. Daarom hebben we een vliegtuig aan hem opgedragen, om zijn nalatenschap te eren."
"Na het succes van ons Kuifje vliegtuig, één van de meest gefotografeerde vliegtuigen in de wereld, onthullen we vandaag een ander uniek vliegtuig, ter ere van Magritte. Het thema van onze speciale vliegtuigdesignserie is Belgische iconen: zowel Kuifje als Magritte staan voor iets iconisch uit België. Daarom dragen beide vliegtuigen ook de slogan "We fly you to the home of…", zegt Lars Redeligx, Chief Commercial Officer Brussels Airlines.
"Vandaag schrijven we geschiedenis: dit is een waar vliegende kunstwerk. Ons Magritte vliegtuig eert twee werelden die veel gemeenschappelijk hebben: de lucht, wolken, dromen,… Dit is Brussels Airlines' manier om een van de grootste Belgische iconen ter wereld te eren." meldt Nathalie Erdmanis, VP Marketing Brussels Airlines.
Andre Eisele, Airbrush artist Aircraftstyle, vervolledigt: "Ik was onder de indruk van de moed die Brussels Airlines had om aan dit project te beginnen dat uniek is in Europa. Er zijn niet veel luchtvaartmaatschappijen die dit zouden aandurven. We hadden een geweldig team die een hele week op het schilderen heeft gewerkt. Het teamwork van iedereen, hoe klein of hoe groot hun bijdrage ook was, heeft dit kunstwerk tot een succes gemaakt."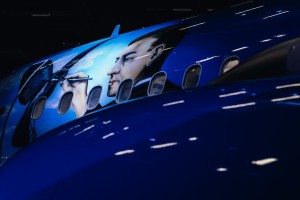 Na de onthulling vanochtend, vertrekt Magritte voor haar luchtdoop: een 2 uur en 20 minuten durende vlucht naar Madrid. Voor de gelegenheid biedt Neuhaus alle passagiers op de eerste vlucht een doos chocolade aan uit hun special Magritte collectie.

Spotters, vliegtuigliefhebbers en Magritte fans kunnen het uurrooster van Magritte volgen op brusselsairlines.com en worden uitgenodigd om hun foto's van het vliegtuig te delen op Twitter en Instagram met de hashtag #SNMagritte.
Wie niet meteen de kans krijgt om met Magritte te vliegen heeft de kans om het vliegtuig virtueel te bezoeken, dankzij een 360° beleving die gecreëerd werd door Belgische startup AroundMedia.
Het speciale Magritte design blijft op de Brussels Airlines Airbus tot 2022.
Maandag 21 maart 2016.