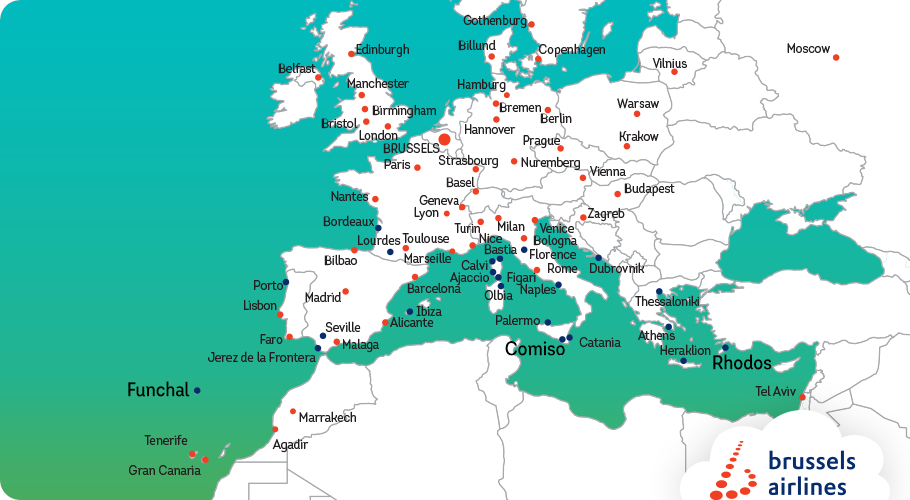 Brussels Airlines blikt vooruit naar de winter én naar de volgende lente.  Er komen extra vluchtfrequenties op bestaande Afrikaanse routes. Het netwerk breidt volgend jaar uit  met Mumbai én nieuwe Europese zomerbestemmingen.
Europa
Ook tijdens het winterseizoen, dat op 30 oktober 2016 van start gaat, zet Brussels Airlines haar strategie verder om niet alleen de Europese hoofdsteden maar ook de belangrijkste regio's  in Europa te verbinden. In vergelijking met vorige winterperiode biedt Brussels Airlines dit jaar 10 procent meer vliegtuigzetels aan. Er zijn 5 procent meer vluchten gepland. Een overzicht van de nieuwigheden:
5 Europese steden die deze zomer al opdoken in het vluchtschema, worden aan het groeiende winternetwerk toegevoegd:  Neurenberg , Belfast, Nantes, Porto en Napels
Naar enkele snel groeiende bestemmingen verhoogt Brussels Airlines de hele winterperiode lang haar aanbod.  Het populaire Lissabon wordt tien in plaats van zeven keer per week aangevlogen. Het vluchtschema wordt nog beter afgestemd op weekendtrippers. Ook Malaga groeit van zeven naar tien vluchten per week. Tenerife en Marrakech krijgen er elk  een extra frequentie bij.  Tot slot kan er vanaf het winterseizoen ook vaker gereisd worden naar Edinburgh en Billund.
Brussels Airlines breidt ook haar aantal zetelaanbod gevoelig uit (+45%) op Warschau, Oslo en Toulouse. Deze 3 routes worden vanaf de winter met grotere Airbus A319 toestellen bediend in plaats van AVRO RJ vliegtuigen.
Nieuwe zomerzonbestemmingen
Volgende lente lanceert Brussels Airlines ook 3 nieuwe zomerbestemmingen.
Met een wekelijkse vlucht naar Funchal maakt Brussels Airlines het hele zomerseizoen mogelijk om Madeira te bezoeken. Daarnaast breidt ook het aanbod naar de Griekse eilanden uit, met een wekelijkse zaterdagvlucht naar Rhodos.
Comiso, de derde nieuwe bestemming, is de toegangspoort tot het zuiden van Sicilië en is de derde luchthaven die Brussels Airlines zal aanvliegen, naast Palermo, Catania.
De Belgische reiziger koos de voorbije zomer meer dan ooit voor Italië. Touroperator Thomas Cook noteerde een stijging met 7% ten opzichte van 2015 in de boekingen naar Italië. Die trend zal zich de komende jaren doorzetten. Thomas Cook breidt daarom samen met Brussels Airlines zijn aanbod aan Italiaanse bestemmingen uit en biedt de Belgische vakantieganger de mogelijkheid aan om Comiso te ontdekken.
"Het strategische partnership met Brussels Airlines helpt ons in te spelen op de stijgende vraag van de Belgische reizigers om naar het zuiden van Italië te trekken. Met Comiso voegen we vandaag een mooie nieuwe vakantieregio toe aan ons aanbod. Vanuit onze nieuwe hotels Sentido, Acacia Marina Sicily en het Athena Resort, allemaal op slechts 30 minuten van de luchthaven, liggen de fijne en brede zandstranden binnen handbereik van onze reizigers."
—  Koen van den Bosch, woordvoerder van Thomas Cook Belgium
Intercontinentaal
Noord-Amerika
De voorbije  lente lanceerde Brussels Airlines Toronto als nieuwe bestemming. Tijdens het winterseizoen worden elke week 4 vluchten verzorgd tussen Toronto en Brussel die goed aansluiten met conectievluchten naar Afrikaanse en Europese bestemmingen. Toronto is ook een perfecte bestemming om verder te reizen naar de Canadese of Amerikaanse Westkust.
Afrika
Winterseizoen
Brussels Airlines heeft ook goed nieuws voor wie de Afrikaanse zon wil opzoeken.  Zo breidt het aanbod naar Gambia verder uit. Van de gebruikelijke 4 wekelijkse vluchten op Banjul (met een korte tussenstop in Dakar) zal er van december tot en met februari op vrijdag een directe vlucht worden ingelegd, waardoor de zetelcapaciteit in die periode op vrijdag verdubbelt.
Brussels Airlines vliegt ook dagelijks naar Senegal. Het zetelaanbod naar Dakar wordt nog verhoogd tussen december en februari doordat Banjul dan rechtstreeks wordt aangevlogen op vrijdag.
Ook aan de Afrikaanse Oostkust verstevigt Brussels Airlines haar aanwezigheid. Kigali (Rwanda) en Entebbe (Oeganda) krijgen er deze winter elke week een extra vluchtfrequentie bij.
Zomer 2017
Vanaf eind maart volgend jaar wordt Abidjan dagelijks in plaats van 6 keer per week bediend.
Accra wordt vanaf eind maart 5 in plaats van 4 keer non-stop bediend. Bovendien wordt de uurregeling geoptimaliseerd zodat passagiers die tussen Accra en Europese of Noord-Amerikaanse bestemmingen vliegen, hun reistijd kunnen inkorten.
India
Begin maart 2017 voegt Brussels Airlines met Mumbai een nieuw continent toe.  Mumbai wordt vanaf dan vijf keer per week verbonden met Brussels Airport.
Vrijdag 9 september 2016