Aujourd'hui, Brussels Airlines a dévoilé son avion tant attendu nommé Magritte. Cette œuvre d'art volante est entièrement dédiée à l'artiste peintre belge René Magritte. Suivant les traces de Rackham, l'avion Tintin que la compagnie aérienne belge a lancé l'année dernière, "Magritte" est le deuxième avion de Brussels Airlines faisant partie d'une série d'avions consacrée aux icônes Belges.
L'avion Magritte de Brussels Airlines a été dévoilé aujourd'hui, en présence de la ministre fédérale de la Mobilité Jacqueline Galant, du Président de Brussels Airlines, Vicomte Etienne Davignon, du CEO de Brussels Airlines Bernard Gustin, du Président de la Fondation Magritte, Charly Herscovici, et des invités et employés de Brussels Airlines.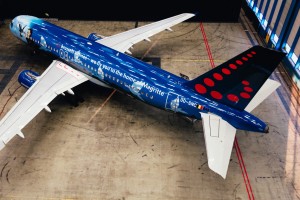 Cette œuvre d'art, un Airbus A320, baptisée Magritte, mesure 37m et a vu le jour grâce à la coopération étroite entre Brussels Airlines et la Fondation Magritte. En effet, la Fondation Magritte est l'organisation qui protège et promeut l'œuvre de René Magritte.
A l'extérieur de l'avion, la conception intègre deux tableaux de Magritte, à savoir : La Clairvoyance (1936) et Le Retour (1940). L'intérieur de la cabine a subi une cure de jouvence surréaliste et est une véritable œuvre d'art, comprenant une multitude d'oiseaux remplis de nuages​​, basé sur Le Retour(1940) et La Belle-Société (1965-1966) de Magritte.
Le design de l'avion a été créé par trois jeunes designers belges, membres de l'équipe marketing de Brussels Airlines. En ce qui concerne la peinture de l'avion, elle a été réalisée par l'artiste aérographe Andre Eisele, qui avait déjà travaillé sur Rackham. Il a reçu le défi d'adapter les œuvres et le style de Magritte sur un fuselage d'avion. L'ensemble du travail de peinture a été réalisé chez Eirtech, en République Tchèque.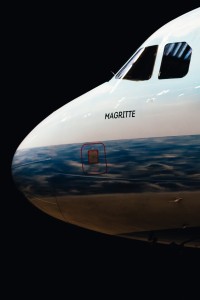 « Je suis très fier que cet avion voit le jour. Magritte avait des liens très étroits avec le monde de l'aviation et il serait heureux de voir son travail décoller dans les airs. Je pense que nous avons accompli notre mission : celle de diffuser l'œuvre de René Magritte sur un engin prestigieux et emblématique qu'est l'avion. » dit Charly Herscovici, President of the Fondation Magritte.
Bernard Gustin, CEO Brussels Airlines, dit: « En tant qu'entreprise belge, nous voulons bien sûr montrer à nos passagers à travers le monde ce qui rend notre pays si unique. En effet, nous avons plusieurs grands artistes qui mettent notre pays en avant, comme Magritte. Le monde entier connaît le peintre surréaliste, mais le fait qu'il est belge n'est pas toujours connu. Magritte a laissé une grande empreinte sur l'ensemble du monde culturel tout en gardant un lien fort avec le ciel et le monde de l'aviation. Pour ces raisons et en son honneur, nous lui avons dédié un avion à l'image de ses œuvres. »
« Après le succès de Rackham, qui a été un des avions les plus photographié au monde, nous dévoilons aujourd'hui un autre avion unique, dédié à René Magritte. Le fil rouge de ces avions, est la représentation d'icônes belges. Tous les deux, Tintin et Magritte, représentent quelque chose d'iconique de la Belgique. C'est aussi pourquoi les deux avions portent fièrement le slogan ; « We fly you to the home of » dit Lars Redeligx, Chief Commercial Officer Brussels Airlines.
« Aujourd'hui on écrit l'histoire. C'est une vraie œuvre d'art volante. L'avion 'Magritte' rend honneur à deux univers qui s'associent et qui partagent énormément de valeurs: la Belgitude, le ciel, les oiseaux, les nuages, le rêve…. Brussels Airlines rend ainsi hommage à l'une de nos icônes belges dans le monde entier » dit Nathalie Erdmanis, VP Marketing Brussels Airlines.
Andre Eisele, Airbrush artist, dit: « Je suis ravi et impressionné par la bravoure de Brussels Airlines de démarrer un projet d'une telle ampleur et il s'agit d'ailleurs d'une première en Europe. Il y a peu de compagnies aériennes qui ont un esprit d'entreprenariat pour un tel projet. Nous avions une grande équipe, qui pendant une semaine entière, a travaillé sur cet avion. Le travail d'équipe, peu importe la contribution, a fait de cette œuvre d'art un succès. »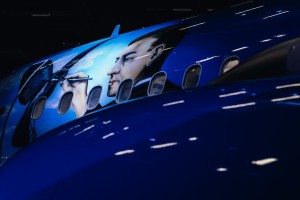 Après l'inauguration ce matin, le premier voyage de Magritte sera effectué en direction de Madrid pour une durée de 2 heures et 20 minutes. Pour cette occasion, Neuhaus offre à tous les passagers du premier vol une boîte de chocolats de sa collection spéciale Magritte.

Des Spotters, des passionnés d'aviation et les fans Magritte peuvent suivre la trajectoire de l'avion sur brusselsairlines.com et sont également invités à partager leurs photos avec le tag #SNMagritte. Ceux qui n'ont pas la chance de voler avec Magritte, peuvent visiter l'avion virtuellement, grâce à une vue à 360 ° de l'avion créé par une startup belge AroundMedia.
Cette édition spéciale Magritte restera jusqu'en 2022.
Lundi 21 mars 2016.