• Objective: cover peak capacity requirements
• Deployment of an Airbus A320 from May 15 until the end of December 2016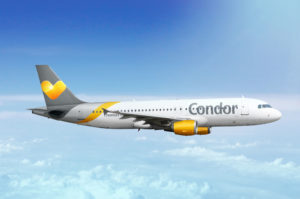 Austrian Airlines is launching a wet lease agreement with Condor, the fourth largest German airline, which is headquartered in Frankfurt am Main. The objective of this contract is to cover peak capacity requirements of the airline, above all in the particularly dense summer flight schedule. An Airbus A320 aircraft along with the cockpit and cabin crew of Condor will be deployed in the European route network of Austrian Airlines starting on May 15 until the end of December 2016. Passengers on these flights will enjoy the typical service provided by DO & CO. The planned destinations for flights originating in the Austrian Airlines hub of Vienna are Bucharest and Sofia. Since May 1, 2016, Adria Airways in cooperation with Nordica has been operating flights on behalf of Austrian Airlines within the Austrian carrier's route network, deploying a Bombardier CRJ900.
The airline Condor Flugdienst GmbH is a member of the International Air Transport Association (IATA) and has been certified according to the IATA Operational Safety Audit (IOSA). Each year more than seven million passengers fly with Condor to some 75 destinations in Europe, Asia, Africa and America. Condor operates within the Thomas Cook Group as part of the Thomas Cook Group Airlines together with Thomas Cook Airlines Great Britain, Thomas Cook Airlines Scandinavia and Thomas Cook Airlines Belgium. The Thomas Cook Group fleet consists of 91 modern and environmentally friendly aircraft, including 42 aircraft in the Condor fleet. All the companies in the Thomas Cook Group have been joined together under a unified symbol, the Sunny Heart, since October 1, 2013.