LOT'S NEW SUNNIER FLIGHT SCHEDULE FOR THE SUMMER! NEW DESTINATIONS AVAILABLE NOW!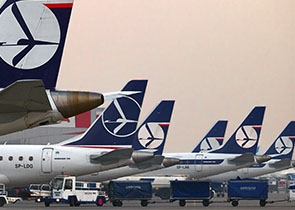 The summer season at the LOT Polish Airlines is off to an impressive start. From now on, regular flights are available to Beirut, Nice, Cluj-Napoca, Palanga and Košice. The frequency of our flights to other attractive summer destinations has also been increased.
For LOT, the summer season began with the addition of new, exciting destinations as well as with the increase of the frequency of flights on other, previously available routes. From now on, you can fly with us to the very heart of Lebanon, to the picturesque city of Cluj-Napoca, to Nice – the spectacular centre of the French Riviera, to the seaside city of Palanga and to Košice – an important cultural and business centre in eastern Slovakia. From early January to the end of March, LOT established as many as 18 new connections, including Venice, Barcelona, Athens, Luxembourg, Düsseldorf, Yerevan, Zurich, Ljubljana and Kharkov as well as the long-distance connection to Tokyo, but instead of slowing down, it is continuing to expand at an even faster pace!
The newly opened route from Warsaw – Nice is available every day during the summer season in the following pattern: 10:50 AM-1:25 PM – 2:05 PM-4:25 PM (WAW-NCE-WAW), courtesy of the state-of-the-art Embraer 170/175 airliners. Passengers are able to travel from Warsaw to Košice 6 times a week by evening flight 10:35 PM-11:40 PM (KSC-WAW) every Monday to Saturday. Return flight takes off from Košice Airport to Warsaw every Monday to Friday as well on Sundays at 5:45 AM, arriving in Warsaw at 6:45 AM. Five times every week, passengers are able to take advantage of our convenient flights from Warsaw to Beirut in following schedule 10:35 PM-03:05+1 PM (WAW-BEY) on Mondays, Wednesdays, Thursdays, Saturdays and Sundays.
The morning return flight from Beirut allows passengers to arrive at the Warsaw Chopin Airport at 6:35 AM on Mondays, Tuesdays, Thursdays, Fridays and Sundays. Four times a week, the passengers can take flight to Cluj-Napoca; on Mondays and Saturdays, the schedule is 10:45 AM-1:10 PM – 1:50 PM-2:35 M (CLJ-WAW-CLJ), while on Wednesdays and Fridays, the flights are available according to the following schedule: 2:20 PM-4:45 PM- 5:25 PM-6:10 PM (WAW-CLJ-WAW). Our newly opened route from the Warsaw Chopin Airport to Palanga allows passengers to take a quick evening at 10:30 PM, three times a week – on Mondays, Tuesdays and Thursdays. Our early morning return at 06:15 AM to Warsaw, is designed for convenient access to connecting flights through the Warsaw hub to numerous European destinations offered by LOT as well as to many long-distance routes.
At the end of March, LOT increased the frequency of flights to other attractive destinations, including Athens, Barcelona, Yerevan, Belgrade, Zagreb and Chi?inău as well as local flights between Gdańsk and Cracow. Other exciting destinations – the ancient seaside cities of Split and Zadar in Croatia – will become available in late April and early May 2016.
"We have already opened more than a dozen connections on completely new routes; we have also made our way back to a few major European airports. We have also completed the long-awaited first flight from Warsaw to Tokyo. This rapidly developing flight network forms the crucial part of our long-term development strategy until the year 2020. Our extensive array of available flights, our convenient connecting flights at the Warsaw hub with a minimum transfer time of 30 minutes, our state-of-the-art fleet and our supreme service quality have made it possible for LOT to develop a great reputation both with passengers from all across Poland and from other European countries" – says Adrian Kubicki, Acting Executive Director and Spokesperson.
The state-of-the-art LOT's fleet ensure the highest levels of comfort and safety for all passengers. LOT is also the only carrier in Europe which offers as many as three travel classes, each of which meets the individual requirements and expectations of our clients. Currently, apart from LOT Business Class, the carrier also offers LOT Premium Economy Class, which combines business class service and affordable price. On the other hand, for Economy Class passengers, LOT has created a dedicated tariff known as LOT Economy Simple, which enables them to travel only with hand luggage at a 30% discount. Furthermore, in each class we offer a unique range of products available on board. All LOT passengers may choose from "a la carte" services, such as "My Favourite Meal", "My Extra Baggage" or Duty Free shopping on board.
Thanks to our well-planned schedule, our new destinations are not just designed for passengers from all across Poland and new Europe, offering great options for other passengers as well. Apart from direct "point to point" flights, we also offer an extensive network of connecting flights for nearly 60 destinations worldwide, performing approximately 250 operations per day and offering the most competitive travel times to the most attractive locations in Europe, North America and Asia.
The tickets can be purchased using all available channels, including the lot.com website, LOT Call Centre, the LOT Travel offices and travel agents.