LOT has launched a direct flight between Los Angeles and Warsaw. Shortly after 9:40 pm, the Boeing 787-8 Dreamliner took off from the Los Angeles airport to begin a nearly 12-hour flight taking it over US, Canada, Greenland, Iceland and Scandinavia to Poland. There are 3 experienced pilots and 10 cabin crew on board, taking good care of the comfort and safety of passengers. Los Angeles is LOT's fourth North American destination and the first regular connection with the West Coast in the history of the airline.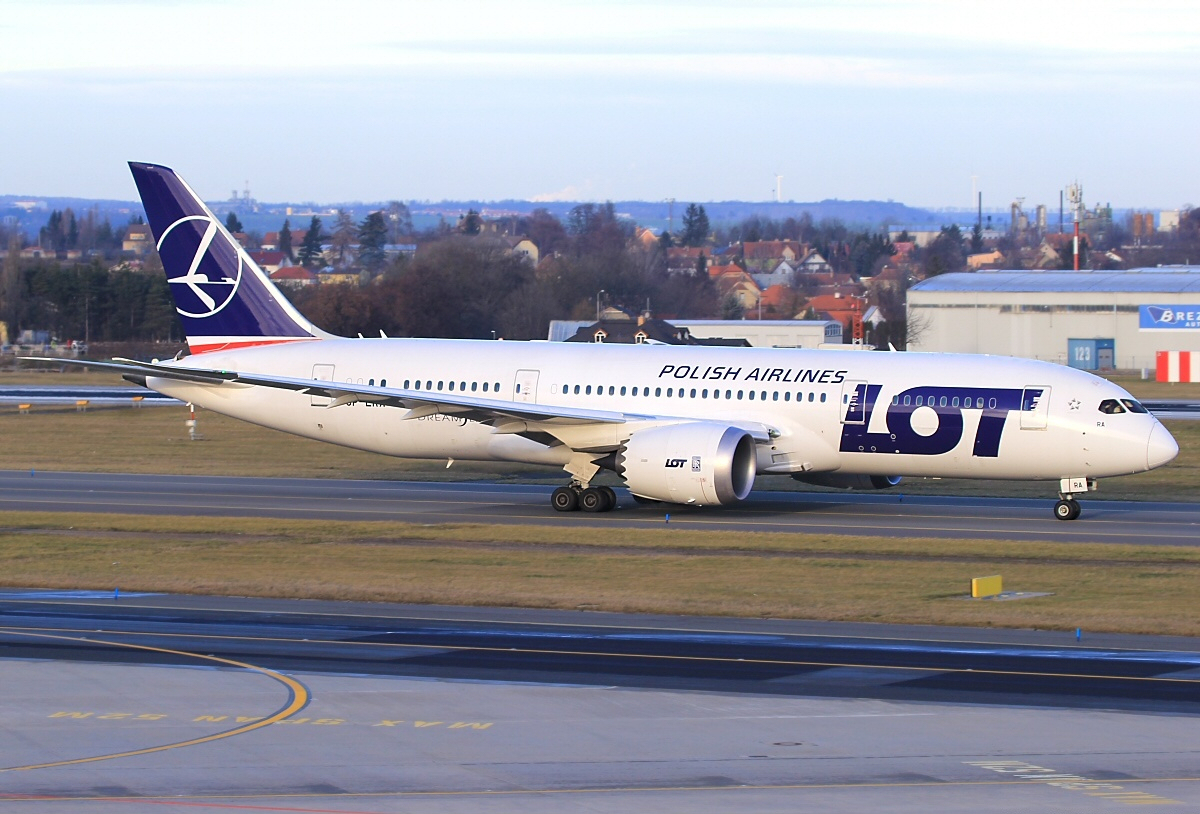 As of today, LOT's Dreamliners will be leaving from Los Angeles to Warsaw every Monday, Tuesday, Friday and Saturday. The connection between California and Poland is so far the longest regular flight offered by the Polish carrier. LOT's aircraft will be covering the distance of approximately 6,500 miles each way. The journey will take about 12 hours and is the shortest connection between US West Coast and Central and Eastern Europe.
Rafał Milczarski, LOT's CEO explains:
LOT creates a perfect gateway to all willing to travel from Southern California to Central and Eastern Europe – the fastest growing region of the continent. There is already a massive number of passengers travelling from Los Angeles to Poland and other countries in Europe and Middle East such as Germany, Austria, Czech Republic, Hungary, Ukraine, Armenia or Israel. Now they can travel via Warsaw – the most convenient European airport, where for most of our flights we offer connecting time as short as one hour.
Flight from Los Angeles have been scheduled to offer short and convenient layovers to passengers travelling to any other city throughout Europe. While on their way to Tel Aviv, Vienna, Prague, Budapest, St. Petersburg, Sofia, Bucharest, Moscow, Tallinn, Kiev or the majority of Polish cities, a 1-hour transfer at the Chopin Airport in Warsaw is all they have to deal with. A transfer time of two hours is expected in the case of Los Angeles arrived passengers departing to from Venice, Stockholm, Paris or Milan.
Rafał Milczarski adds:
The offering is practically impossible to match, and it works for those on the return leg of their trip as well. Every year, we are observing an increasing number of people showing great interest in California region who are visiting us as tourists, or on business. Today, LOT provides what is required to further stimulate those relations.
The flights from Los Angeles will be operated exclusively by Boeing 787 Dreamliners, the most technically advanced aircraft in the world. Thanks to the use of state-of-the-art technology, they offer increased cabin pressure and humidity levels, and are much more spacious. All those factors help enhance passengers' comfort during such a long flight and reduce the so-called jet lag effect.
There are three travel classes available aboard the Dreamliners: LOT Business, LOT Premium Economy and LOT Economy. In Business Class, 18 flat bed seats are available – one of the biggest on the market. Restaurant-quality meals are offered and served to passengers on an individual basis, with top-quality tableware used. A broad range of alcoholic and non-alcoholic beverages is offered as well.
LOT's Premium Economy class offers 21 spacious seats, all equipped with armrests, footrests and leg rests. An increased recline angle means that the seats provide the level of comfort and relaxation required on a long, transcontinental flight. A sumptuous menu, as well as alcoholic and non-alcoholic beverages are served in this class as well.
Compared to other aircraft, the Dreamliners offer passengers traveling in LOT Economy a much greater private space to enjoy. Seats slide and recline forward, without reducing the amount of space available to those seated in front, and are also equipped with footrests. Each passenger may take advantage of a personalized in-flight entertainment system and a USB socket. In the Economy Class, passengers are provided with complimentary, hot and diversified meals as well, and are offered a broad selection of beverages.
Los Angeles is the 7th long-haul connection in LOT's network and is the airline's 4th destination in North America. The launch of flights connecting Poland with the US West Coast is another element of PLL LOT's profitable growth strategy. Newark will be another North American destination served by LOT, as the first plane headed for that city is scheduled to take off as soon as on April 28th. In early August, LOT is expected to launch another direct flight – this time between Kraków and Chicago.
Warsaw, April 3, 2017