The cheapest tariff without luggage, or a fully flexible, refundable ticket offering the opportunity to change your travel dates? LOT provides its passengers with great flexibility when it comes to selecting the way they want to travel. Introduction of new economy class tariffs – SAVER, STANDARD and FLEX – enables everyone to choose the option that is tailored to their specific needs.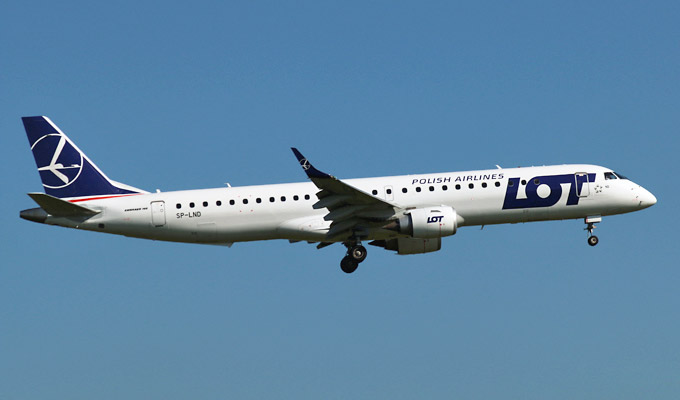 From now on, LOT passengers travelling on domestic and European routes, may choose from three economy class tariffs: SAVER, STANDARD and FLEX. Each of them offers a different range of products and services included in the ticket price.
"Our passengers are very conscious consumers who are well aware of what they are paying for, and – most importantly – are not willing to pay for services they don't need. We strive to meet their expectations by offering three pricing variants, with each of them tailored to suit different needs" – says Michał Fijoł, CCO of LOT.
The SAVER variant is the simplest and the most cost-effective option to travel by LOT. Passengers taking advantage of this tariff are only permitted to take carry-on luggage, and cannot return the ticket or change their travel dates. Instead, they are offered the benefit of the lowest ticket price – saving up to 40% compared to the STANDARD variant. Additional services, such as hold baggage or seat selection are available for an extra fee.
"We are convinced that the cheapest option will be taken advantage of by those passengers who have been so far used to traveling on the so-called low-cost airlines. Today, for a similar price, they can enjoy much higher levels of comfort. All LOT passengers traveling in economy are offered complimentary snacks and drinks. In addition, our flights always arrive at the main and centrally located airports. We prove that one does not have to pay a lot for the ticket in order to travel conveniently and comfortably" – explains Michał Fijoł.
The STANDARD variant is the best choice for those with hold luggage. A single bag weighing up to 23 kg may be checked-in free of charge. Tickets are not refundable, and travel dates may be modified for a fee. In this variant, seats may be chosen at no additional cost.
The FLEX option is dedicated to those who value flexibility the most. The price of a FLEX ticket includes all the advantages of the STANDARD option, plus free booking modifications and the possibility to return the ticket, for an additional fee.
In addition to the economy tickets described above, LOT offers, on all of its European connections, economy premium and business class tickets as well.
"Introduction of three simple and transparent options enabling the passengers to travel in the economy class on domestic and European routes enhances the clarity of LOT's offering and renders it more customer-friendly. It also makes travelling an experience that is tailored to the passengers' individual needs, as they are not required to pay for the products or services they do not need. All that makes us more competitive and allows us to win, more effectively, the hearts of those passengers who were not taking advantage of our services" – adds Michał Fijoł.
The advantages of each of the new travel tariffs will be explained in detail by a special "LOT suited to your needs" advertising campaign that will be conducted both in traditional and online media. The new options are also presented, in a clear and understandable manner, by the new graphic layout of the lot.com website.
Expansion of the range of products and services offered, as well as winning customer trust are one of the key elements of LOT's profitable growth strategy that will be implemented by 2020. The said strategy assumes that the network of LOT's connections will be subject to dynamic expansion. The Polish carrier is scheduled to launch, by the end of this year, new direct connections from Warsaw to Los Angeles, Newark and Astana, from Kraków to Chciago, as well as from Lublin, Poznań, Wrocław and Gdańsk to Tel Aviv. LOT's fleet is expanding as well. The airline is set to acquire 4 Boeing 737-800 NG planes, as well as 2 brand new Boeing 737 MAX 8 aircraft by the end of this year. Furthermore, July and August will see a delivery of two new long-range Boeing 787-8 Dreamliners. Next year, LOT expects to receive longer versions of the Dreamliner – the 787-9.
SAVER, STANDARD and FLEX tickets may be purchased vial all sales channels, including lot.com, at LOT Travel offices and at the LOT Contact Center. The new variants are available on all domestic and European flights from March 1st.
Warsaw, 3 March 2017