The fleet of LOT was joined by the 8th wide-body plane, Boeing 787-8 Dreamliner. The new machine will allow the Polish carrier to increase the frequency of flights to Seoul and Tokyo. Starting in August, it will also serve regular flights from Warsaw to Newark, and in the near future will allow for launching the next new destinations. This is not the end of the growth of the LOT fleet. Next year, deliveries of larger Dreamliners – 787-9 – will start.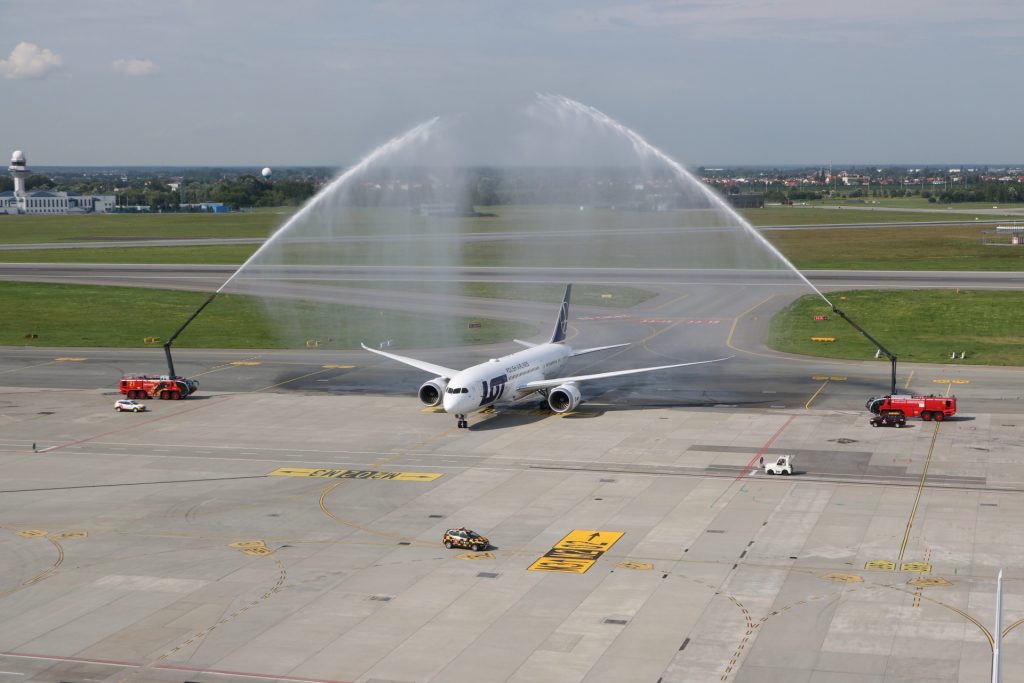 The delivery of the eighth Dreamliner for LOT, with SP-LRH registration, finalizes the order submitted by the Polish carrier in 2005. The first Dreamliner (SP-LRA) arrived at LOT in November 2012. At that time, the Polish carrier was the first airline in Europe flying this type of plane. It was thanks to Boeing 787 that since 2016 LOT has started an intensive development of long-haul connections to Tokyo, Seoul, Los Angeles, Newark, as well as flights from Kraków to Chicago. All connections are developed as planned, and some – such as the connection with Seoul – even faster than anticipated.
"Dreamliner is a plane which is loved by our passengers and many of them select our airline because only LOT, as the only traditional carrier in the world, uses those wonderful machines to serve all the flights. We could say a lot about their advantages: they are quieter, they have spacious cabins, larger windows, the wet air system and higher pressure, and all of this means that even a long journey is not tiring. This is still the most technologically-advanced plane in the world!" says Rafa? Milczarski, CEO of LOT. "Of course, what is also important for us is the economics of this plane, and as far as this aspect is concerned, they do not have their equal. They can fly higher, faster and farther than other planes of a similar size, and they use much less fuel. This, in turn, translates directly to our offer. We can offer more cheaper tickets, and in this way attract more and more new customers," he adds.
The eighth Dreamliner in the LOT fleet will mainly contribute to an increase of the flight frequency along Asian routes. Starting in July, LOT will fly not 3 but 5 times a week to Seoul. The frequency of flights to Tokyo will increase from 3 to 4 flights per week. Starting in August, Dreamliner will also commence regular flights from Warsaw to Newark, which will be operated 5 times a week, in this way replacing Boeing 767-300 leased for three months from the EuroAtlantic airline.
The last two Dreamliners 787-8 ordered by LOT were financed under a financial leasing mechanism which, from the point of view of LOT, is more efficient financially and means that the new Boeing planes will become the property of the Polish carrier. The application of such financial mechanism became possible thanks to the guarantees granted to LOT by the British foreign credits agency, UK Export Finance.
"We are glad that such an important partner believed in the strategy we are implementing and decided to support it. This is a great success of our company, which will allow LOT, over the next few years, to save many million dollars. On the other hand, the trust of UK Export Finance, an independent financial institution, shows that we are becoming a stronger and stronger player in the European sky, a player worth co-operating with," – says Rafa? Milczarski.
New Dreamliners 787-8 are not the last planes to be acquired by LOT in the nearest future. This month, deliveries of 4 Boeing 737-800 NG planes were completed, and in November, LOT will be one of the first airlines in the world to receive narrow-body planes of the latest generation straight from the Boeing plant – 737 MAX 8.
Meanwhile, starting in April next year, deliveries of larger Dreamliners – 787-9 – will start. In total, LOT ordered 4 machines of this type.
"This is another historical moment, because LOT has never before had such big planes in its fleet. A larger Dreamliner will allow us to carry 294 passengers, including 24 in business class. This means that we will be able to respond better to the demand in the market and open new connections. It is thanks to those planes that next year we will start flying from Budapest to New York and Chicago," says CEO of LOT.
The development of the fleet is an element of the profitable growth strategy implemented by LOT, according to which, by 2020, LOT wishes to double its number of passengers, number of flights, and number of planes in its possession, thus becoming the largest carrier in Central and Eastern Europe.
Warsaw, 15 July 2017