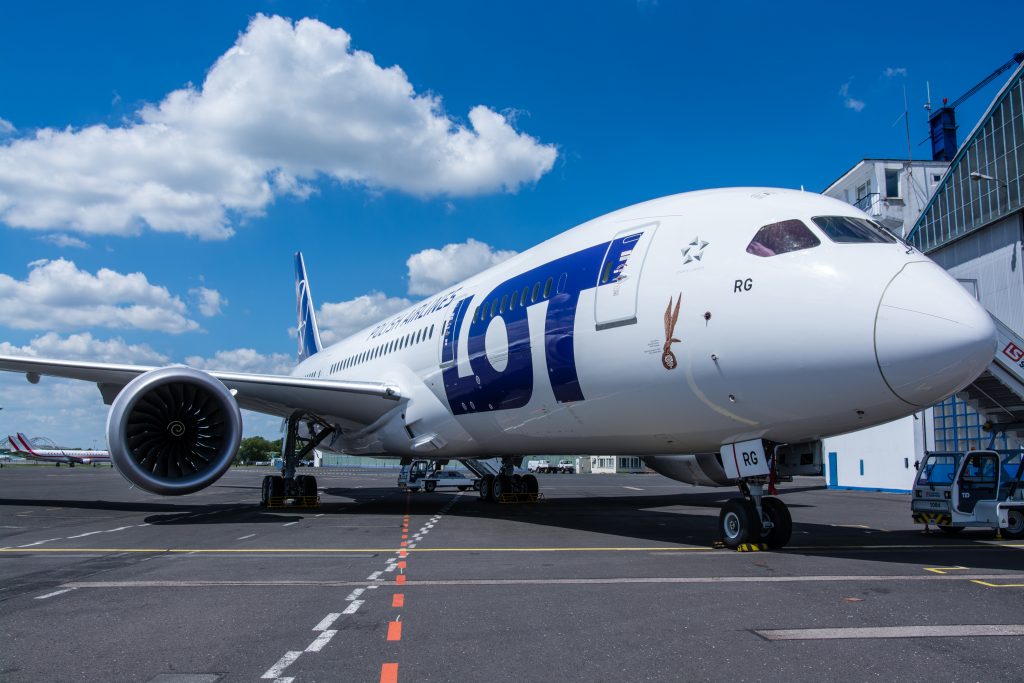 A LOT Polish Airlines' Dreamliner has operated the first of its kind historic flight from Chicago to Kraków launching new connection between Poland and the US.  
The new connection between Kraków and Chicago is 9th long haul route and 6th long haul connection launched by LOT Polish Airlines to North America. The flights between the 'Malopolska' district and Chicago will be carried out once a week throughout the year. Total travel time between Kraków and Chicago is around 9 hours, the shortest and most convenient connection from Malopolska district to the US.
"Every year more than 90,000 passengers travel between Chicago and Kraków. Until now, all these passengers had to travel with a stop over. This is why we decided to open direct connection to the hub of where most Poles live abroad and also those living in Malopolska with family and friends in the United States and launch the first direct long-houl connection from the regional Kraków airport. I am glad that from now on our passengers can fly directly from Kraków to Chicago and I am certain that this will give Poles in America an even better connectivity with their homeland. I hope they will be frequent guests on our board." – says Rafal Milczarski, CEO of LOT Polish Airlines.
The decision to launch a direct flight from Kraków to Chicago was made based on detailed traffic analysis on this route. Data over the last few years shows a clear increase in the number of passengers. The great majority of them chose to have a connection in Warsaw. After positive detailed business analysis LOT Polish Airlines decided to launch additional direct flights.
"The number of passengers traveling between Kraków and Chicago since 2012 has grown on average by 17% a year, and LOT's strategy clearly states that we must not miss that potential. Together with Krakow Airport we have been investigating the possibility of returning to Kraków – Chicago for many months. Thanks to the new Dreamliner's that are joining our fleet, the launch of this connection becomes a reality, today." – adds Rafał Milczarski.
The connection between Kraków and Chicago will be run exclusively by Boeing 787 Dreamliner's, the most technologically advanced aircraft in the world.
There are three travel classes available aboard the Dreamliners: LOT Business, LOT Premium Economy and LOT Economy. In Business Class, 18 flat bed seats are available – one of the biggest on the market. Restaurant-quality meals are offered and served to passengers on an individual basis, with top-quality tableware used. A broad range of alcoholic and non-alcoholic beverages is offered as well.
LOT's Premium Economy class offers 21 spacious seats, all equipped with armrests, footrests and leg rests. An increased recline angle means that the seats provide the level of comfort and relaxation required on a long, transcontinental flight. A sumptuous menu, as well as alcoholic and non-alcoholic beverages are served in this class as well.
Compared to other aircraft, the Dreamliners offer passengers traveling in LOT Economy a much greater private space to enjoy. Seats slide and recline forward, without reducing the amount of space available to those seated in front, and are also equipped with footrests. Each passenger may take advantage of a personalized in-flight entertainment system and a USB socket. In the Economy Class, passengers are provided with complimentary, hot and diversified meals as well, and are offered a broad selection of beverages.
The flight between Kraków and Chicago is the 9th long haul connection in the LOT network, including the sixth direct flight to North America and the fifth to the USA. Starting flights on this route is another element of LOT Polish Airlines' successful growth strategy.
Warsaw, 3 July 2017