LOT has launched a new connection to Gothenburg, the second largest city in Sweden. In that way, the Polish carrier strengthens its presence in Scandinavia. Starting today the flights on that route will be operated as many as 6 times a week. It is the 40th new connection launched by LOT since early 2016.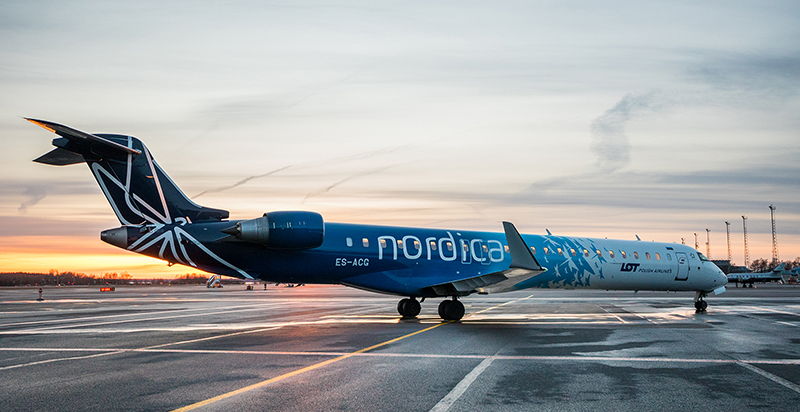 Flights to Gothenburg are operated by LOT in cooperation with Nordica, Estonian national airlines which have been working together with LOT since November 2015. The flights to Gothenburg are operated 6 times a week with Bombardier CRJ900 aircraft, and passengers can choose to travel in the business, premium or economy class.
Thanks to the launch of the flights to the second city in Sweden, LOT has strengthened its position in Scandinavia, offering its passengers travelling from the region for business or tourist purposes access to a full range of connections to the Eastern and Central Europe.
The flights on the Gothenburg-Warsaw route will be operated daily except for Sundays based on the following schedule:
LO 496 GOT WAW 08:00 – 09:40
The flights on the Warsaw-Gothenburg route will be operated on all weekdays except for Saturdays as below:
LO 495 WAW GOT 19:35 – 21:15
"Sweden is the fastest growing economy among all Scandinavian countries. Market analyses clearly show that in the past few years the potential of passenger traffic from and to Sweden has grown significantly. As of today LOT will ensure the best connections from Gothenburg to the Central and Eastern Europe with Warsaw being a transfer hub for passengers travelling from the western part of Sweden to Ljubljana, Belgrade, Zagreb, Prague, Budapest as well as Ukraine and Romania," says Adrian Kubicki, Director of Corporate Communications Department.
Thanks to LOT's cooperation with Nordica, the passengers travelling from Gothenburg will also be able to benefit from a new connection to Tallinn, the capital city of Estonia, which will be operated 6 times a week. The flights are operated with the modern Bombardier CRJ900 aircraft – the same that is going to connect Gothenburg and Warsaw.
"Gothenburg is LOT's another destination which we have launched thanks to unique synergy resulting from our partnership with the Estonian airlines. The very same aircraft to fly from Tallinn to Gothenburg will also be operated on the flight to Warsaw which will in turn translate into low operating costs and the possibility of offering our passengers attractive fares," adds Adrian Kubicki.
The expansion of the connection network is one of the elements of LOT's profitable growth strategy that the airlines have been implementing since the beginning of 2016. During that time LOT has launched the highest number of connections among all airlines in Europe, including flights from Warsaw to, for example, Los Angeles, Newark, Seoul, Tokyo and from Kraków to Chicago. In May 2018 LOT plans to launch direct flights from Budapest to New York City and Chicago.
Warsaw, 28 August 2017