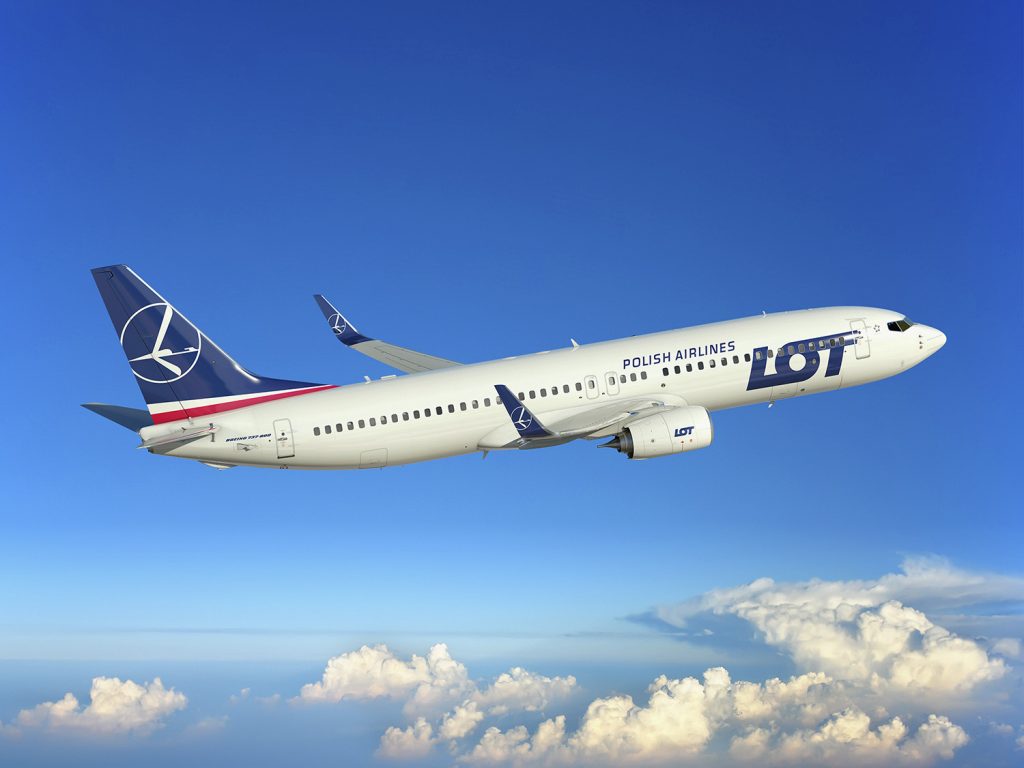 LOT has already started its new service to Astana, launching the first direct connection between Poland and Kazakhstan. The new aircraft in Polish carrier's fleet, Boeing 737-800 NGs, will be used to operate four flights weekly on that route. Astana is the seventh destination launched by LOT in 2017 and the first one in Central Asia. 
The first flight to Astana took off around 22.50 PM and reached the capital city of Kazakhstan in less than five hours. The distance covered by the machine was 3.500 kilometers. It is the longest connection operated by LOT with aircrafts belonging to the Boeing 737 family.
The flights from Warsaw to Astana are operated 4 times a week on Mondays, Wednesdays, Fridays and Saturdays. Return flights from Astana are scheduled for Tuesdays, Thursdays, Saturdays and Sundays. The timetable was designed in such way that ensures a comfortable journey not only to the passengers travelling between Poland and Kazakhstan but also between Kazakhstan and other destinations in Europe and North America.
"Until now there has been no direct route connecting Poland and Central Asia. Kazakhstan is currently the most dynamically growing business center in the entire region. Exports to the Republic of Kazakhstan play an important role in Polish sales abroad, making that country Poland's strategic business among Central Asian countries. The Polish and Kazakhstani trade remains high and in 2016 amounted to USD 759.4m. I am certain that direct flights on the Warsaw-Astana route will soon make those figures go up", said Rafał Milczarski, LOT's CEO.
The flight from Warsaw to Astana or Astana to Warsaw lasts less than 5 hours. Passengers travelling from Kazakhstan will be able to visit other cities in Poland apart from Warsaw, including Kraków, Wrocław, Gdańsk and Poznań. The shortest connecting time is 40 minutes via the Warsaw hub, ensuring the best option for passengers travelling to Brussels, Budapest, Bucharest, Hamburg, Milan, Munich, Prague, Riga, Stockholm and Vilnius. Also Kazakhstan will become more accessible from nearly 70 European and North American cities being LOT's destinations.
"Just like in the case of Japan or South Korea, with the direct flights launched from Warsaw LOT was able to release huge potential that lies in tourist and business travel in both directions, and we are certain that Kazakhstan will follow suit. We hope that not only Poles and Kazakhs will be happy to benefit from our flights but they will be also an excellent travel opportunity for other inhabitants of the region, especially those from the Western and Central Europe. I personally encourage everyone to visit that beautiful and hospitable country," adds Rafał Milczarski.
Kazakhstan is currently the most dynamically growing business center in the entire region and its modern capital city, Astana, is one of the most important business capitals of the region. As of 10 June Astana will host EXPO 2017 under the theme of sustainable global energy solutions and technology. Being Expo 2017's official Partner, thanks to short and convenient transfers via the Warsaw Chopin Airport hub, LOT will ensure the most convenient journey to the passengers visiting EXPO. The new connection will also significantly highlight Poland's presence at the exhibition where national innovations will be presented in the Polish pavilion. In the fall as part of EXPO 2017 on 6 September the Economic Forum is going to be organised in Astana and on 7 September – the Polish Day.
LOT offers three travel classes on its Boeing 737-800 NGs on Warsaw-Astana route: LOT Business Class, LOT Premium Economy and LOT Economy Class. The connection will be ultimately operated with the state-of-the-art narrow body Boeing 737 MAX 8.
Astana is the 28th destination launched by the Polish airlines since the early 2016, other newly launched destinations include Los Angeles, Newark, Seoul and Tokyo. The launch of the direct flights to Astana is a part of LOT's profitable growth strategy until 2020.
Tickets for LOT's new flights to Kazakhstan can now be purchased using all available channels, including the lot.com website, LOT Call Center, the LOT Travel offices and travel agents.
Warsaw, 8 June 2017