LOT Polish Airlines will introduce new route between Poland and Germany starting from 4 December. It is the 41st new connection announced by LOT since early 2016. Tickets are already available on sale.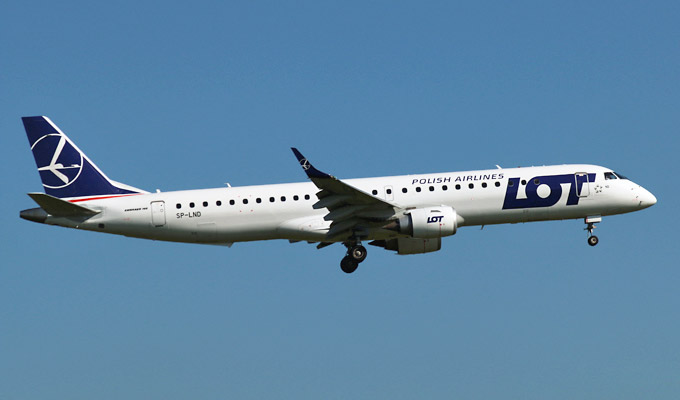 The new connection makes the travels much easier for passengers flying between Berlin and Warsaw as well as those who connect via LOT's hub in Warsaw to more than 70 other destinations in the world. The flights will be operated in a convenient schedule between Warsaw Chopin Airport and Berlin Tegel Airport. From Monday to Friday LOT will operate two flights per day from Berlin (in the morning and in the evening) and on Saturdays and Sundays one flight a day (in the evening).
On Mondays, Tuesdays, Wednesdays, Thursdays and Fridays the schedule of flights is planned as follows:
LO 387 WAW-TXL 08.20-09.50
LO 388 TXL-WAW 10.25-11.50
LO 389 WAW-TXL 08.20-09.50
LO 390 TXL-WAW 10.25-11.50
The Saturday and Sunday flight schedule is:
LO 389 WAW-TXL 08.20-09.50
LO 390 TXL-WAW 10.25-11.50
These flights will be operated by Bombardier Q400 and Embraer 170/175 aircraft with the seating capacity between 70 and 82 in business, premium and economy classes.
LOT intends to develop its new connection. During the Summer 2018 Season, LOT plans to increase the frequency of flights on the Warsaw-Berlin route to three flights per day.
Hence LOT will be able to offer passengers travelling from Berlin a convenient connection to more than 40 destinations in the Central and Eastern Europe such as Kaliningrad, Moscow, Kiev, Lvov, Odessa, Kharkov, Minsk, Tallinn, Vilnius, Riga, Bucharest, Sofia and Budapest, with short and convenient transfer time via hub in Warsaw.
"Berlin with its three million inhabitants has a large population from CEE countries and is very attractive destination for many passengers flying from Warsaw. From now on, LOT provides them with the fastest connection to their home countries via hub in Warsaw. For example, LOT offers two flights per day to Sofia and Bucharest," says Adrian Kubicki, Director of LOT Corporate Communications.
The schedule was developed in such a way that the new Warsaw-Berlin connection enables passengers to transfer in Warsaw to long-haul flights operated by Boeing B787 Dreamliner to North America (New York, Newark, Chicago, Los Angeles and Toronto) and to the Far East (Beijing, Tokyo and Seoul). Medium-haul destinations such as Astana in Kazakhstan or Tel Aviv in Israel will be reached on board of B737-800 aircraft.
"The passengers who travel from Berlin will have access to an extensive and attractive network of connections to the most important destinations in the world. Thanks to its growth LOT currently flies to more than 70 destinations and we are convinced that many inhabitants of the German capital city and neighboring areas will wish to take advantage of that," adds Kubicki.
LOT has also responded to the needs of passengers in relation to the renovation of railway tracks on the Warsaw-Poznań route, which significantly lengthens a journey to Berlin over the coming two years.
"Flights are by far the fastest and most convenient way of transport between those two cities. Thanks to the new LOT connection the travel has become much shorter. We hope that business and tourist passengers alike will benefit from that opportunity," says Adrian Kubicki.
The Warsaw-Berlin connection is among traditionally offered routes by the Polish carrier. LOT operated flights on that route initially to Schönefeld Airport and then to Berlin Tegel Airport until 2013 when the flight was suspended.
The Berlin route will be the 41st connection launched by LOT since the early 2016. The development of the network of connections is one of the elements of LOT's profitable growth strategy which the Polish carrier initiated in 2016. Thanks to that strategy LOT has succeeded in, among other things, improving its financial results, developing the fleet and network, and expanding the range of services. Last year the Polish carrier has launched the highest number of flights among all airlines in Europe.
Tickets for flights on the Warsaw-Berlin route are available via all of LOT's sales channels, including the lot.com website, LOT Travel and LOT Contact Center offices, as well as travel agents starting today.
Warsaw, 31st August 2017