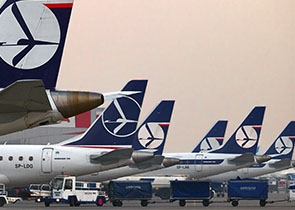 Within the first three months, LOT transported 19% of passengers more than in the comparative period last year. From January, a total of over one million people chose to travel with LOT. The carrier owes this record score to nearly 20 new routes that were successfully initiated this year.
In January, February, and March, more than one million passengers chose the LOT airlines – this is a record score, since the beginning of the year is a low season in the airline industry. In total, LOT transported during this period 19% of passengers more than in the comparative period last year. The number of passengers on international flights increased by over 22%, but that's not all. LOT has observed an increase in the number of passengers in terms of domestic flights as well – in the first quarter, the company observed an increase at the level of 11%.
"Creating so many routes in such a short period of time has already brought the first positive results. Thanks to these routes, our offer is comprehensive and corresponds to the needs of our passengers whose number is steadily increasing. But it is not only about the number of routes. In Warsaw, we are creating the most convenient transit airport in Europe. We see to it that our routes are well-connected and ensure the shortest connecting time possible. Those are the things that are best appreciated in LOT" – says Adrian Kubicki, the Head of the Corporate Communication Office.
In January, LOT launched a long-haul flight to Tokyo and a dozen or so new flights to European cities, such as Kharkiv, Barcelona, Zagreb, Luxembourg, Ljubljana, Athens, Košice, Venice, Cluj-Napoca, and Palanga.
"In many cities, such as in Kharkiv or Palanga, LOT is the first carrier that provides access to such a vast route network and such a wide range of products and services. In all cities to which we fly, we are the best alternative for tiresome flights through large and crowded airports of the Eastern Europe. LOT is a guarantee of a comfortable and stress-free travel" – says Adrian Kubicki.
As the first airline in Europe, the Polish carrier offers – with respect to all international flights – as many as three travel classes: LOT Economy Class, LOT Premium Economy Class, and LOT Business Class. LOT has one of the youngest fleets in Europe led by Bombardiers Q400 and Embraer, that are modern and comfortable as they have no middle seat. The company services long-haul flights, i.e. flights to New York, Chicago, Toronto, Beijing, and Tokyo, with the most advanced aircraft in the world, namely Boeing 787 Dreamliner.
Warsaw, 21 April 2016