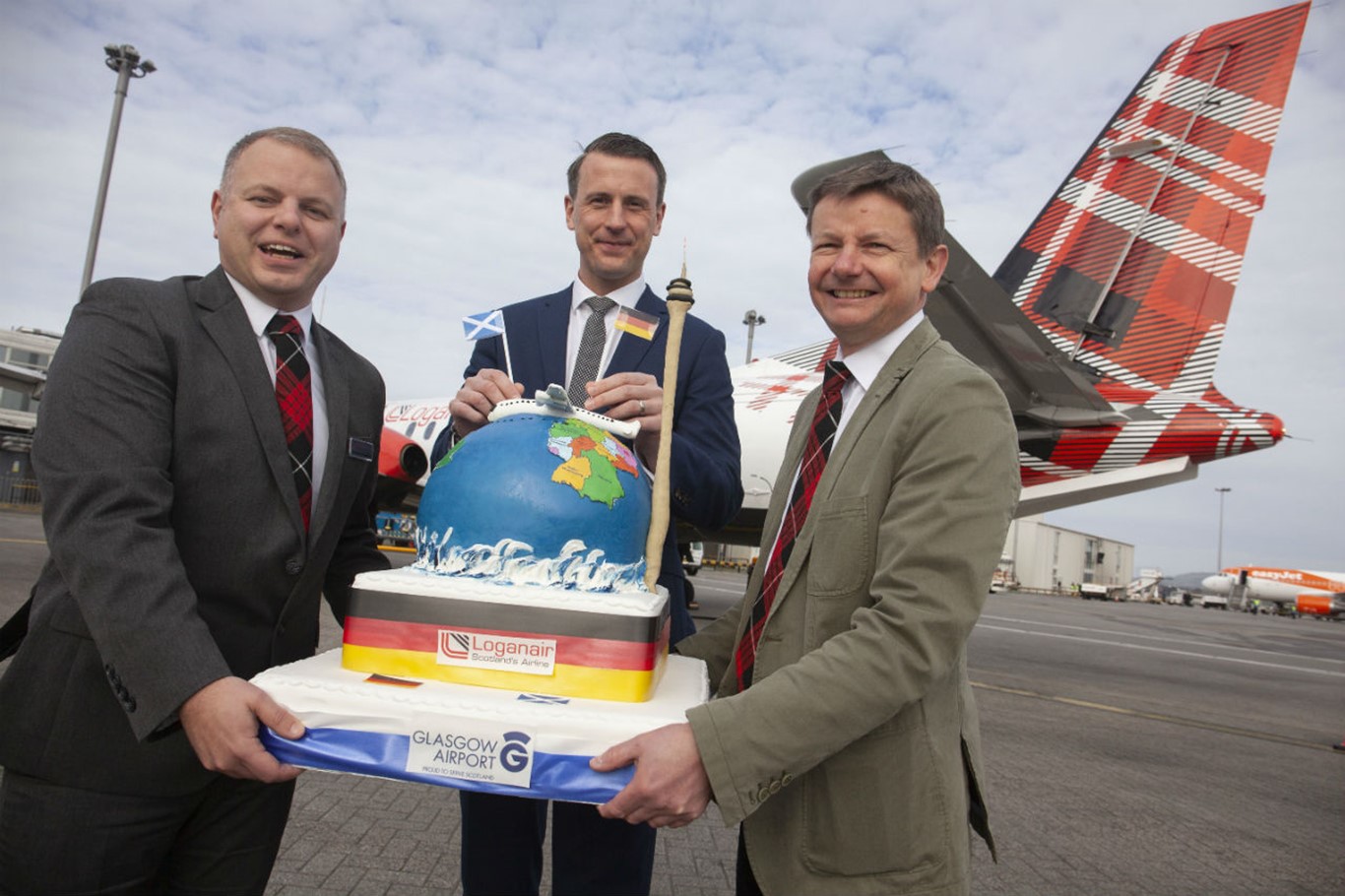 Loganair has commenced operations between Glasgow and Germany for the first time with the launch of the airline's inaugural service to Dusseldorf.
Initially scheduled to begin on March 31, the daily service was brought forward by one week following encouraging advanced bookings.
Loganair's Managing Director, Jonathan Hinkles, Director of Revenue and Scheduling, Roy Bogle and Glasgow Airport's Managing Director, Mark Johnston joined crew and passengers for the first departure.
It is the airline's first destination in Continental Europe from Glasgow. The route supports important cultural and business links between the west of Scotland and the North Rhine – Westphalia region of Germany.
Loganair's services depart Glasgow at 10.20, arriving in Dusseldorf one hour and 50 minutes later at 13.10 local time, before returning to Scotland at 13.50 and touching down again in Glasgow at 14.40.
Jonathan Hinkles, Loganair's managing director said: "We're tremendously proud to be operating our first flights into Dusseldorf. 
"This Glasgow to Germany airlink is crucial for the west coast of Scotland and advanced bookings have been really positive. We have scheduled a daily service to offer increased flexibility for business and leisure passengers, choosing between a short break or a quick overnight stay.
"It's been an exciting period for the airline as we extend our reach further into Europe and across the UK, with Dusseldorf making the latest addition to our route map."
Mark Johnston, Glasgow Airport Managing Director said: "We are immensely proud to be able to share in this milestone moment with our airline partner Loganair.
"Jonathan and his team deserve a lot of credit for continually enhancing both the airline's fleet and connectivity since launching the Loganair brand just 18 months ago.
"It's great to see Scotland's airline operating to Dusseldorf, which has always been a very popular destination with our passengers."
Düsseldorf is Germany's seventh-largest city in terms of population.  Sitting on the River Rhine, it is the capital of the state of North Rhine-Westphalia and one of the country's economic centres, home to a thriving fashion industry, historic old town and bustling shopping streets.
The airport has excellent rail links via its own train station – served by over 350 trains each day – enabling a wide range of onward travel options for customers arriving from Glasgow to cities including Cologne, Bonn, Dortmund, Aachen, Munster and Paderborn.
On the same day, Loganair restarted the Newcastle – Brussels service previously operated by flybmi.
Mar 25, 2019