South Korea´s flag carrier Korean Air has asked its flight attendants to take a tougher stance in case of in-flight violence. Currently flight attendants can already make use of a stun gun on board, yet on this flight it was not used "properly".
The measure came after an incident on a flight between Vietnam and Korea last week where a drunk Korean passenger attacked flight attendants and other passengers. After the flight attendants tied him up, he hit 2 flight attendants -one in the face and another one in the stomach- and kicked and spat at a flight engineer. The fight took more than 2 hours.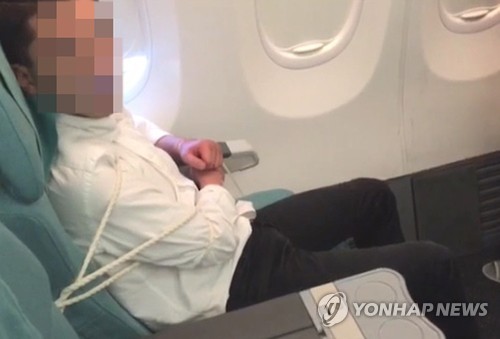 Richard Marx, American musician was also on the flight and publicly criticized the flight attendants' actions.
With respect to the #KoreanAir crew, who are only as good as they're trained, think if this despicable excuse for a human had been a terrorist.
Korean Air said the use of a taser is allowed only when there is a serious threat to the life of passengers or flight attendants or to the safety of the flight, but will revise its safety manual and regulations.
"Korean Air will react more firmly and actively against in-flight violence that threatens the overall safety of the flight", it said in a press release.
Air rages have been risen from 191 in 2012 to 460 last year, the transportation ministry added.
Source: Richard Marx Facebook – Richard Marx Twitter – Yonhap news