JetBlue today made history when it touched down in Santa Clara, Cuba, becoming the first U.S. airline to operate a commercial flight between the two countries in more 50 years. JetBlue flight 387 from Fort Lauderdale-Hollywood International Airport (FLL) landed at Abel Santamaría Airport (SNU) just before 11 a.m. local time.
The flight ushers in a new era of affordable and convenient air travel to Cuba, and comes after months of collaboration between JetBlue, U.S. officials, Cuban officials and business partners to resume air service between the two countries.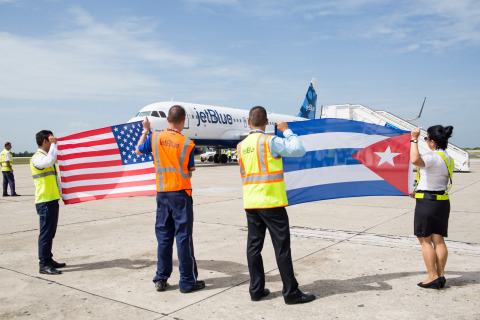 "We are proud to be the first U.S. airline to serve Cuba, but our focus is on being the best airline serving Cuba," said Robin Hayes, president and chief executive officer, JetBlue. "This historic flight symbolizes our long-term commitment to provide affordable, award-winning service between Cuba and the U.S. For the first time in decades, families separated by only a short stretch of water can easily and affordably visit a loved one, attend an important occasion or visit a special place – and the role we play speaks directly to our mission of inspiring humanity."
Hayes, along with JetBlue leadership, government officials from both nations, dignitaries and the first customers, were welcomed in Santa Clara with a water canon salute and a celebration by Cuban officials at the airport located some 160 miles east of Havana.
The occasion marked not only the first U.S. scheduled commercial flight since the 1960s, but also the first time an American carrier has operated a scheduled commercial jetliner between the U.S. and Cuba, as U.S. airlines only flew propeller-powered aircraft to the Caribbean island before the embargo began.
"We commend the incredible and tireless work of both U.S. and Cuban officials for making today possible. We extend our deep appreciation to the Ministry of Transportation, IACC, and the Santa Clara Airport for entrusting us to operate this historic flight and look forward to our long-term partnership as we continue to grow our presence in Cuba. And in the U.S., we congratulate Transportation Secretary Anthony Foxx and the Department of Transportation, Secretary John Kerry and the Department of State, Secretary Penny Pritzker and the Department of Commerce, and the Obama Administration for their leadership in achieving this historic milestone," said JetBlue CEO Hayes.
"Fort Lauderdale-Hollywood International Airport is proud to be the first airport in the United States to offer regularly scheduled commercial service to Cuba," said Mark Gale, CEO/Director, Broward County Aviation Department. "We look forward to the continued partnership with JetBlue as they continue their growth and success here in Broward County."
JetBlue Sets Out to Remove Cost & Complexity for Customers
With one-way fares starting at $99 (b) the airline has removed the high costs and complexity of travel to Cuba while offering the same award-winning service that has made JetBlue popular throughout the Caribbean. True to its customer focus, JetBlue is taking a number of steps unique to its Cuba launch to set it apart from competitors known for offering high prices and inferior service:
Affordable fares: JetBlue offers a low starting fare to make Cuba more accessible to those visiting family members or traveling to Cuba for cultural, business or group travel.
Health insurance included: JetBlue includes Cuban government-required health insurance coverage for all travelers on all Cuba-bound flights so that customers do not have to worry about obtaining the insurance separately.
Affidavit in a few clicks: Under U.S. regulations, every customer traveling to Cuba must complete an affidavit affirming the customer is going for one of 12 reasons of approved travel from the U.S. Department of Treasury. JetBlue has built the completion of the affidavit right into the booking process so it can be finished in only a couple of clicks.
Day-of-travel Cuban Tourist Visa (Tourist Card): Separate from the U.S.-regulated 12 categories, Cuba requires visitors to obtain an entrance visa onto the island. For customers who qualify for a Cuban Tourist Visa (Tourist Card), JetBlue will make those available for purchase upon check-in at one of its gateway airports or at the gate for connecting customers on the day of travel. All travelers to Cuba should contact the Cuban Embassy in Washington to determine the appropriate type of visa required by Cuba for their purpose of travel.
First bag flies free (c), 1+1 carry-ons: To make travel more affordable than before scheduled service, JetBlue includes at least one free checked bag, up to 50 pounds, in all of its fare options to Cuba. Normal carry-on regulations will apply: one carry-on and one personal item.
Breeze in, breeze out of Fort Lauderdale-Hollywood: Broward County's Ft. Lauderdale-Hollywood International Airport (FLL) is considered South Florida's most convenient airport, centrally located just 30 minutes north of Miami, and 45 minutes south of Palm Beach. With convenient parking located a close walking distance from the terminals, travelers can breeze in and clear security within minutes.
JetBlue Positions Itself to Be Preferred Airline to Cuba, and Throughout Caribbean
In addition to Santa Clara, JetBlue will launch service between Fort Lauderdale-Hollywood and Camagüey – Ignacio Agramonte Airport (CMW) on November 3, and Holguín – Frank País Airport (HOG) on November 10, subject to receipt of government operating authority.
JetBlue tentatively plans to serve the Cuban capital of Havana with daily flights between Fort Lauderdale-Hollywood, New York's John F. Kennedy International Airport (JFK) and Orlando International Airport (MCO) (a). With up to seven daily flights between the U.S. and Cuba JetBlue is committed to investing in and growing new Cuban markets.
When service to Cuba begins, JetBlue will operate in 22 countries and the new routes will further grow JetBlue's presence in the Caribbean and at Fort Lauderdale-Hollywood where the airline is the largest carrier, flying to more than 50 nonstop destinations by the end of the year. Customers across the JetBlue network may also take advantage of JetBlue's convenient connections to and from Cuba through its South Florida focus city.
JetBlue's commercial service follows nearly five years of successful charter service operating multiple routes between Cuban markets and U.S. cities. In that time, JetBlue has built strong relationships with airport authorities and worked closely together to make the launch of commercial service possible.
Flights between the U.S. and Santa Clara, Camagüey and Holguín will be operated on JetBlue's Airbus A320 aircraft offering the airline's award-winning service, featuring the most legroom in coach (d); free Fly-Fi, the fastest broadband internet in the sky (e); complimentary and unlimited name-brand snacks and soft drinks; free, live DIRECTV® programming and 100 channels of SiriusXM® radio in every seatback.
(a) Havana routes subject to final government approval (see DOT Order 2016-7-4, July 7, 2016, Docket DOT-OST-2016-0021) and subject to receipt of Cuban government approval.
(b) Blue fare only. Fare is subject to availability; may not be available on all flights; may change without notice; must be purchased at time of reservation; and is one-way, nonstop, nonrefundable and nontransferable. Reservations made one week or more prior to a flight's scheduled departure may be canceled without penalty up to 24 hours after the reservation is made. For Blue and Blue Plus fares to Cuba, first checked bag is included and second bag is $35. For Blue Flex fares, two checked bags are included. Customers traveling on flights to or from Cuba and the USA may not check more than two bags, and oversized and/or overweight bags are not accepted. Fares do not include other fees for products/services sold separately, to view these click here. Cancellations/changes must be made prior to scheduled departure (otherwise all money for fare is forfeited); up to $150 change/cancel fee per person will apply, and for changes, there may be a fare adjustment. Cancellations receive JetBlue travel credit, valid for one year. Proper documentation required for boarding. Other restrictions apply. The Cuban Government requires visitors to have health insurance that covers the territory of Cuba and for U.S. citizens, this means local Cuban health insurance. When purchasing your JetBlue ticket to Cuba, Cuban health insurance provided by ESICUBA and administered by Asistur is automatically included in the cost of your fare. Terms and conditions can be accessed from the ESICUBA website: http://www.esicuba.cu/ProdPersonas.html.
(c) Each customer may check a total of two (2) bags. The first 50 pounds checked bag for customers flying to and from Cuba is included. A second bag may be checked for $35. Additional baggage and bags that exceed the overall dimensions or weight will not be allowed onboard flights to/from Cuba. For more information click here.
(d) JetBlue offers the most legroom in coach, based on average fleet-wide seat pitch for U.S. airlines.
(e) Fly-Fi is not available on flights operating outside of the continental U.S. For flights originating outside of the continental U.S., Fly-Fi will be available once the aircraft returns to the coverage area. Fly-Fi is available on most JetBlue-operated flights, with fleet-wide installation complete by the end of 2016.