Premier Aviation and JetBlue together announce the signing of a five-year Embraer 190 heavy maintenance and paint agreement. Under the terms of the agreement the aircraft maintenance of 2 lines of E-190 aircraft begin in Rome, New York today, and will grow to support the painting of two lines of aircraft, which will initially be supported at Premier's Trois-Rivieres, Quebec facility in 2017.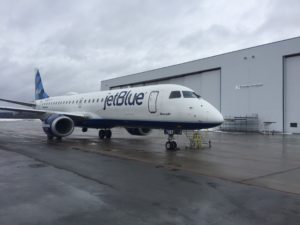 This agreement confirms JetBlue's confidence in Premier Aviation, and long history of supporting the region. The maintenance and paint lines are expected to add skilled jobs to the Oneida area and recruitment for the Rome, NY facility is ongoing.
"From our very first flight from JFK to Buffalo, we've been committed not only to providing a safe, comfortable, and reliable service for our customers, but supporting and promoting the state we call home. With a strong presence in the northeast, including eight airports across New York served by our E-190s, we're excited to have a local partner like Premier with a similar commitment to excellence, while supporting jobs in the region." Says Jeffrey Martin, Executive Vice President Operations for JetBlue.
"We are pleased to welcome JetBlue to Premier. It is gratifying that our significant success in the E-175/190 fleet has led to the winning of this contract. We have become the leading choice for many aircraft fleets in North America. Attracting highly regarded customers such as JetBlue confirms the benefits of working with an experienced MRO and further solidifies our strong position within the industry." Says Ronnie Di Bartolo Chief Executive Officer for Premier Aviation.
Premier Aviation maintains an exemplary performance record on the Embraer aircraft and a long-standing reputation for excellence on Regional, Narrow-body and Wide-body aircraft. With four facilities located in the U.S. and Canada the company is increasingly expanding its footprint within the MRO industry. Premier has completed over 250 events on the Embraer platform to date and currently has multiple lines of E-175/190s in their Rome, New York and Trois-Rivières, Quebec facilities.