Indian airline Jet Airways was forced to ground two of its Boeing 737 aircraft (VT-JGX & VT-JGY) today, both aircraft were taxiing out to runway 29 at Indira Gandhi International (New Delhi) when they clipped wings.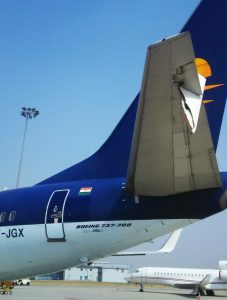 According to a Jet Airways spokesperson, the two Jet Airways aircraft — operating flight 9W 603 from Delhi-Srinagar and 9W 730 from Delhi-Patna — were involved in a ground incident during taxi, while preparing for departure from Delhi Airport.
"All 200 guests and crew on-board both aircraft are safe and are being taken to the terminal for re-accommodation in subsequent flights," the spokesperson said.
"The aircraft are currently being inspected by the Jet Airways engineering team. The airline has reported the event to the regulatory authorities. Both sets of crew have been de-rostered pending investigation."
The aviation regulator, Directorate General of Civil Aviation, has ordered an enquiry into the incident.