Long-time Bombardier customer Ryukyu Air Commuter purchased the five Q400 turboprops in July 2014
All five Q400 aircraft will be delivered in combi configuration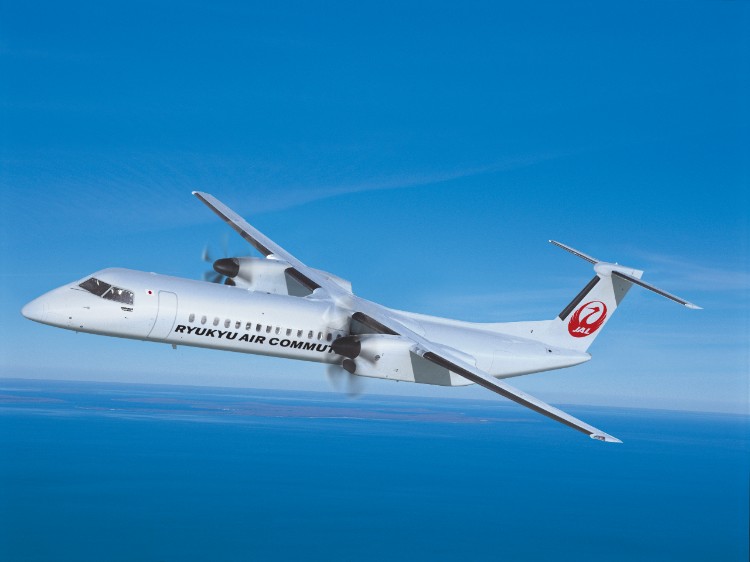 Bombardier Commercial Aircraft announced today that Okinawa-based Ryukyu Air Commuter Co., Ltd (RAC) is the unidentified airline that had signed a firm purchase agreement for five Q400 turboprop airliners previously announced in July 2014. RAC, which is a part of the Japan Airlines Group, is also the launch customer of the Q400 cargo-combi variant announced at the Farnborough Airshow in July 2014. All five aircraft ordered by RAC will be delivered in combi configuration.
As previously announced by Bombardier, based on the list price for the Q400 aircraft, the transaction is valued at approximately $168 million US.
"Ryukyu Air Commuter shares a long history with Bombardier, collaborating together since 1997 when we first introduced Japan to the Dash 8 Series 100 aircraft. Since then, the Dash 8 Series 100 aircraft has become the backbone of our efficient and productive operation," said Takashi Irei, President, Ryukyu Air Commuter. "Today we celebrate another first as we confirm that the Q400 combi aircraft is the ideal platform for our future fleet as we endeavor to offer comfort, reliability, and improved air transportation capabilities to our passengers, while supporting our local economies and communities with our extra cargo capability.
"Equipped with our new fleet of Q400 combi aircraft, Ryukyu Air Commuter looks forward to carrying many additional passengers as they enjoy travelling around Japan's Okinawa islands," added Mr. Irei.
"We are proud to unveil Ryukyu Air Commuter as the launch operator of the Q400 combi aircraft and pleased to credit the airline — with its innovative market insights — as the major impetus for the launch. The Q400 combi aircraft will provide the right capacity for RAC's passenger demands as well as the additional cargo service to stimulate the local economies," said Andy Solem, Vice President, Sales, Asia Pacific, Bombardier Commercial Aircraft. "Recognizing the need to develop Japan's remote southern islands, RAC will play a big role in extending cargo and payload capability; creating a significant benefit as the new aircraft join the airline's existing fleet of four Dash 8 Series 100 and one Q300 aircraft."
"The Q400 combi aircraft provides unique opportunities for airlines operating routes with medium to low passenger loads, but with high cargo potential," said Fred Cromer, President, Bombardier Commercial Aircraft. "Along with the recently launched dual-class and extra capacity options, the combi option illustrates Bombardier's ongoing investment in the Q400 aircraft program and offers airlines unmatched operational flexibility in short-haul markets. The Q400 aircraft is now well positioned to once again reinvent the contemporary turboprop market through additional profitable growth."
About Q400 Combi aircraft
The Q400 combi aircraft is available in various configurations. In the layout that provides the highest payload capability, the aircraft offers up to 9,000 lb. of cargo capacity and up to 1,150 cubic feet of cargo volume. In this high-cargo version, the aircraft can comfortably accommodate 50 passengers at 32-inch seat pitch, and 58 at 29-inch seat pitch. The Q400 combi aircraft's "Class C" cargo compartments are designed to meet the industry's latest regulations.
September 30, 2015 Toronto Commercial Aircraft,  Press Release