As part of its three millionth passenger from Brussels Airport, the Spanish airline organized a festive ceremony held today at the airport departure terminal.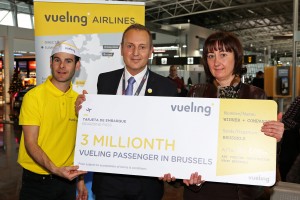 Vueling, the premium low cost company, has just reached the milestone of 3 million passengers transported from Brussels Airport. The company is flying to Zaventem since July 2004 and through the expansion of its offer, including 7 new direct connections from April-May 2014, it has reached this milestone today. One of the passengers on the flight VY8958 to Rome was the lucky winner and was rewarded by Vueling as three millionth passenger from Brussels.
The winner? Murielle Willox, who went to Rome to visit a fair on fossils and minerals that are her passion. Its prize? Two round-trip tickets for 2 people from Brussels to one of the direct destinations served by Vueling. The company also plans other small gifts to all passengers of the flight, including by organizing a flash mob of dancers dressed in the colours of the company.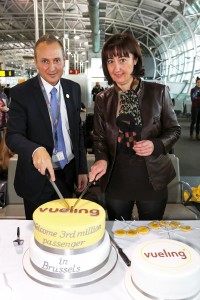 Wim Melis, Country Manager for the Benelux Vueling is delighted: "We are very proud to have reached this symbolic threshold from Brussels Airport. The crossing of this cape is the perfect illustration of the dynamics introduced by Vueling, which results in an ever-increasing enthusiasm on the part of travellers from Brussels Airport. Since last spring, we are connecting now at affordable prices the whole of the Mediterranean and our offer seems visibly to delight Belgian travellers ! "
Bilbao, new destination for Vueling in 2015
In 2015, Vueling will continue its strong presence at Brussels Airport, which is one of the 21 focus airports of the Vueling network. It means that an Airbus A-320 is parked overnight on the tarmac of Brussels. From March 30, 2015, it will connect Brussels to Bilbao, the largest city of the Autonomous Community of the Basque Country and in the north of the Iberian Peninsula.
Bilbao complements the summer routes that will connect Brussels to Barcelona, Rome-Fiumicino, Lisbon, Valencia, Malaga, Alicante, Porto, Santiago de Compostela, Mallorca and Ibiza.
Friday, December 5, 2014