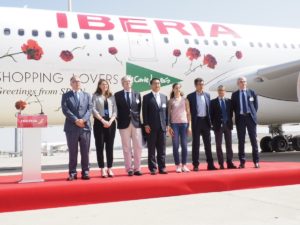 On Tuesday 28 June 2016, Spanish airline Iberia inaugurated its new non-stop flight between the Spanish capital of Madrid and Shanghai in China.
The route was operated with Iberia's latest aircraft type, the twin-engine, wide-bodied Airbus A330-200 with a MTOW of 242 tonnes. The aircraft type is equipped with Iberia's newly designed long-haul cabin and can carry up to 288 passengers in following configuration:
Business class                 19 passengers
Economy class                 269 passengers
Iberia will operate the route three times per week, leaving Madrid on Tuesdays, Fridays and Sundays, with the return from Shanghai to Madrid on Mondays, Wednesdays and Saturdays.
"We have always had the vocation to be a global airline and with this route to Shanghai we are taking another step in this direction at the same time that we are bringing such an important economic power and tourist market as China closer to our country," said Iberia Executive President, Luis Gallego in a press communique.
In order to facilitate the onboard experience for Chinese passengers and to give them a more complete service, Iberia has contracted Chinese cabin crew. It has also added Chinese subtitles to the movies featured on its inflight entertainment system. The airline is also planning to publish an onboard magazine in Chinese.
Shanghai is a financial global center and currently the busiest container port in the world. Furthermore, the number of Chinese citizens visiting Spain is growing continuously. In the first nine months of 2015, it increased by 66% compared to 2014.
Shanghai is also a very important business destination, where many Spanish and international companies are already based. It is also a very attractive touristic destination, where modern skyscrapers and old colonial buildings coexist, and with a wide cultural and gastronomic offer.
Later this year, Iberia will also start a new non-stop flight linking Madrid and Tokyo (Narita).
29 June 2016
Photos: copyright © Iberia