In first year of micro-donation project by Amadeus, Iberia and the Spanish Committee of UNICEF
Donations go directly to the "100% Vaccinated Children" campaign, aimed at eradicating polio and providing immunity to other diseases.
Thanks to the programme, 600,000 children in Chad have been vaccinated against diphtheria, tetanus, polio, whooping cough, tuberculosis, and measles.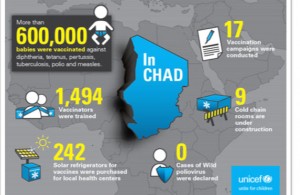 We are really proud to have been pioneers in a project like this, with the aim of improving living conditions for children all over the world.
A year ago Iberia, the Amadeus travel reservation company and the Spanish Committee of UNICEF joined forces to launch a pioneering on-line "micro-donations" project, inviting ticket buyers on Iberia's website to donate to the UNICEF vaccination programme in a quick and simple way. A platform developed by Amadeus for the Iberia.com site enables customers to contribute between three and 20 euros to the UNICEF programme when purchasing air tickets.
In the first twelve months, more than 36,000 Iberia customers opted to contribute a total of some 200,000 euros to the UNICEF 100% Vaccinated Children" programme, which is intended to reach out to populations in eight developing countries in which most children are not currently vaccinated, and hence at risk of contracting preventable diseases. Vaccinations prevent an estimated two million children's deaths each year.
How the donations are spent
"100% Vaccinated Children" is also aimed are eradicating polio in the eight high-risk countries, which are Afghanistan, Angola, Chad, Democratic Republic of the Congo, Nigeria, Pakistan, South Sudan and Yemen.
The 200,000 euros collected by Iberia is to be used for the vaccination programme in Chad, where one child in 20 does not reach the age of five, and where polio remains endemic.
Marta Montiel, marketing chief for the Spanish Committee of UNICEF, commented: "Thanks to the support of Iberia, Amadeus, and other donors around the world, UNICEF has been able to strengthen its programme in Chad, vaccinating more than 600,000 infants against diphtheria, tetanus, polio, whooping cough, tuberculosis, and measles. Commitment by private enterprise is essential for the accomplishment of UNICEF's mission, which is to make real changes to the lives of millions of children."
Iberia's Corporate Communications and Institutional Relations director Juan Cierco said: "We are really proud to have been pioneers in a project like this, with the aim of improving living conditions for children all over the world. We hope that in 2015 our customers will continue to support this campaign, and we can move a step closer to the eradication of these diseases."
Tomás López Fernebrand, Senior VP, General Counsel and Corporate Secretary of Amadeus, noted that "The increase from the 70,000 euros collected in the for six months  to the 130,000 netted in the second six months confirms the huge potential of technology applied to the travel industry to achieve praiseworthy results. These figures inspire us to continue to develop even more innovative tools that contribute to realising the travel industry's enormous potential as a force for good, not only by providing travel in a sustainable way, but also by performing small miracles on every trip. This is the real proof that our industry and humanitarian organisations can cooperate to bring solutions that add up to far more than their sum of their parts. Once again, we cordially invite our partners in the travel industry to consider this initiative that Amadeus offers at no charge."
To watch a video about the joint campaign, click here
December 22, 2014