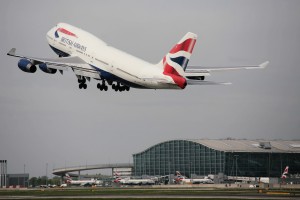 A British Airways Boeing 747-400 (reg. G-CIVX) returned to London Heathrow Saturday night (January 30) because of a problem with the landing gear. Only three of the five wheel pods wanted to unfold.
Flight BA295 was en route from London Heathrow to Chicago O'Hare over the Atlantic when unspecified problems occurred South of Iceland. The crew decided to return to Heathrow. During the approach it was found that the aircraft could unfold only the wheel pods under the nose wheel and the two central pods below the hull. The two wheel struts under the wings did not work for technical reasons.
Deployment of large uprooted emergency material proved unnecessary. The crew landed the aircraft according to the book and the passengers could disembark normally. They continued their journey on another aircraft.
The northern runway at Heathrow was closed for a short time by the incident, but was soon reopened for traffic after the incident.
Commented video of the landing: