Today we welcomed a brand new Airbus A330-300 series into our fleet. The new A330 aircraft, named Saint Carthage, registration EI-GAJ, has a total capacity of 313 seats, which is made up of 30 business class seats and 283 economy seats. It's scheduled to make its first commercial voyage this afternoon on flight EI 109 from Dublin to New York JFK.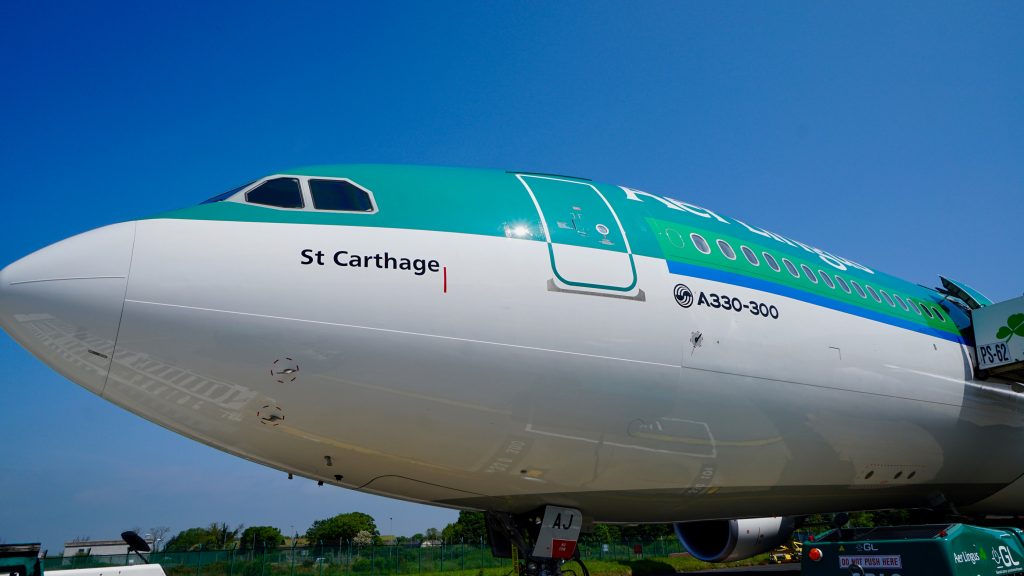 We now have a fleet of 63 aircraft with 15 of these servicing our longhaul network. The newly-received A330 aircraft represents a significant investment in our transatlantic network. This summer we will operate our largest ever transatlantic schedule flying to 11 North American destinations, with a total of 2.5 million transatlantic seats on offer, including a new direct service to Miami from Dublin starting in September. The new Miami route joins our existing transatlantic routes to Boston, Chicago, New York, Orlando, San Francisco, Washington and Toronto from Dublin and Boston and New York from Shannon, as well as Los Angeles, Newark and Hartford, which commenced last year. This summer will also see an increase in our Los Angeles service to a daily flight for the peak season, Dublin to Orlando will increase to four times per week, and Chicago will also increase to a double-daily service.
Transatlantic growth is an integral element of our successful strategy to expand our Dublin Airport base into a major European transatlantic gateway. While traditionally we have connected Irish residents to North America, today more than a third of our transatlantic guests begin their journey in the UK or mainland Europe connecting via Dublin. The convenience of U.S. Customs and Border Protection services at Dublin has enhanced the continued growth of our Dublin operation as a connecting gateway. According to the 2016 league table, Dublin Airport is the fifth largest airport in Europe for North American connectivity, having jumped from eleventh position in 2010.
Complementing our longhaul offering, the shorthaul summer schedule boasts an additional 100,000 seats to the sun in Europe and includes a new European destination – Split in Croatia, together with greater capacity on key sun routes such as Lanzarote, Gran Canaria and Tenerife.