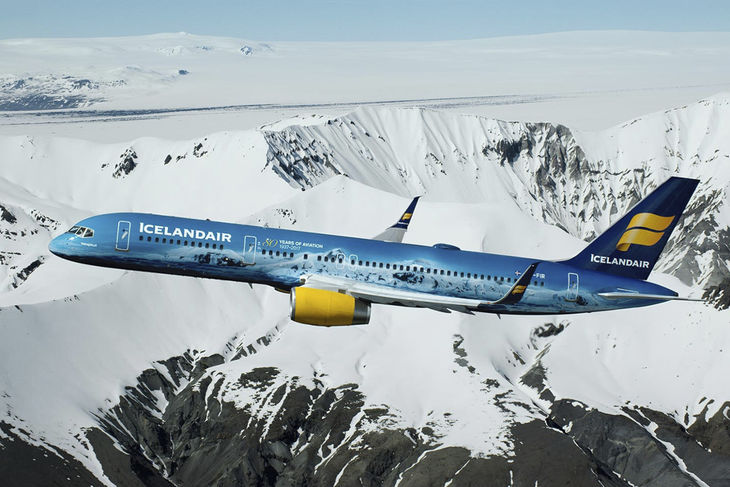 Icelandair, Iceland's leading airline since 1937, has added some coolness to the skies with the launch of its new glacier-themed plane, Vatnajokull. The Vatnajokull livery takes to the skies as part of Icelandair's current fleet, guaranteeing passengers an in-flight experience of one of Europe's largest glaciers from inside and out.
The hand-painted aircraft exterior, commissioned as part of Icelandair's 80th anniversary, represents the beauty and grandeur of the Vatnajokull glacier, located in southeast Iceland. The interior has also been adorned with details to replicate the nuances of the glacier itself. Ice blue ambient lighting will illuminate the main cabin; the headrests will feature an ice white and brilliant turquoise design; serving carts will be transformed into rolling glacier caves; even complimentary drinks, snacks and napkins will include a glacier motif.
Vatnajokull is the second handcrafted livery to join the Icelandair fleet along with the northern lights-themed Hekla Aurora, launched in 2015.
Birkir Hólm Guðnason, CEO at Icelandair comments, "We are thrilled to share Vatnajokull with our passengers and know they will enjoy this unique on-board glacier experience. Icelandair is committed to giving our customers a refreshing Icelandic travel experience and hope to further inspire them by providing the opportunity to travel in one of Iceland's most famous glaciers. We look forward to welcoming you aboard our newest livery for a little taste of Iceland and time well-travelled the Icelandic way."
Each aircraft in Icelandair's fleet is named after an Icelandic volcano, and Vatnajokull glacier, with three volcanoes beneath its vast surface, is one of the most active in Iceland with around 60 eruptions over the last 800 years. The glacier currently covers an area of 8,100-8,300 sq. km – 8% of the country's land mass – and is considered to be one of the seven natural wonders of Europe.
A film which captures the intricate process of painting the plane and showcases how Icelandair hopes to inspire and enrich their passenger's travels with creative travel experiences is now available Open new window.