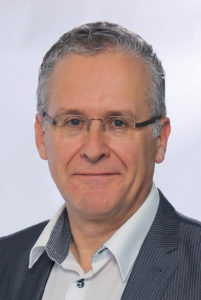 Hans Vanhaelemeesch, Chief Communication Officer for TUI Western Region and spokesman for Jetair and Jetairfly died last night after a traffic accident. Hans worked for over 28 years with the tour operator.
Hans started his career at Jetair in 1988, first in the marketing department where he was responsible for the holiday brochures. Because of his passion for communication, Gerard Brackx, the director at the time, a tourism icon and owner of the company, had also asked Hans to answer questions from the press. Both his functions in marketing and as spokesperson have become increasingly important, and Hans gradually specialised as spokesman. The last 15 years he has built a reputation with the press as being always available with an extensive knowledge of tourism and aviation. In 2015, he had also been elected Man of The Year by journalists of the Belgian Aviation Press Club. Hans had become the face of the sector in Belgium.
Hans lived very closely the growth and changes in the tourism sector. He experienced the heyday of brochures, the arrival of the Internet and the creation of Jetairfly, the airline of the tour operator Jetair. Hans went to Seattle with several journalists to pick the only Belgian Boeing 787 Dreamliner. He has participated in numerous international press trips. The imprint of Hans in the Belgian tourism is immense. He leaves a great void in the TUI organisation.
Elie Bruyninckx, CEO of TUI Western Region, said:
Internationally, Hans has played a leading role. His contribution to the creation of TUI Western Region was fundamental and highly appreciated by foreign colleagues. His experience and knowledge of our sector were invaluable for me. His team spirit, professional ethics and human qualities were exceptional, and will stay with me forever.
Dirk van Holsbeke, General Manager Jetair, said:
In his role as spokesman for TUI Belgium, Hans was synonymous with certainty and a reassuring support for our company. His commitment to meet the press at any time of the day (and night) was huge. His expertise, his transparent and professional communication were highly appreciated by the media and promoted tourism and aviation in the media. But mostly he was for each of us a true colleague: always available, always helpful, concerned for the welfare of everyone, a true team player. Hans, we will miss you terribly.
The management of TUI and all his colleagues share the pain of his wife, his children and his family. Our thoughts have turned to them and we offer them our most sincere condolences. We are losing a passionate and talented colleague. An appealing and dedicated man. Hans was 54 years old.
Translated from French by André Orban, in memory of Hans.