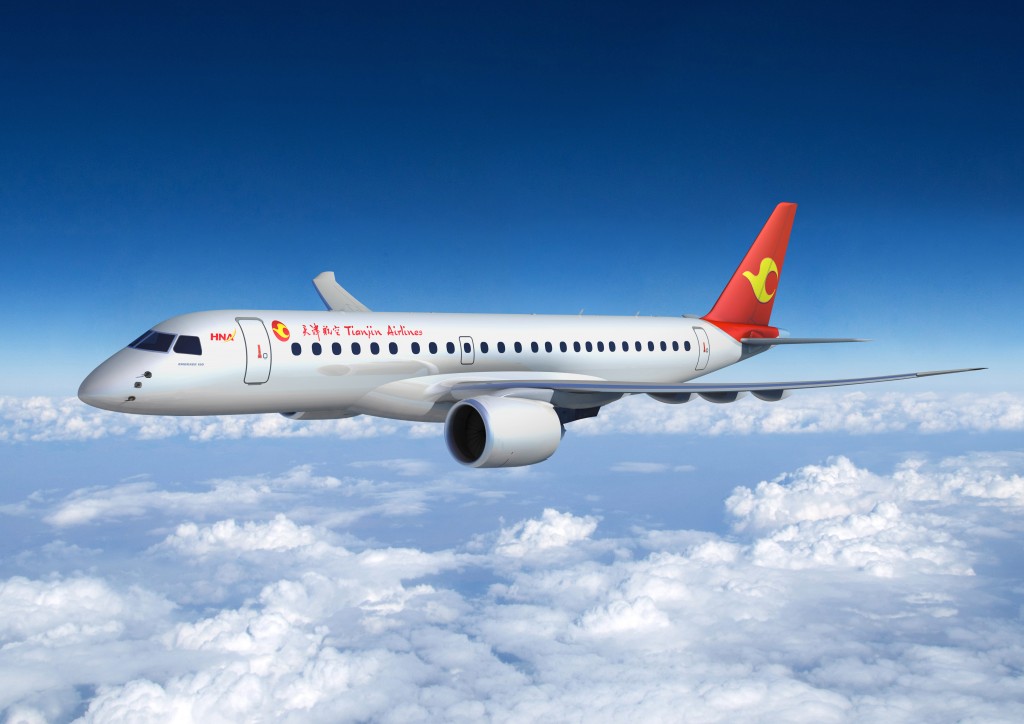 Embraer S.A. and China's Tianjin Airlines, a subsidiary of the HNA Group, have signed the final agreement for the sale of 22 aircraft. The contract, with an estimated value of USD 1.1 billion at current list prices, comprises 20 E195s and two E190-E2s, making HNA Group Tianjin Airlines the first Chinese airline to order the E-Jets E2s. The agreement between the two companies for 40 aircraft was previously announced during Chinese President Xi Jinping's State visit to Brazil, in July 2014. The remaining 18 E190 E2 will be part of a second approval by the Chinese authorities in a later stage.
The first E195 will be delivered in 2015, and the first E190-E2 is scheduled for delivery in 2018. This order will be incorporated in Embraer's 2015 second-quarter backlog. Tianjin Airlines is currently the operator of the largest fleet of E-Jets in Asia.
"We are honoured to confirm this repeated order for our largest client in Asia," said Paulo Cesar Silva, President & CEO, Embraer Commercial Aviation. "China is growing very fast and there is a need for smaller narrow-body jets to support efficient hub and spoke operations, complementing larger narrow-body aircraft operations, thus providing an ideal balance of frequency and seats, encouraging the development of new markets with lower risks and incremental capacity, while generating significant demand for new aircraft in this category."
"As the number of passengers is growing in China, these E195s will be very important to support Tianjin Airlines' strategy to attend this demand," said Du Xiaoping, the Chairman of Tianjin Airlines. "We are very satisfied with the E190s that are currently in operation and are sure that the new airplanes will allow us to achieve our development objectives."
The Embraer-Tianjin Airlines partnership is well established. Tianjin Airlines was the launch customer for the E190 in China and operates the largest E-Jets fleet in Asia with 50 E190s in its fleet. It is also the first carrier being appointed as an Authorized Service Centre for Embraer aircraft in China. Recently, the carrier announced to install Embraer AHEAD-PRO system for all its 50 E190s, becoming the first user of this system in China.
HNA Group Tianjin Airlines was launched as the first true regional airline in China in 2009. In 2010, the carrier changed its focus from purely regional operations to a combination of mainline and regional services. Its aim is to become a medium-to-large international airline, as it pursues a new "regional aviation and global operations" strategy. In 2011, Tianjin Airlines received the "Best Regional Aviation Airline in China" and "Global Four-star Airlines" awards from Skytrax for its outstanding achievement. Today, the carrier operates a fleet of more than 80 jets that serves some over 100 domestic and international cities and carries over ten million travellers.
?São José dos Campos, Brazil, May 19, 2015