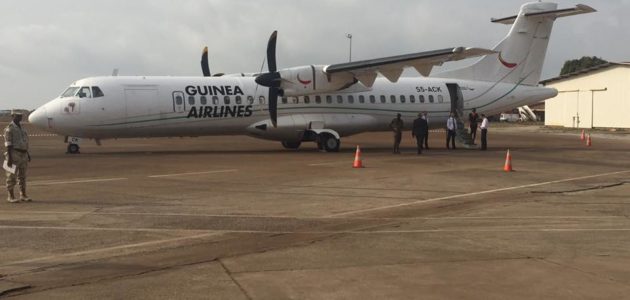 Fifteen years after the disappearance of the national airline Air Guinée, the new airline Guinea Airlines was presented Saturday in Conakry in the presence of President Alpha Condé.
Based at Conakry-Gbessia airport, the new company unveiled on 25 February 2017 will initially have an Embraer ERJ145 with 50 seats for international use and an ATR 72-500 with 64 seats for domestic routes. During his speech, which was taken up by Guinea24, General Manager Alain Regourd explained that "Guinea Airlines is an airline based in Guinea", born from the partnership between the local business marketing group (GBM) and Regourd Aviation based in Paris, but also "an ambitious project resolutely forward-looking, with the aim of providing all Guineans with safe, reliable and affordable air services." The first connections should take it to "neighbouring countries", before the opening of domestic routes "to Kankan, N'Nzérékoré and Labé with continuation on Dakar, Bamako, Monrovia and Freetown". No date is given for the start of operations.
For President Alpha Condé, the creation of Guinea Airlines reflects "the policy of openness advocated by my government, and is part of the dynamic new dynamics of creating a safe, reliable and affordable aviation environment". With this company, he hopes "not only to ensure the opening up of our regions but also to serve neighbouring airports". He took the opportunity to regret the disappearance of Air Guinée in 2002, ten years after its privatization, which had led to job losses but especially the abandonment and degradation of the airports of the country. Chinese partners were invited last November to modernise the airport facilities in particular of the Guinean capital.
Antonio Souaré, chairman of the Guinea Airlines Supervisory Committee, spoke of the ambition to "turn the long, painful and gloomy page of a situation that has made the national traffic of our fellow citizens totally dependent on the vagaries of other foreign companies, serving Conakry according to their interests since the killing of our sovereignty and national pride".
Conakry airport is now served by Air France, Aigle Azur, Air Côte d'Ivoire, ASKY Airlines, Brussels Airlines, Emirates Airlines, Royal Air Maroc and Mauritania Airlines, as well as Turkish Airlines in January and Ethiopian Airlines this month
.