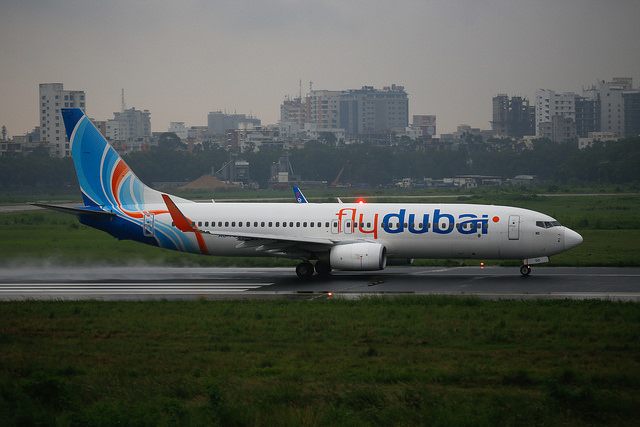 Last night a Flydubai Boeing 737 crashed in Rostov-on-Don, Russia during extremely bad weather conditions at the airport. Preliminary numbers indicate 55 passengers and 7 crew on board on the Next-Generation Boeing 737-800 aircraft.
Further information: forum discussion
Boeing Statement on flydubai FZ981
SEATTLE, March 19, 2016 – Boeing's thoughts and prayers are with those on board flydubai flight FZ981 and their families and friends.

Boeing stands ready to provide technical assistance upon the request of government agencies conducting the investigation.

In accordance with the international protocol governing aviation accident investigations, all inquiries about the investigation must be directed to investigating authorities.
Flydubai statement relating to flight FZ981
Last updated: 19 Mar 2016 09:57
flydubai is deeply sorry to confirm the following information in relation to the tragic accident involving flight FZ981 which was flying from Dubai International (DXB) to Rostov on Don (ROV). While we are still awaiting final confirmation, it is with great sadness that we report we believe there are no survivors. We are unable to provide more specific details at this moment but we will provide updates as soon as we possibly can.
At this moment our thoughts and prayers are with the families of our passengers and crew who were on board the aircraft. We are working with the local emergency services and other agencies who are at the scene.
flydubai is in the process of verifying the passenger list however preliminary numbers indicate 55 passengers and 7 crew on board on the Next-Generation Boeing 737-800 aircraft. The aircraft had departed Dubai International (DXB) at 18.20GMT on Friday 18 March and was due to arrive that evening at 22.40GMT.
Speaking about the incident, flydubai CEO Ghaith Al Ghaith, said, "We offer our deepest condolences to the families of the passengers and crew. Everyone at flydubai is in deep shock and our hearts go out to the families and friends of those involved. We don't yet know all the details of the accident but we are working closely with the authorities to establish the cause. We are making every effort to care for those affected and will provide assistance to the loved ones of those on board."
flydubai is activating family reception centres for relatives of passengers and we have issued the following numbers for relatives to call:
+44 203 450 8853 (UK)
+971 (0) 42934100 (UAE)
In addition we have set up a media call centre that can be contacted on the following number:
+1407 205 1813
+971 52 517 4642 (Arabic language)
An update will be issued as soon as more information becomes available.
Scenes of the disaster:
Reports: Passenger plane carrying 55 people crashes in Russia https://t.co/YmxyNkYsoS pic.twitter.com/xMSoFjt1Qo

— Jon Passantino (@passantino) March 19, 2016