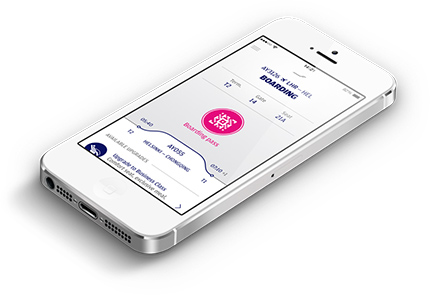 The Finnair mobile app has been awarded a Red Dot Award in the Communications Design category. The application, which is designed to offer peace of mind for customers on the move, helps travellers with a wide array of travel-related tasks such as booking flights, checking-in and keeping track of their Finnair Plus points. It also includes important information and tips which can help passengers prepare for their upcoming trip and make their journey through the airport as smooth as possible.
The Finnair app, which is available for iOS and Android devices as well as the Apple Watch, was created together with Reaktor, a Finnish creative agency specializing in the design of digital services for consumer brands. The application has won a number of awards since its launch in 2014. Most notably, the app was recognized by the European Design organization last June with a Silver Award in the Mobile Apps category. Finnair has also worked closely with Reaktor on the Nordic Sky inflight entertainment and Wi-Fi portals for the new A350 XWB aircraft.
"This award stands as a good indication that we are on the right track in the development of our digital services," says Jaron Millner, Vice President for Direct Business at Finnair. "Our primary objective for the application has been to make the travelling experience as smooth as possible for users. Early on in the development phase with Reaktor, we put a lot of time and emphasis on the application's service design to ensure that the different functionalities made the journey easier for travelers."
"Finnair made a very brave decision by renewing their digital services and are already making waves within the air travel industry. At the moment, Finnair is a trendsetter and the company will be under close scrutiny in the near future as more and more companies want to grasp the full potential of digitalization," says Konsta Hansson, General Manager for Reaktor Aero. "Hopefully we can encourage more and more companies to move towards customer-oriented design and enable better experiences for air travellers in general."
Celebrating the best in design, the Red Dot Awards are selected by a jury of 26 industry experts during an extensive evaluation and appraisal process lasting several days. The jury consists of well-known designers as well as respected professors and journalists in the design industry.
The latest version of the Finnair application is available at:
Apple Store: https://itunes.apple.com/fi/app/finnair/id933867978?l=fi&mt=8
Google Play for Android: https://play.google.com/store/apps/details?id=com.finnair