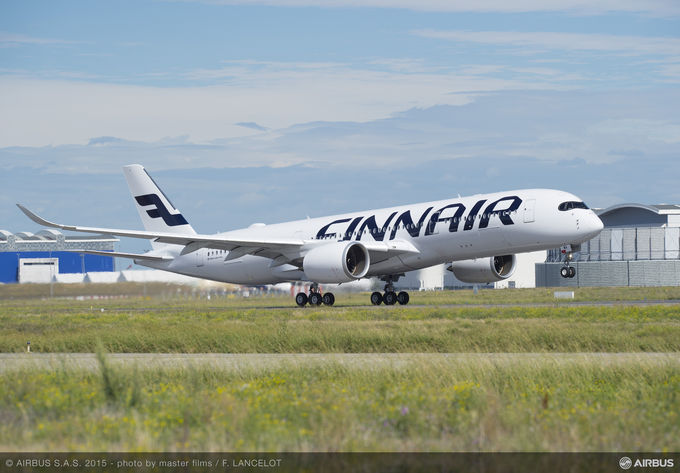 Number of passengers grew 3.1% and passenger load factor rose 1.5 pp year-on-year
In March, Finnair's overall capacity measured in Available Seat Kilometres increased by 2.2 per cent year‐on‐year, and traffic measured in Revenue Passenger Kilometres grew by 4.1 per cent. The passenger load factor increased by 1.5 percentage points to stand at 81.0 per cent. Third-party labour disputes forced the cancellation of 190 flights, primarily in domestic and European traffic, reducing capacity growth by 1.0 percentage point.
The capacity in Finnair's largest traffic area, Asia, increased by 3.7 per cent in March and traffic grew by 8.8 per cent due to a significantly higher passenger load factor. The moderate capacity growth reflects the suspension of Finnair flights to Chongqing as planned between 11 March and 2 May 2017 due to pilots' A350 trainings.
The capacity in American traffic decreased by 6.6 per cent year-on-year, and traffic measured in RPK decreased by 10.3 per cent. The scheduled destination range was the same as in the comparison period. Part of the Atlantic traffic was operated by temporarily wet-leased aircraft and crew.
Finnair's capacity in European traffic increased by 1.4 per cent and traffic grew by 1.1 per cent year-on-year. Domestic capacity increased by 6.4 per cent, and traffic grew by 4.7 per cent year‐on‐year due to increased flying to Northern Finland. Third-party strikes at the Helsinki Airport affected in particular Finnair's European and domestic traffic.
In March, the Revenue Scheduled Cargo Tonne Kilometres increased by 7.5 per cent, although the corresponding cargo capacity contracted by 4.2 per cent. The cargo volume grew markedly both in Asian and European traffic but decreased in North Atlantic and domestic traffic. Finnair's total cargo capacity also included three weekly freighter flights between Helsinki and Brussels, operated by DHL.
In March, 87,8 per cent of all Finnair flights arrived on schedule (88.7).
According to preliminary data, Finnair's unit revenue, or RASK (total Group revenue divided by ASK), increased in January–March by 3.3 per cent year‐on‐year and totalled 6.82 euro cents.
"Unit revenue rose in the first quarter largely on the back of an improved passenger load factor, especially in Asian traffic. Flight cancellations due to resource constraints and labour disputes kept passenger capacity (ASK) at last year's level. Nevertheless, domestic traffic grew considerably, driven by tourism in Lapland. The divestment of SMT after the comparison period had a negative effect of slightly below one per cent on the unit revenue growth," says Finnair CFO Pekka Vähähyyppä.
Traffic statistics for April 2017 will be published on Tuesday, 9 May 2017.

Finnair Traffic Performance March 2017
| | | | | |
| --- | --- | --- | --- | --- |
| | March 2017  | %-Change | Year-to date 2017 | %-Change |
| | | | | |
| Total Traffic | | | | |
| Passengers   1000 | 934,0 | 3,1 | 2 603,6 | 4,1 |
| Available   seat kilometres mill | 2 850,1 | 2,2 | 8 127,7 | 0,1 |
| Revenue   passenger kilometres mill | 2 307,7 | 4,1 | 6 617,1 | 3,4 |
| Passenger   load factor % | 81,0 | 1,5 p | 81,4 | 2,6 p |
| Cargo   tonnes total | 12 514,9 | 7,5 | 31 987,4 | -2,9 |
| Available   tonne kilometres mill | 421,4 | 3,2 | 1 209,5 | 1,8 |
| Revenue   tonne-kilometres mill | 281,2 | 4,6 | 784,0 | 1,7 |
| Overall   load factor % | 66,7 | 0,9 p | 64,8 | -0,1 p |
| | | | | |
| Europe | | | | |
| Passengers   1000 | 520,8 | 1,6 | 1 430,7 | 3,0 |
| Available   seat kilometres mill | 1 065,3 | 1,4 | 2 990,6 | -0,3 |
| Revenue   passenger kilometres mill | 835,1 | 1,1 | 2 266,1 | 1,7 |
| Passenger   load factor % | 78,4 | -0,2 p | 75,8 | 1,4 p |
| | | | | |
| North Atlantic | | | | |
| Passengers   1000 | 22,0 | -10,4 | 63,5 | -6,9 |
| Available   seat kilometres mill | 204,6 | -6,6 | 606,2 | -4,1 |
| Revenue   passenger kilometres mill | 162,4 | -10,3 | 474,3 | -6,7 |
| Passenger   load factor % | 79,4 | -3,3 p | 78,2 | -2,2 p |
| | | | | |
| Asia | | | | |
| Passengers   1000 | 155,3 | 8,8 | 464,5 | 5,7 |
| Available   seat kilometres mill | 1 391,1 | 3,7 | 4 011,4 | -0,3 |
| Revenue   passenger kilometres mill | 1 176,0 | 8,8 | 3 513,0 | 5,5 |
| Passenger   load factor % | 84,5 | 3,9 p | 87,6 | 4,8 p |
| | | | | |
| Domestic | | | | |
| Passengers   1000 | 235,8 | 4,3 | 644,8 | 6,6 |
| Available   seat kilometres mill | 189,1 | 6,4 | 519,5 | 11,0 |
| Revenue   passenger kilometres mill | 134,2 | 4,7 | 363,6 | 8,7 |
| Passenger   load factor % | 71,0 | -1,2 p | 70,0 | -1,5 p |
| | | | | |
| Cargo Traffic | | | | |
| Cargo   scheduled traffic total tonnes | 10 911,3 | 8,1 | 27 722,8 | -2,8 |
| Europe   tonnes | 2 168,0 | 9,9 | 5 467,8 | -0,9 |
| North   Atlantic tonnes | 654,2 | -5,4 | 1 905,7 | -6,0 |
| Asia   tonnes | 7 941,5 | 9,1 | 19 927,8 | -2,9 |
| Domestic   tonnes | 147,7 | -3,0 | 421,6 | -9,1 |
| Cargo   flights, tonnes** | 1 603,6 | 3,8 | 4 264,5 | -3,1 |
| Cargo   tonnes total | 12 514,9 | 7,5 | 31 987,4 | -2,9 |
| Available   tonne kilometres* mill | 115,9 | -3,7 | 336,1 | -5,1 |
| Revenue   tonne kilometres mill | 74,9 | 5,9 | 192,2 | -3,3 |
| Available   sched.cargo tonne kms*, mill. | 107,2 | -4,2 | 311,4 | -5,8 |
| Revenue   sched.cargo tonne kms, mill. | 66,8 | 7,5 | 170,5 | -2,9 |
| Cargo load   factor* % | 64,7 | 5,9 p | 57,2 | 1,0 p |
| –   North-Atlantic cargo load factor* % | 41,1 | -1,8 p | 41,4 | -0,1 p |
| – Asia   cargo load factor* % | 68,4 | 8,9 p | 59,2 | 2,3 p |
| Scheduled   traffic Cargo load factor*, % | 62,3 | 6,8 p | 54,7 | 1,6 p |

* Operational calculatory capacity
** Including purchased traffic
– Change %: Change compared to the figures of the respective periods in the previous year (p = percentage points)
– Available seat kilometres, ASK: Total number of seats available, multiplied by the number of kilometres flown
– Revenue passenger kilometres, RPK: Number of revenue passengers carried, multiplied by kilometres flown
– Passenger load factor: Share of revenue passenger kilometres of available seat kilometres
– Available tonne kilometres, ATK: Number of tonnes of capacity for carriage of passengers, cargo and mail, multiplied by kilometres flown
– Revenue tonne kilometres, RTK: Total revenue load consisting of passengers, cargo and mail, multiplied by kilometres flown
– Overall load factor: Share of revenue tonne kilometres of available tonne kilometres
Finnair Plc      Investor News                     10 April 2017 at 09:00 am