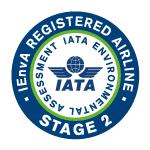 Finnair is the first airline in Europe and one of only two global carriers (South African Airways) to be certified as a Stage 2 operator in IATA Environmental Assessment (IEnvA) program, an environmental management system designed to independently assess and improve an airline's environmental management.
"This certification is proof of our commitment to environmental leadership within the aviation industry," says Pekka Vauramo, Finnair's CEO. "Environmental sustainability is at the core of Finnair's operations and we are continuously working to improve our environmental performance. We believe that developing common environmental standards and assessment for the aviation industry is important and we are proud to be the forerunners in this field. Environmental sustainability also matters to our customers and we are happy to provide more sustainable options for their air travel."
Finnair has set ambitious environmental performance targets for its operations:
40% reduction of anti-icing fluid usage in 2014–2016.
20% reduction of CO2 emissions in 2009–2017.
10% reduction of energy usage in corporate facilities in 2007–2016.
10% decrease of the non-EU waste/passenger in 2014–2016.
40% noise reduction in 2014–2017.
"Everything we can do to minimise our carbon profile as an airline is a victory for the environment and for our ability to generate shareholder value," says Ville Iho, Finnair's Chief Operating Officer. "In the long run, however, environmental performance is like safety—it is something that all airlines benefit from with sector-wide cooperation. The standards of the IEnvA program help us and all airlines improve fuel efficiency, reduce waste and limit greenhouse gas emissions in our operations."
IEnvA Stage 1 —which Finnair reached in June 2013 along with a small pilot group of other airlines—ensures an airline has developed the foundation and framework for its environmental management system. Stage 1 also certifies an airline has identified and complied with its environmental legal requirements.
IEnvA Stage 2 – This ensures that an airline has implemented all of the IEnvA Program Standards, identified and mitigated its significant environmental impacts and has set performance targets. Stage 2 also certifies that an airline has developed processes for monitoring and reviewing its performance against its targets and objectives, thus driving environmental efficiency.
The environmental standards that underpin IEnvA are based on recognised environmental management system (EMS) principles (such as ISO 14001) and have been developed by a joint team of environmental consultants and airline experts, including some Finnair personnel. Airline assessments—including Finnair's—are undertaken by independent accredited Environmental Assessment Organisations that have demonstrated competencies in aviation and environmental auditing.
The scope of IEnvA is limited to flight operations and corporate activities, but modules covering ground and MRO operations are currently under development.