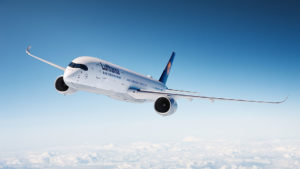 Italian newspaper Il Messaggero reports this morning that Lufthansa and Etihad are discussing a merger that would combine the 2 airlines.
The discussions are now said to revolve around 2 options:  either Etihad takes a 30 to 40% stake in Lufthansa through a sale of new Lufthansa shares to Etihad, or the two airlines merge completely. The latter could also be a second step after the former has been completed.
The two carriers declined to comment. However, Lufthansa and Etihad have been working closely together about the fate of Air Berlin (29% owned by Etihad and main competitor of Lufthansa) during the past few months, and those talks could have naturally led to the current discussions about a further integration.
The future of ailing Alitalia, also 49% owned by Etihad, is certainly an important topic in the negotiations. Under the plan disclosed by Il Messaggero, the Lufthansa Group was to have acquired a 45% stake in Alitalia, since Etihad cannot own more than 49% under EU legislation.
Later during the day,  two sources familiar with the matter told Reuters that Lufthansa is not in talks about Etihad Airways taking a stake in the German airline. "A financial stake is out of the question at the moment," one source, who is familiar with Lufthansa's plans, said. A source familiar with state-owned Etihad also said Abu Dhabi would not want to pay for a stake in Lufthansa.
Lufthansa and Etihad last month already signed a code-share agreement, just after Lufthansa agreed to wet-lease 38 A319 and A320 aircraft from Air Berlin.
Discussion in our forum: http://www.luchtzak.be/forums/viewtopic.php?f=7&t=60736