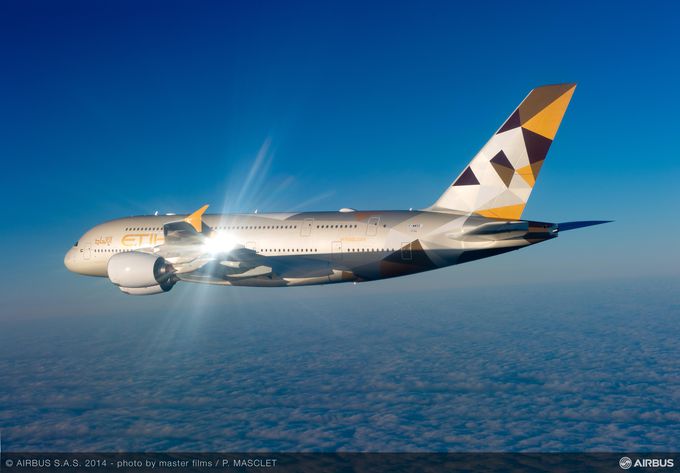 Etihad Airways much-anticipated A380 touches down in Melbourne tonight, beginning a new era of luxury travel on the Melbourne-Abu Dhabi and Melbourne-London routes.
Melbourne joins Etihad Airways' expanding network of A380 destinations
Brings The Residence and class-leading, next-generation cabins to the route
A Butler, Inflight Chef, Flying Nanny and Food and Beverage Managers offer innovative hospitality services inflight
Offers a seamless A380 service to London via Abu Dhabi
The A380 features The Residence, the world's first three-room private suite on a commercial aircraft, as well as ground-breaking innovations in all cabins.
The inaugural Abu Dhabi-Melbourne A380 flight – EY460 – departed Abu Dhabi Airport at 10.15pm last night and is scheduled to arrive at Melbourne Airport at 5.45pm this evening. The aircraft, in the airline's eye-catching 'Facets of Abu Dhabi livery, will be welcomed to the Victorian capital by a traditional water cannon salute. The return Melbourne-Abu Dhabi flight – EY461 – will depart Melbourne at 10.10pm tonight.
From today, the flagship superjumbo will operate one of the airline's double daily flights between Melbourne and Abu Dhabi. It will replace one of the three-class Boeing 777-300ER aircraft currently deployed on the route.
Etihad Airways Senior Vice President of Marketing, Shane O'Hare, said: "Today marks another major milestone for Etihad Airways in Australia.
"With Melbourne joining our A380 network, Australia is the only country in our global network with daily A380 services to two cities – Melbourne and Sydney.
"Deploying our latest technology aircraft and class-leading product and service to Australia recognises its importance to our business and the strong demand from Australian travellers for premium travel experiences.
"From the product and service innovations in every cabin to our inspired approach to hospitality, the Etihad Airways A380 offers touches of luxury to every guest and sets the benchmark for inflight comfort, entertainment, connectivity and service.
"As an added bonus for guests whose destination is London, we now offer the convenience and class-leading comfort of an all-A380 service all the way."
The A380 will increase the total number of two-way seats on the Melbourne-Abu Dhabi route by 26 per cent to more than 11,500 seats per week.
Mr O'Hare said this would ease the capacity constraints on the Melbourne-Abu Dhabi, particularly for business and premium leisure travel.
"Our Abu Dhabi to Melbourne services generate very high seat load factors year-round.
"The A380, with 70 seats in business class, enables us to better meet the demand we have for our premium cabins and will boost our market share of this important segment."
Lyell Strambi, CEO Melbourne Airport, said: "We are delighted to welcome Etihad's flagship service, the Airbus A380, to Melbourne Airport.
"Our partnership with Etihad continues to go from strength to strength since the airline's arrival to Melbourne Airport in 2009. Last year we were thrilled by the introduction of a second daily service between Melbourne and Abu Dhabi and a new Premium Lounge opened at Melbourne Airport last month. Now, capacity has been increased again with the upgauge to an A380, replacing one of the airline's daily 777 services."
"Entrenched in Melbourne life, particularly in our sporting culture, Etihad's name looms large over our city's second biggest stadium and the airline is the principal partner of the Melbourne City Football Club."
"The Melbourne to Abu Dhabi route is an important connector for Victorians to Europe with this market already experiencing considerable growth since Etihad's second daily service commenced last August."
"The arrival of Etihad's A380 is a great show of commitment to Melbourne and Victoria by this important airline partner and plays an important part in meeting our expected growth in passenger numbers."
Etihad Airways' A380 carries 496 passengers in a four-class configuration: The Residence, First Apartments, Business Studios and Economy Smart Seats. It offers an unprecedented level of luxury, space and privacy in the most highly customised cabin interior in commercial aviation.
The Residence, an ultra-exclusive private three-room suite, is unique to Etihad Airways. Measuring 125 square feet in total area, it is located on the forward upper deck of the A380 and is available for single or double occupancy.
Features include a living room, separate ensuite shower room and a double bedroom. It has a large 32" LCD monitor in the living room and a separate 24" version in the bedroom.
Its exclusive hospitality offering includes a personal Butler, trained at the world-renowned Savoy Butler Academy in London and dedicated to meeting the needs of discerning guests. An onboard Chef complements the Butler service, offering a bespoke, made-to-order dining experience.
There are nine First Apartments in First Class. These are private living spaces featuring a reclining lounge chair and an ottoman, upholstered in the finest quality Poltrona Frau leather. The ottoman opens up to become a separate 80.5" long fully flat bed. In addition, each First Apartment has a 24" LCD TV monitor, a chilled mini bar and personal vanity unit. A fully equipped shower room is available for the exclusive use of First Apartment guests.
Seventy Business Studios are located on the upper deck of the A380, all offering direct aisle access, a fully flat bed of up to 80.5" long, and an increase of 20 per cent in personal space. Upholstered in Poltrona Frau leather, the Business Studio is equipped with an in-seat massage and a pneumatic cushion control system.
The Lobby, a luxurious lounge located between the First Class and Business Class cabins, features two comfortable leather sofas and a staffed bar serving a selection of snacks and refreshments.
The main deck features 415 Economy Smart Seats, which provide enhanced comfort with a unique 'fixed wing' headrest on each seat, adjustable lumbar support, a seat width of approximately 19", and an 11.1" personal TV monitor.
Guests in all cabins enjoy the latest Panasonic eX3 entertainment system with more than 750 hours of on-demand entertainment, live TV news and sport channels, improved gaming, and high definition screens across all cabins. The A380 has full mobile and Wi-Fi service, with USB and power points at every seat.
The airline's world-renowned hospitality offering includes innovative services such as Flying Nannies and onboard Food and Beverage Managers.
A Flying Nanny, trained by the world-famous Norland College in the UK, is on board every B787 Dreamliner flight to provide assistance to families travelling with young children.
Food and Beverage Managers, handpicked from the world's top hotels and restaurants, guide guests in Business Class through the extensive a la carte and dine anytime options and provide recommendations on the ideal beverage to accompany their meal choice.
Etihad Airways' double daily service from Melbourne provides travellers from Victoria access to more than 900 weekly connections in 50 markets across the Gulf region, the Middle East, Africa and Europe.
Within Australia and to New Zealand, Etihad Airways codeshares on Virgin Australia and Air New Zealand flights from Melbourne to Adelaide, Auckland, Brisbane, Cairns, Canberra, Christchurch, Coffs Harbour, Darwin, Gold Coast, Hamilton Island, Hobart, Kalgoorlie, Launceston, Mildura, Newcastle, Perth, Queenstown, Sunshine Coast, Sydney, and Wellington.
Etihad Airways commenced daily services to Melbourne on 29 March 2009. It added a second daily flight to the route on 1 August 2015, making it the only airline with double daily non-stop services between Melbourne and the United Arab Emirates.
The commencement of A380 services to Melbourne complements the airline's recently opened Premium Lounge at Melbourne Airport. The 800m2 space, with the ambience of a sophisticated restaurant and bar, is the airline's largest airport lounge outside its Abu Dhabi home base. It also features a separate private lounge for the exclusive use of guests travelling in The Residence.
Flights to and from Melbourne can be booked with a travel agent, Etihad Airways Contact Centre or at etihad.com. A round trip fare for The Residence between Melbourne and Abu Dhabi is A$70,900 plus applicable taxes, and between Melbourne and London A$111,200 plus applicable taxes.
The Abu Dhabi-based airline has strong ties to the city of Melbourne and the state of Victoria through partnerships with Etihad Stadium, Melbourne City Football Club, Sport Australia Hall of Fame, Melbourne Recital Centre and Islamic Museum of Australia.