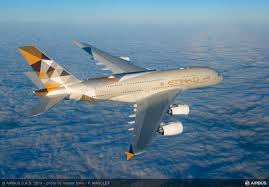 Etihad Airways, the national airline of the United Arab Emirates, today announced plans to increase Airbus A380 service between New York's John F. Kennedy International Airport and Abu Dhabi International Airport in response to heightened demand from guests travelling between the two destinations.
Beginning on June 1, 2017, the airline will upgrade its second flight between Abu Dhabi and New York JFK to its award-winning A380 aircraft which features The Residence, the only three-room suite available in commercial airline operation, and its award-winning First Apartment cabins.
The new service will join the airline's existing daily A380 service, replacing the current daily Boeing 777-300ER aircraft. Etihad Airways first began welcoming guests on board its first A380 flight between New York JFK and Abu Dhabi in November 2015.
"The response we have received from Etihad Airways guests travelling between Abu Dhabi and New York since we launched the service nearly a decade ago has been phenomenal, and we are delighted to further expand our world-class product for all guests travelling to and from New York," said Peter Baumgartner, Etihad Airways' Chief Executive Officer.
Mr Baumgartner continued: "Our commitment to our guests has always been to be the very best airline in the world by totally reimagining the travel experience and delivering the highest levels of comfort, luxury and world-class hospitality at every point in their travel journey – on the ground and in the air – across all classes of service."
The Residence guests enjoy the ultimate in luxury. Every part of the travel experience is tailored and bespoke including a chauffeur-driven ride to the airport and a private three-room suite that includes a living room that seats up to two guests, a double bedroom, and a separate ensuite shower room. Guests in The Residence are looked after by a dedicated Butler trained at the legendary Savoy Hotel in London.
In addition, nine First Apartments feature private living spaces including a reclining Poltrona Frau leather lounge chair and ottoman, which opens up to become a separate 80.5 inch long fully-flat bed. A shower room is available for First Class guests' comfort and convenience.
Dining in The Residence and First Class features fine culinary experiences prepared by a skilled onboard Chef.
A total of 70 Business Studies are also located on the upper deck of the A380, all offering direct aisle access, a fully flat bed of up to 80.5 inches long and an increase of 20 per cent in personal space. Food and Beverage Managers in Business Class provide guests with expertise in food and wine pairing from an extensive 'Dine Anytime' menu.
The main deck of the aircraft features 415 Economy Smart Seats with the latest Panasonic eX3 entertainment system, providing more than 750 hours of on-demand entertainment, improved gaming and high definition screens across all cabins. The A380 features full inflight connectivity including WiFi.
The Lobby, a luxurious lounge located between the First and Business Class cabins, features two comfortable Poltrona Frau leather sofas and a staffed bar, offering a large selection of snacks and refreshments available throughout the flight.
Etihad Airways first introduced daily, nonstop, round-trip flights into New York JFK on October 26, 2006, and this fall, the airline will celebrate 10 years of service between Abu Dhabi and the New York.
In December 2015, the airline opened a new premium lounge at New York JFK, marking a significant investment in further improving the ground experience for the airline's guests. Conveniently located close to the gate area after the security checkpoint in JFK's International Terminal 4, the new lounge offers guests a unique travel environment reflecting twenty-first century Abu Dhabi modernism and embodies the highest levels of luxury and comfort for discerning travelers.
Etihad Airways currently offers 45 weekly return flights between Abu Dhabi and six U.S. cities, including Chicago, Dallas-Fort Worth, Los Angeles, New York JFK, San Francisco and Washington, D.C. Through Etihad Airways' hub in Abu Dhabi, the airline offers passengers from the United States direct access to the U.A.E. capital, and seamless connections to the Middle East, Africa, Indian Sub-continent and South East Asia.
Daily flight schedule between Abu Dhabi and New York JFK, beginning in June 2017:
Flight No.
Origin
Departs
Destination
Arrives
Aircraft
EY103
Abu Dhabi
3:35 AM
New York JFK
9:35 AM
A380
EY102
New York JFK
3:00 PM
Abu Dhabi
12:05 PM (+1)
A380
EY101*
Abu Dhabi
10:10 AM
New York JFK
4:30 PM
A380
EY100*
New York JFK
10:45 PM
Abu Dhabi
7:50 PM
(+1)
A380

Note: All departures and arrivals are listed in local time.
*Planned flight change to A380 aircraft is scheduled to begin on June 1, 2017