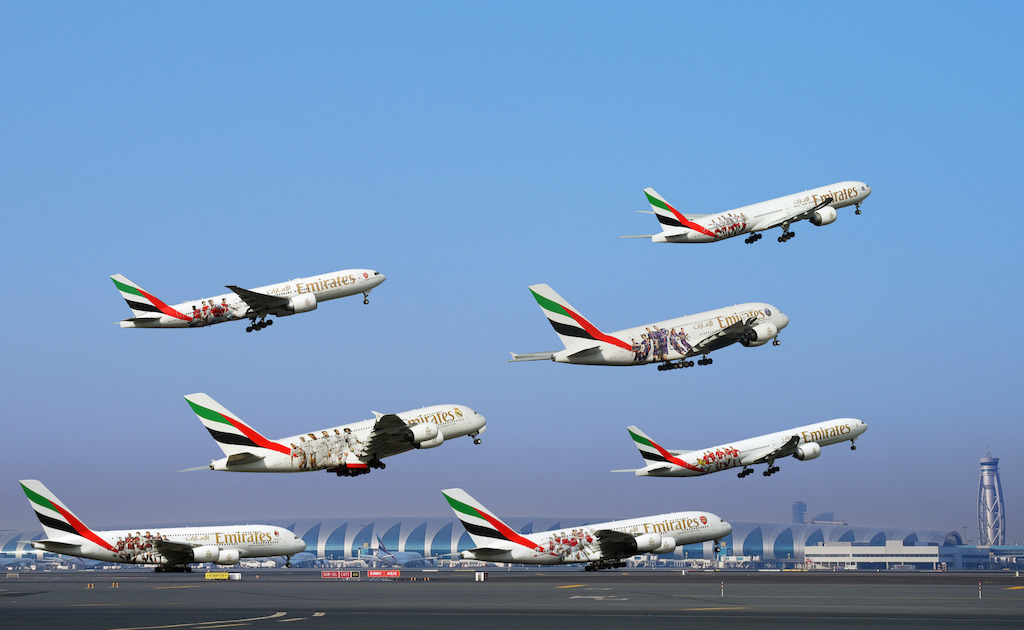 Emirates' specially emblazoned football club aircraft recently took to the skies in seven, carefully coordinated take-offs in  the course of a few hours in one day, showing the airline's unwavering support for its football club partners with the season drawing to a close.
Click here watch the seven take-offs.
The club themed aircraft celebrated Emirates' football partnerships that touch over 1.5 billion people around the world, the combined fanbase of all six iconic clubs.
The bespoke decals were installed on both A380s and Boeing 777s, and include club crests and first team players from Arsenal, Real Madrid, Paris Saint Germain, HSV, Benfica and AC Milan in action. Since the decals were first placed on the seven Emirates aircraft in 2015, over 1,800 flights, clocking in almost 12,000 hours have been made.  The different aircraft offered the opportunity for football fans in more than 150 Emirates destinations to see and travel aboard aircraft adorned with their favourite clubs.
Emirates has been a steadfast supporter of globally recognised football clubs for more than a decade. This year marks a number of partnership highlights, including the airline's 10 year milestone sponsorship of Arsenal, AC Milan, HSV and Paris Saint Germain.
Emirates has been a staunch partner of Real Madrid since 2012, and since its landmark jersey sponsorship in 2013, the global football powerhouse has clinched the UEFA Champion's League title twice. Benfica, Portugal's most successful football club recently celebrated their 35th Portuguese League title, their third consecutive winning of the championship and first since their jersey partnership with Emirates. Paris Saint Germain recently won the Ligue 1 title for a fourth successive season and also secured their 10th Coupe de France, Trophee des Champions and Coupe de la Ligue.
Thursday, June 2, 2016 — DUBAI, U.A.E.