DUBAI, U.A.E.,26th April 2015: Emirates is further enhancing the entertainment experience for Economy Class travellers with the launch of new, redesigned headsets for its award-winning ice entertainment system in Economy Class.
From the end of June, all Emirates A380 aircraft will be equipped with new headsets, with plans to roll out the headsets on the Boeing 777 fleet later in the year. These headsets have been totally redesigned with a view to improving sound quality, reduction of ambient cabin noise and overall comfort. The headset's rectangular shape makes it more ergonomic for the wearer, and premium leatherette ear cushions enhance comfort which is especially important on longer flights.
"Emirates economy class headsets are amongst the best in class for commercial airlines, and we've always recognised that sound quality is vitally important in creating an enjoyable entertainment experience. This new design will lift the audio quality to a new level, and now customers can completely immerse themselves in the broad variety of entertainment choices offered onboard," said Patrick Brannelly – Divisional Vice President, Customer Experience (IFE & Connectivity).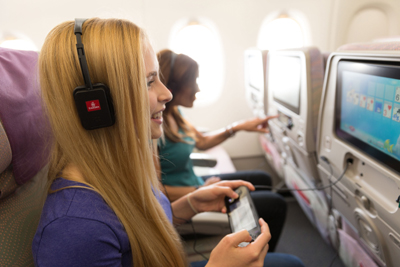 Not to be left behind, young travellers on Emirates will also receive new headsets on which they can enjoy up to 75 channels of dedicated children's entertainment from up to 2,000 channels overall. Emirates first introduced children's headsets in the late 1990s, featuring a smaller headset band which is more comfortable for smaller heads. These fun and colourful new headsets will also have larger speakers for a more comfortable fit and much improved sound quality.
The new headsets are the latest update for the innovative ice Digital Widescreen entertainment system, which in 2014 was awarded the 'World's Best Airline Inflight Entertainment' award at the SKYTRAX World Airline Awards for the 10th consecutive year. Customers in First Class or Business Class on all flights are already provided with active noise cancelling headsets.
Customers can check what's showing on board their flight and plan their ice movie or music marathon before they fly, by visiting emirates.com.
At the forefront of setting industry standards, in 2014, Emirates was the first airline to introduce Audio Descriptions in movies for visually impaired customers. In 2007, Emirates worked with Walt Disney Studios Motion Pictures to introduce Closed Captions, the technology used by the hard of hearing, for the first time in inflight entertainment. More recently, Emirates introduced free Wi-Fi onboard and this facility is now available on 106 aircraft including its entire A380 fleet.
On ice Digital Widescreen, Emirates' customers can enjoy a staggering choice of over 2,000 channels of entertainment, with over 500 movies from around the world, hundreds of hours of TV including box-sets of popular shows and thousands of hours of music from contemporary to classical.
Emirates' new Airbus A380 and Boeing 777 aircraft offer the ice system on larger personal TV screens with HD resolution: 27-inch in First Class, 20-inch in Business Class and 12.1 inch in Economy Class.