Emirates showcases its 10 latest A380 routes in unique 'mash-up' video
DUBAI, U.A.E – 13 January 2015 – Emirates, a global connector of people and places marked a record launch of 10 new A380 routes in 2014 and today has released a 'mash-up' video that shows the iconic aircraft landing in 10 destinations spanning the globe.
"2014 was a record breaking year for our A380 network, and adding 10 new A380 destinations has given our customers more choice to travel to their favourite destinations and experience what this exceptional aircraft has to offer. Our onboard innovations across all three classes continue to wow our customers, and we hope even more travellers will have the opportunity to experience our industry-leading product as we expand our A380 fleet and network," said Thierry Antinori, Executive Vice President and Chief Commercial Officer Commercial Operations Worldwide, Emirates airline.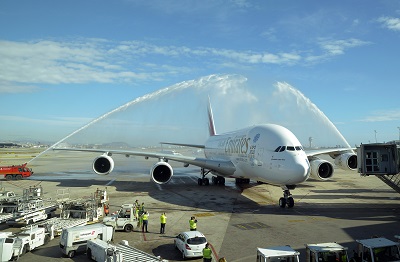 The Emirates A380 celebrated New Year's in style by taking off to Zurich. It then said 'Hola' to Barcelona in February, marking Spain's first permanent A380 service. The double-decker then jetted into London Gatwick in March, followed by Kuwait in mid-July, marking the world's shortest scheduled A380 service.
A week later, Emirates upped the ante by introducing the A380 on its Mumbai route, fulfilling on-going demand from travellers in India. Emirates flew its A380 into Frankfurt for the first time in September and Dallas became the Emirates A380's next port of call in October. In December, Emirates created aviation history by launching three new A380 routes in just three days – Milan and San Francisco on 1st December, followed by Houston on 3rd December, concluding a momentous year.
In May, the Emirates A380 was the star attraction at the ILA Berlin Air Show 2014 drawing in thousands of visitors while on static display. The aircraft continues to be a showstopper at airports around the world. The double-decker also performed ceremonial one-off flights to Vienna, Glasgow, Tehran and Manila, where it was feted by VIPs, media and the public.
The 3-minute long 'mash-up' video features unique footage from the Emirates A380 flight deck, including a rainy approach to San Francisco, a rousing water cannon salute in Frankfurt, a night time touchdown in Mumbai and a glide slope landing view from London Gatwick. Emirates also reached out to plane-spotters from around the globe who shared their footage of the Emirates A380 touching down in their cities for the first time.
In 2014, Emirates received 13 Airbus A380s, including its 50th A380. Currently the world's largest A380 operator with 57 aircraft in fleet, Emirates is expecting to take delivery of 15 A380s in 2015 and currently has 83 A380s on order. The Emirates A380 flies to 34 destinations across the globe, with Perth to join the network in May 2015.