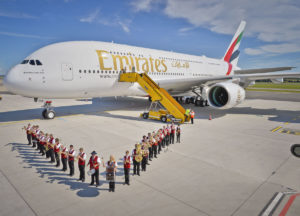 Vienna Airport was a place of celebration this week as Emirates' milestone 80th A380 aircraft made a star appearance, flying in direct from the Airbus production facility in Hamburg.
Austrian dignitaries, officials, VIPs and media attending an invitation-only event at the airport today were the first ever non-operational people to set foot inside this brand new, state-of-the-art aviation icon since it arrived in Vienna yesterday.
Guests toured the aircraft for a glimpse of the stunning interior which will be part of the A380 experience Austrian travellers will be able to enjoy from 1st July when Emirates becomes the first airline to operate a scheduled A380 service into Vienna.
Preparations have been underway for many months in readiness for the start of operations. Vienna Airport has embarked on a long term project that includes changes to the apron infrastructure, investments in aircraft handling equipment, gate and boarding facilities, and airside terminal areas to ensure passengers have a smooth transition through the airport and onto the aircraft.
This special one-off visit by the 80th A380, captained by Austrian national Florian Ragg, was the final stage in this detailed planning. Its mission was to test technical procedures like pier docking, movement of the aircraft on the apron into its correct parking position, specialised aircraft cleaning inside and out and the loading and unloading of catering and baggage. To provide a large enough space for docking and handling of this wide body aircraft four airport gates will be merged into one.
Emirates has served the Vienna-Dubai route since 2004 and since then has carried almost three million passengers on its double daily service. By deploying the A380, which has a capacity to seat 519 passengers, the airline will now be able to carry over 1,700 passengers between Dubai and Vienna every day.
Tourism in Austria, as well as directly or indirectly linked industries such as trade, transport and infrastructure will benefit from the introduction of the A380. Emirates' 14 weekly frequencies support close to 1,800 full-time jobs in Austria, generating economic impact on the national GDP worth approximately €179 million a year.
Over the past few years, Austria and the cosmopolitan city of Vienna, have developed into one of the fastest growing markets from the Middle East. In 2015, over 115,000 visitors arrived into Austria from the UAE alone, a 34.8% increase compared to the year before.
Outbound, Emirates' product offering across Economy, Business and First Class allows passengers from Vienna to travel in comfort to a number of enticing destinations on the vast Emirates route network.  Some of the most popular destinations for Austrian travellers are Bangkok, Colombo, Mauritius and Male many of which are served by the A380, meaning passengers can enjoy the luxury of the world's largest passenger aircraft all the way.
Flight schedules between Dubai and Vienna from 1st July:
EK127/EK128 will be served by the A380.
EK 127 starts in Dubai daily at 08:55hrs and lands in Vienna at 12:55 hrs.
EK 128 departs from Vienna at 15:05hrs and arrives back in Dubai at 22:45 hrs.
EK 125/EK126 will continue to be operated by a Boeing 777-300ER.
EK 125 leaves Dubai daily at 17:15hrs, arriving in Vienna at 21:15hrs.
EK 126 starts in Vienna at 22:45hrs, landing in Dubai at 06:20hrs the following day.
Flight times refer to the summer flight schedule. All times are local times
24 June 2016
Photos: copyright © Emirates